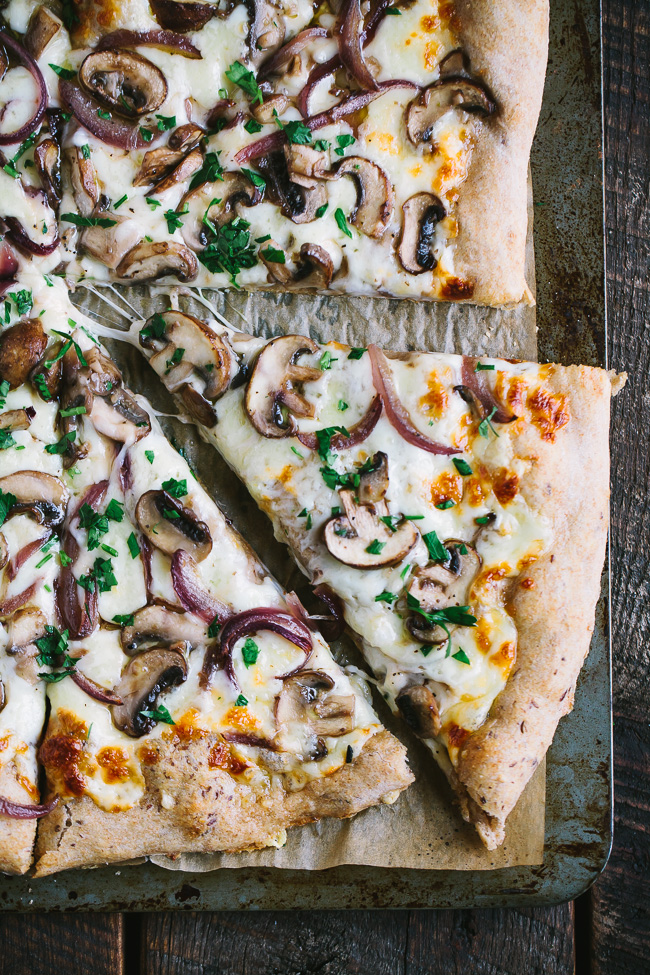 Pizza Fridays have recently made a comeback at our house, although it's probably more accurate to say we're more on an every other Friday routine.  Combined with a movie night, it's such a pleasant way to unwind, relax, and start the weekend with the kids.  Pepperoni pizza seems to remain everyone's favorite except mine, but Ryan and the kids have all been good sports about letting me sneak in another variety of pizza here and there.  In terms of my favorite pizzas, I especially love this cremini fontina combination layered with garlic oil and a scattering of red onions.  It's just a tad more work than pepperoni pizza but completely worth the few extra minutes of preparation.  I slightly adapted Jim Lahey's no-knead pizza dough to make a whole wheat flax version that has become my go-to recipe for pizza dough.  It's simple, no-fuss, and the pizza turns out perfectly crusty and chewy every time.  Just remember to start the dough the evening before to allow for an overnight rise.  Here's to many more family pizza/movie nights to come!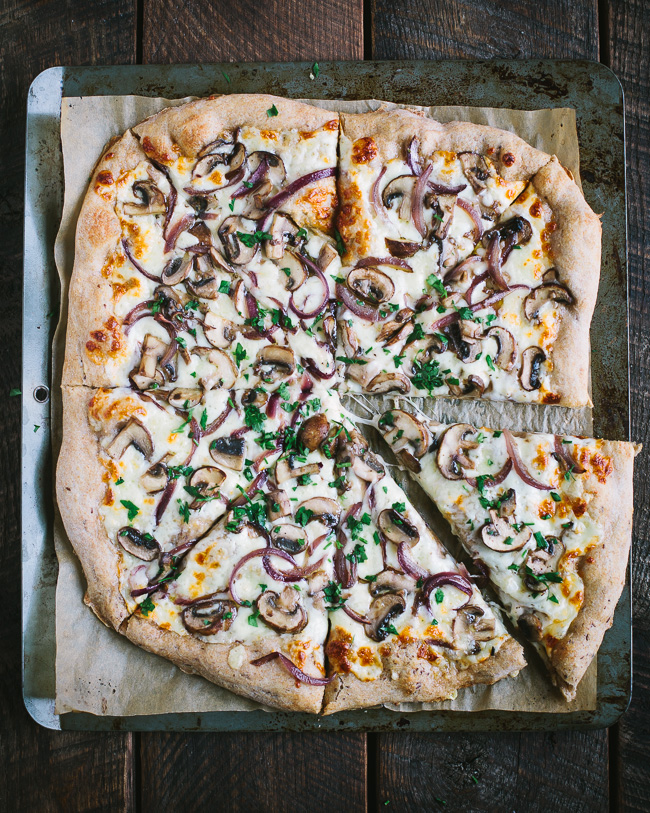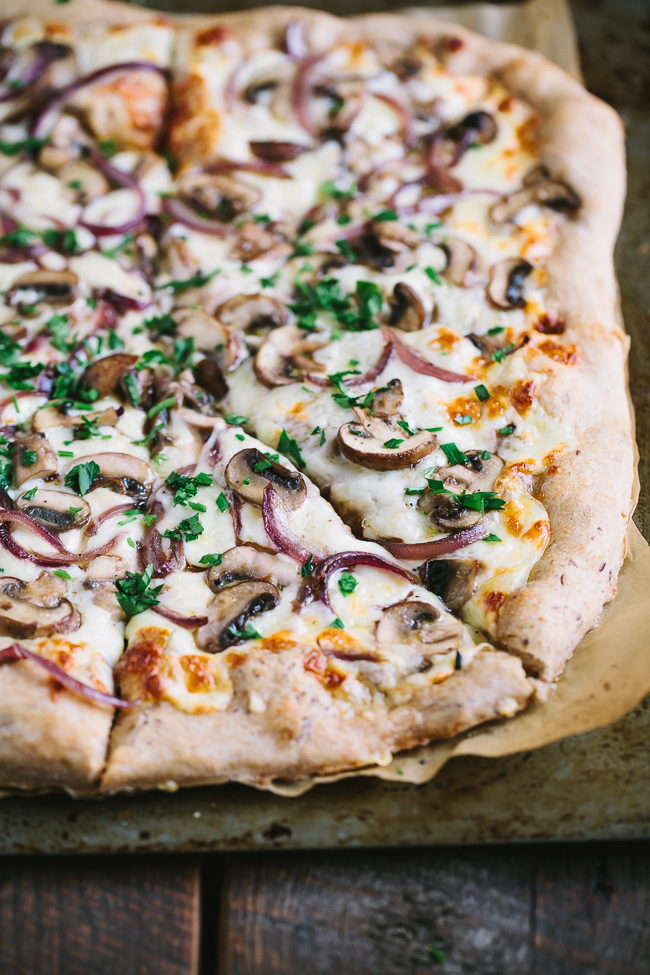 Cremini Fontina Pizza
Ingredients
Garlic Oil
2 garlic cloves, minced
¼ teaspoon crushed red pepper flakes
3 tablespoons olive oil
Pizza
1 tablespoon olive oil
1 garlic clove, minced
¾ cup sliced red onion, about 1 small onion
8 ounces cremini mushrooms, sliced
8 ounces mozzarella cheese, shredded
4 ounces fontina cheese, shredded
chopped fresh parsley for garnish, optional
½ recipe No-Knead Pizza Dough (see recipe below)
Instructions
Garlic Oil
In a saute pan, mix the garlic, red pepper, olive oil, and dash of salt. Warm over low heat for 10 minutes. Stir occasionally and do not allow the garlic to brown. Transfer to a small bowl and set aside.
Pizza
Preheat oven to 500. If using a pizza stone, preheat stone as well. (Ideally pizza stone should be preheated for an hour. This truly does make a difference.)
Using the same pan, heat olive oil over medium heat. Add the garlic and onion and saute until onion begins to soften, about 2-3 minutes. Add mushrooms, season to taste with salt and pepper, and cook until most of the liquid has evaporated, another 4-5 minutes.
Place dough on a lightly floured surface or parchment paper. Gently stretch and shape pizza dough to a 12"-14" circle. Brush a layer of garlic oil over entire crust.
To assemble, layer the mozzarella and fontina cheeses followed by the mushroom onion mixture.
Bake for 8-10 minutes, until cheese is bubbly and begins to brown. Garnish with chopped fresh parsley, if desired.
No-Knead Whole Wheat Flax Pizza Dough
Ingredients
550 grams all-purpose flour, about 4 cups
270 grams whole wheat flour, about 2 cups
2 tablespoons ground flax seed
2½ teaspoons salt
¼ + ⅛ teaspoon active dry yeast
2½ cups water
Instructions
In a large bowl, whisk all ingredients together except water. Gradually add water and stir with a wooden spoon until all of the flour is incorporated. Use hands if necessary to bring dough together. Cover bowl with plastic wrap and let rise at room temperature for 18-20 hours. Dough should double and appear bubbly when ready. Divide and form dough into 2 mounds. Cover with plastic wrap and allow dough to rest another 20-30 minutes, until dough is pliable.
This makes enough for 2 12"-14" pizzas. I usually use half of the dough on one day and freeze the remaining half for another day.
4 comments