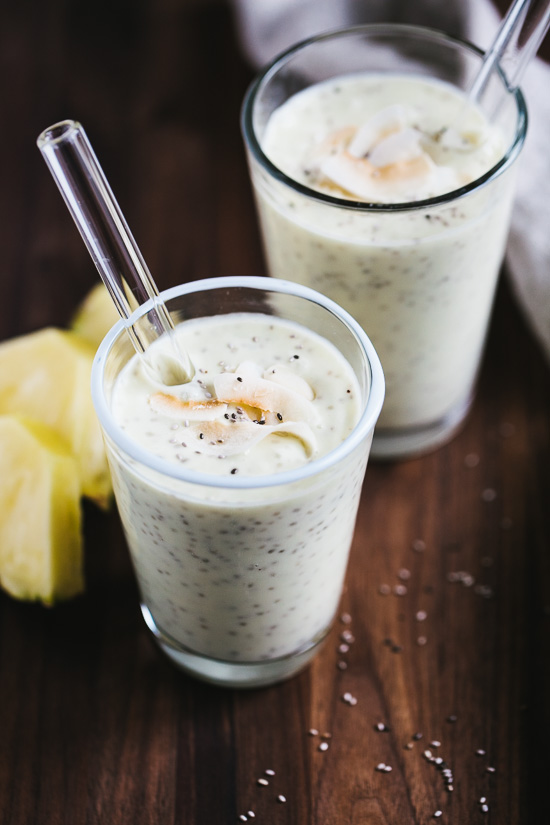 Smoothies are always a welcome treat at breakfast and I like them because they are quick and a great way to load up on nutrients to begin the day.  Once in a while I also like to surprise my kids with a smoothie for their afternoon snack while we chat about their school days.  When it comes to smoothies, my style is more the "throw random fruits and vegetables into the blender" method rather than the "read and follow a recipe" method.  I even have a beautiful smoothie cookbook, but it always seems so much easier to improvise.  Despite the lack of measuring, the smoothies somehow always end up tasting fine.  This is one combination that we enjoy so much however that I measured everything out just so that I could share it with you.  Its flavor is similar to a pina colada minus the rum (since I'm usually making these for the kids) and it's fun to dream about being at the beach on a sunny tropical island whenever we have these.  The chia seeds thicken up the smoothie into more of a "shake" consistency while adding a healthy dose of Omega-3s.  Just note that the chia seeds need at least a few hours to soak so this is probably best made the evening before if you're planning for breakfast.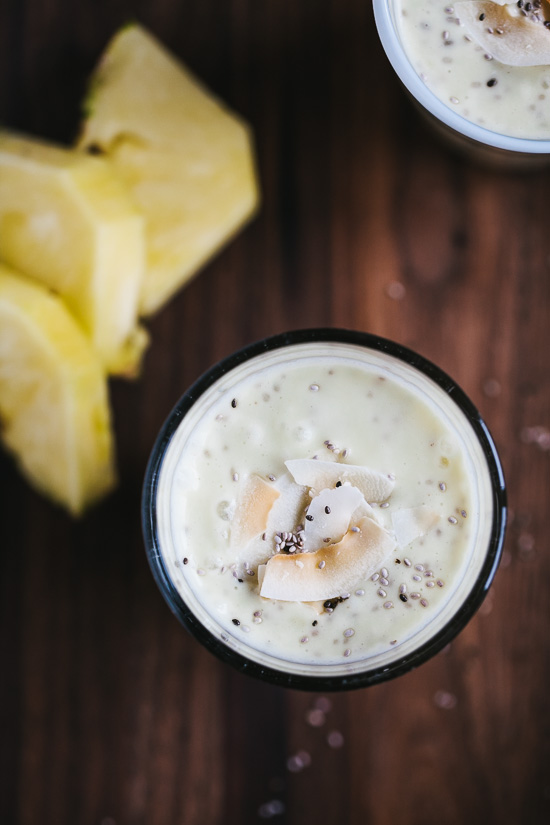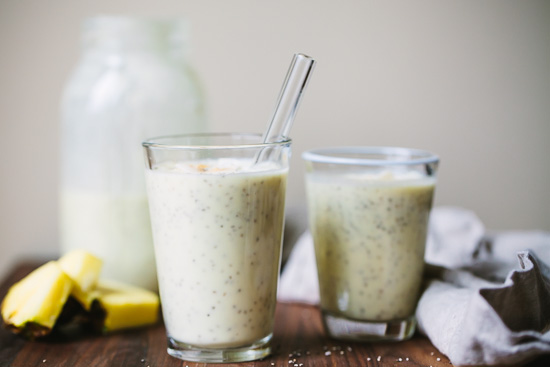 Pinapple Coconut Chia Shakes
Ingredients
2½- 3 cups fresh pineapple chunks
½ banana
1 13.5-ounce can light coconut milk, about 1½ cups
2 tablespoons chia seeds
Instructions
Place the pineapple chunks, banana, and coconut milk into the blender and blend on high until completely smooth and creamy.
Pour half of mixture into a quart size mason jar along with the chia seeds. Close lid and shake until chia seeds are well distributed. Add the rest of the pineapple mixture and shake again. Refrigerate for at least a 3 hours until thoroughly chilled and chia seeds thicken.
3 comments