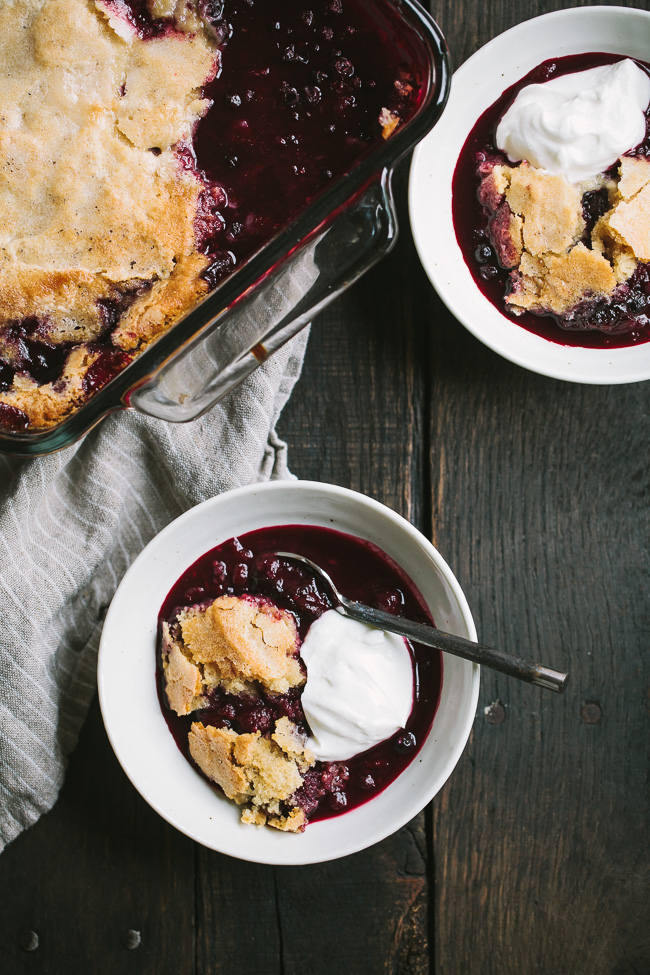 We hosted a small Memorial Day gathering with some extended family last weekend and this is the dessert I had planned to make.  I tweaked and tested the recipe ahead of time to make sure it would be just the way I wanted.  And then because I was trying to clean the house, practice instruments with the kids, set the table, and prep the rest of the meal all at the same time, I sadly botched up the dessert.  I inadvertantly added too much butter, left the milk out completely, and while the end result was edible, it was not this.  This cobbler (and not the one I ended up making for Memorial Day) has a unique crackly crust which makes this dessert rustic and beautiful at the same time.  The secret to the crackly crust is sprinkling with the top with a layer of sugar and then drizzling hot water over the sugar, melting it right before it goes in the oven.  The method is a bit odd, but it works.  While the cobbler is baking, the sweet biscuit layer develops a thin, delicate, and slightly crunchy crust.  The crust will remain crunchy and crackly for about a day.  After it has been chilled and refrigerated, it loses a bit of the crunch, although it is still delicious.  Serve with ice cream or greek yogurt.  I have greek yogurt in the photos here, but Ryan's vote is for the ice cream.
Crackly Crust Mixed Berry Cobbler
Ingredients
2 pounds mixed berries, about 8 cups (any combination of blueberries, raspberries, and blackberries)
2 tablespoons cornstarch or arrowroot
3 tablespoons natural cane sugar
1 tablespoon freshly squeezed lemon juice
4 tablespoons unsalted butter, softened at room temperature
½ cup + 3 tablespoons natural cane sugar, divided
1 teaspoon vanilla
¾ cup whole wheat pastry flour
1 teaspoon baking powder
½ teaspoon kosher salt
6 tablespoons whole milk
¼ cup hot water
Instructions
Preheat oven to 350.
In a large mixing bowl, use a wooden spoon to gently combine the berries, cornstarch or arrowroot, sugar, and lemon juice. Transfer to an 8x8 baking dish.
In a small mixing bowl, whisk together the flour, baking powder, and salt.
In the bowl of a stand mixer with a paddle attachment, beat together butter and ½ cup sugar on medium high speed until creamy, about 1 minute. Beat in vanilla. Add flour mixture and mix on medium speed until evenly crumbly. With the mixer running on low, gradually pour in milk and beat for another minute, until batter is light and fluffy.
Dollop batter over berry filling and use a knife or offset spatula to gently spread batter evenly over the berries. Sprinkle remaining 3 tablespoons sugar over the batter. Drizzle hot water over the sugar, melting it right before it goes in the oven.
Bake for 70-80 minutes, until golden brown and crackly. Let the cobbler sit for at least 30 minutes to set before serving. Serve with ice cream or greek yogurt.
5 comments