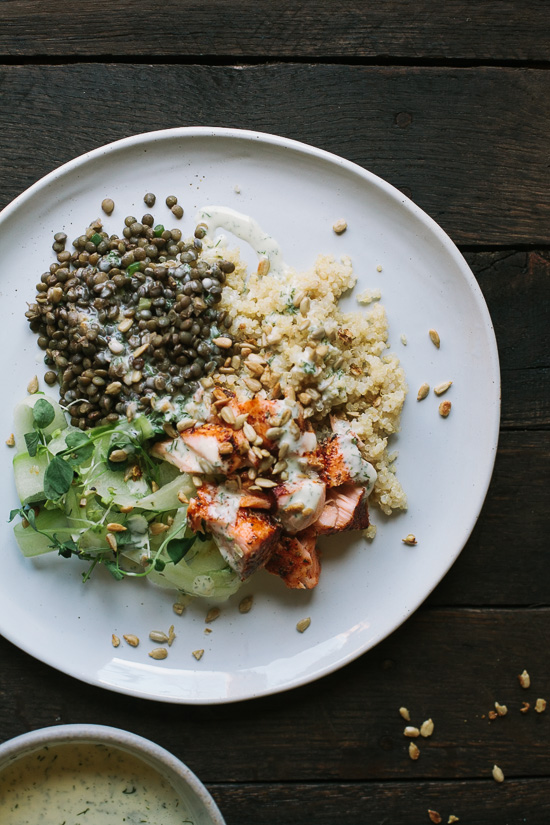 Last week I had the opportunity to attend Sprouted Kitchen's food photography workshop at Cannelle et Vanille's beautiful studio in Seattle.  After being a quiet admirer of Sara and Hugh's work for so long and then finally being able to meet them and learn from them was like a dream for me.  Both of them are so remarkably talented, yet they are so humble and approachable.  It was a weekend full of refreshment and inspiration and I'm still processing it all.  Our lunches and snacks were all from Sara's new cookbook, Bowl + Spoon, and after those meals, I seriously wanted to come home and cook through her entire cookbook.  Sara's approach to "bowl foods"- mixing favorite foods with different colors, textures, toppings, and sauces- is the inspiration behind this salmon and lentils plate (could also be easily eaten in a bowl).  Since both salmon and lentils are favorites in this house, I started with those then added quinoa as our grain and shaved cucumbers with microgreens for a raw vegetable.  I topped it off with a creamy dilled yogurt sauce and sprinkled on some lemon muscovado sunflower seeds for crunch.  Setting out all of the components and letting everyone assemble their own plate is such a beautiful way to serve and enjoy a meal.  Everyone can have more of what they like, less of what they don't like, and it seems that kids especially enjoy having some ownership of what goes on their plate.  There's lots of flexibility to this meal- you could use rice or millet instead of quinoa, chicken instead of salmon, or other shredded greens instead of the cucumbers and microgreens.  Don't leave off the lemon muscovado sunflower seeds though; it really adds the perfect finishing touch to the whole meal.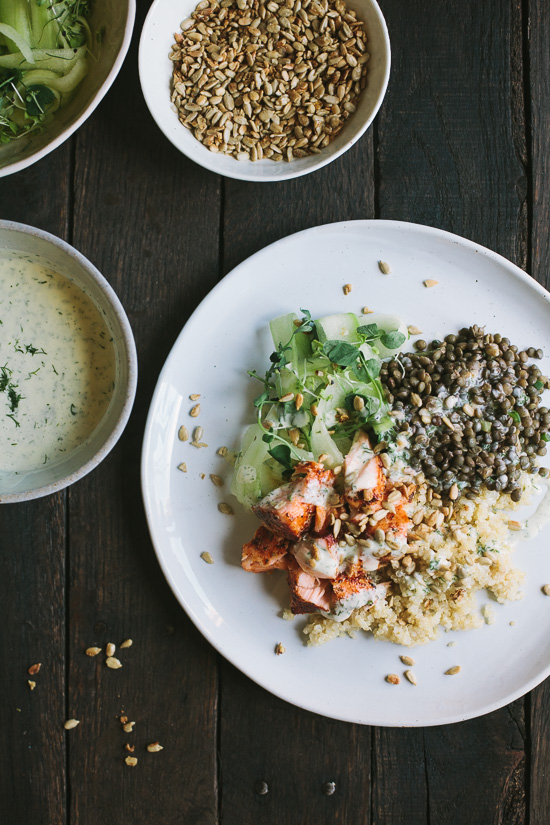 Baked Salmon and Lentils with Quinoa, Shaved Cucumbers, and Dilled Yogurt Sauce}
Ingredients
Dilled Yogurt Sauce
1 cup whole milk or lowfat plain yogurt
6 tablespoons extra virgin olive oil
3-4 tablespoons fresh dill
½ teaspoon fine-grain sea salt
1 tablespoon fresh lemon juice
Muscovado Sunflower Seeds
1 tablespoon muscovado sugar
1 teaspoon lemon zest
½ teaspoon fine-grain sea salt
1 cup sunflower seeds
Lentils
1 cup french green lentils, sorted and rinsed
1 tablespoon red wine vinegar
3 tablespoons extra-virgin olive oil
¼ cup thinly sliced scallions
fine-grain sea salt and fresh ground pepper to taste
Cucumbers
1 English cucumber
1 cup micro greens
Assembly
Instructions
Dilled Yogurt Sauce
Place all ingredients in a blender or food processor and blend until creamy and smooth. Season to taste with additional salt and lemon juice. Refrigerate until ready to serve.
Muscovado Sunflower Seeds
In a small bowl, mix together the muscovado sugar, lemon zest, and ½ teaspoon sea salt.
In a large skillet over medium heat, toast the sunflower seeds until they start to become golden brown, about 5-7 minutes. Sprinkle the lemon sugar mixture over the seeds and stir constantly until sugar melts and coats the seeds, about 1-2 additional minutes. Transfer to a plate to cool. Season to taste with additional salt if needed.
Lentils
Place lentils is a small pot and cover with water by 3 inches. Bring to a boil, then lower heat and simmer until lentils are tender and soft, about 30 minutes. Drain, reserving ½ cup cooking liquid. Toss warm lentils with vinegar and season with salt and pepper. Allow lentils to rest for 5 minutes. Taste again and season with additional vinegar and salt if needed. Add olive oil and scallions and stir to combine. Transfer to a serving bowl and set aside. If lentils seem dry when ready to serve, stir in some of the reserved cooking liquid.
Cucumbers
Use a vegetable peeler to shave cucumber into ribbons, stopping when you get to the seeds. Place cucumber ribbons in a serving bowl and toss with the micro greens.
Assembly
Serve each plate with a portion of quinoa, salmon, lentils, and cucumbers with greens. Drizzle a generous amount of dilled yogurt sauce over each plate and garnish with a sprinkle of sunflower seeds.
5 comments