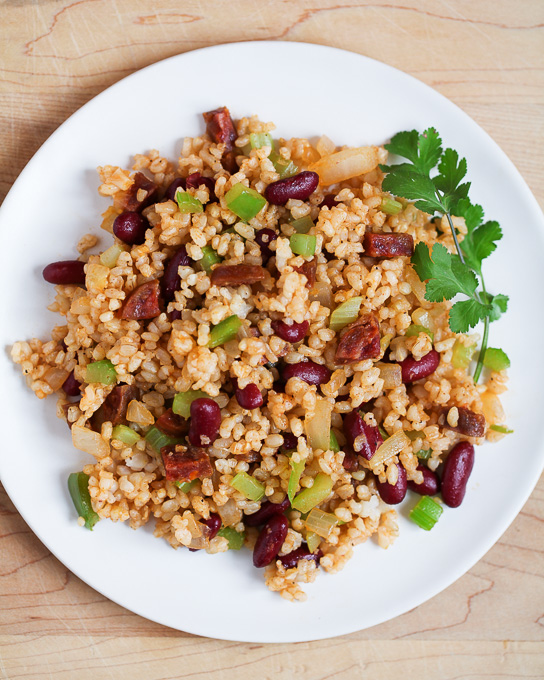 Chorizo and Red Beans Rice is a flavorful one pot dish with a variety of textures coming from the chorizo, red beans, and vegetables.  The star of this dish is the spanish chorizo which is a cured meat and can come mild or spicy, so choose accordingly.  Be sure not to confuse it with mexican chorizo, which is a fresh ground meat.    Sautéing the cured  meat with the vegetables releases the flavors of the the meat and distributes them throughout the dish.  This is a great dish for using up leftover rice, which we always seem to have a lot of around here.  Hooray for quick meals with hardly any dishes to clean afterwards!
Chorizo and Red Beans Rice
Ingredients
1½ cups brown rice, uncooked
4 ounces spanish chorizo, diced
1 can red kidney beans, rinsed and drained
1 onion, chopped
1 cup celery, chopped
1 green pepper, chopped
2 cloves garlic, minced
½ teaspoon salt
½ teaspoon pepper
¼ teaspoon paprika
parsley or cilantro for garnish
Instructions
Cook rice in a rice cooker or according to package directions.
Saute the onion, celery, green pepper, and garlic until golden. Add the chorizo, beans, and saute for another 1-2 minutes.
Add the rice, salt, pepper, and paprika and stir together thoroughly until heated through. Season to taste with additional salt and pepper. Garnish with cilantro or parsley.