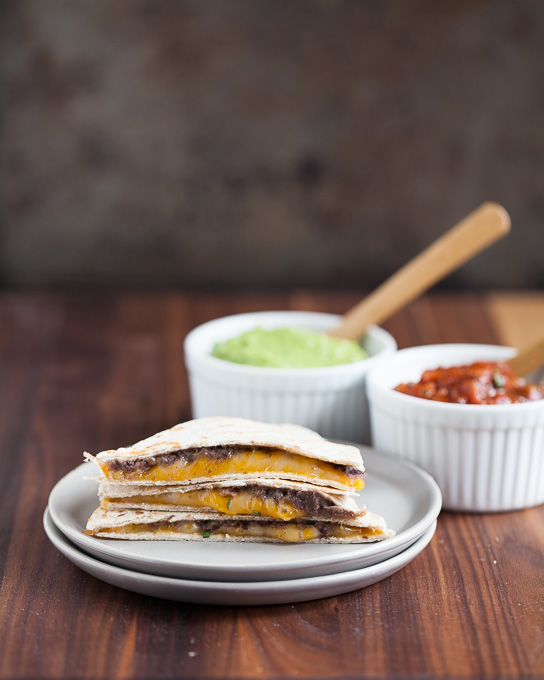 Now that the kids are getting a little older and have their own evening activities, there are days when we only have ten minutes to get together as a family to have dinner.  Those are quesadilla days.  It's been fun to experiment with different ways to dress up quesadillas and make them more interesting.  The black been spread on these adds a layer of texture and flavor  and gives some added protein and fiber.  The black bean mixture can be made ahead of time and then everything can be assembled quickly before heating the quesadillas.  We usually use whole wheat tortillas, but sometimes I use brown rice tortillas just for variety.  These go along well with guacamole and salsa.  I am so thankful for simple and tasty dinners, even when dinner only lasts ten minutes.
Black Bean Quesadillas
Ingredients
1 15 ounce can black beans, rinsed and drained
¼ cup chopped onion
1 garlic clove
1 tablespoon lime juice
2 tablespoons fresh cilantro, lightly packed
¼ teaspoon cumin
¼ teaspoon chili powder
¼ teaspoon salt
⅛ teaspoon pepper
colby jack cheese, shredded
flour or rice tortillas
Instructions
To make the black bean spread, combine the black beans, onions, garlic, lime juice, cilantro, cumin, chili powder, salt, pepper, and 1 tablespoon water in a food processor. Process until beans are creamy and smooth, adding another tablespoon of water only if necessary. Season with additional salt and pepper if desired.
Spread a layer of the black bean mixture on top of the tortilla, top with cheese, and then another tortilla. Heat both sides on a buttered griddle or pan over medium heat for 2-3 minutes per side, until cheese is melted. Let cool for one minute before cutting into wedges. Serve with guacamole and salsa.
0 comments