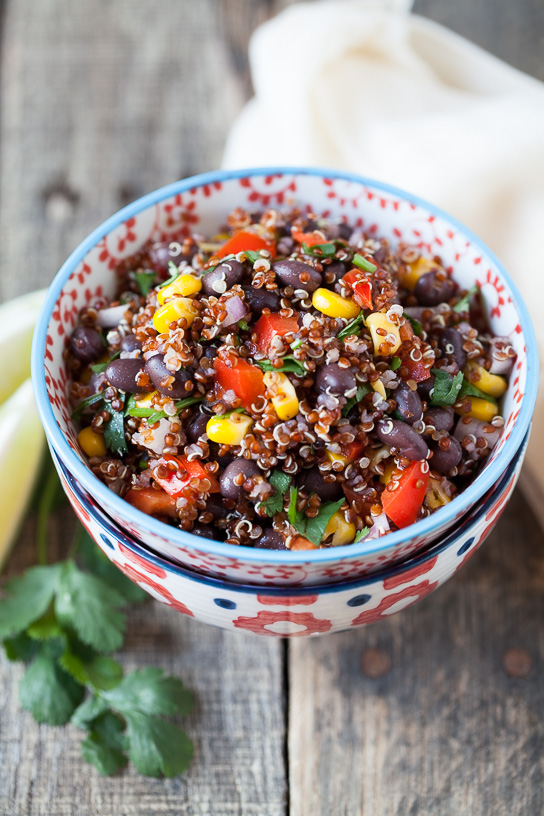 Whenever I make this vibrant and colorful salad, I feel happy and healthy.  I learned a great tip for making quinoa from Lorna Sass's book Whole Grains Every Day, Every Way.  She recommends making the quinoa as if cooking pasta, rather than cooking rice.  This means draining the extra cooking water rather than letting the quinoa sit to absorb all of the water.  Ever since I started making quinoa this way, there has been no more mushy quinoa and it's done perfectly every time. This is my own version of a salad that I once saw at the prepared foods counter at Whole Foods.  It keeps well for several days in the fridge and is great for packing lunches or picnics!

Black Bean Quinoa Salad
Ingredients
For the Salad:
1 cup red quinoa, uncooked
1 can black beans, drained and rinsed
1 cup cooked corn, fresh or frozen
½ red pepper, chopped
⅓ cup cilantro, chopped
⅓ cup red onion, finely chopped

For the Dressing:
1½ tablespoon olive oil
1 tablespoon red wine vinegar
½ teaspoon fine grain salt
⅛ teaspoon pepper
juice of ½ lime
Instructions
For the salad:
In a medium pot, boil 6-8 cups of water over high heat. Rinse the quinoa in a fine mesh strainer. When the water is boiling, slowly add the quinoa and boil uncovered for 11-14 minutes. After 10 minutes, start checking the quinoa for doneness. The quinoa is done when the "dot" in the middle of the quinoa starts to disappear and when some of the white filaments start to come off the seeds. Drain the quinoa over a fine mesh strainer and let cool.
In a large bowl, use a wooden spoon to combine the quinoa with the rest of the ingredients. Add the dressing and mix thoroughly. Season to taste with extra salt and pepper.
For the dressing:
In a small bowl, use a wire whisk to blend ingredients.
6 comments