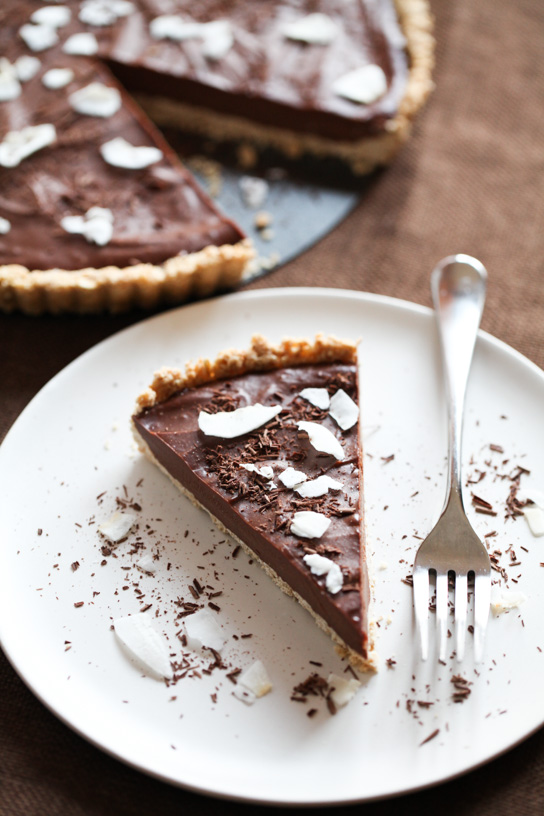 I am in LOVE with this dessert.  It is creamy and rich, with a perfect balance of super smooth chocolate with subtle coconut and espresso flavors. It tastes totally indulgent, and yet it is full of good-for-you ingredients.  Cacao powder.  Oats.  Hazelnuts. Cashews.  Coconut oil.  And of course, one can never go wrong with combining chocolate and hazelnuts.
I used a 10 1/2 x 1 inch tart pan with a removable bottom, but the original recipe calls for a 9 inch pie dish.  I thought being able to remove the sides was helpful in being able to slice the frozen torte.  Also, I used a Vitamix to blend the filling and I think that helped to achieve the ultra smooth consistency of the filling.  If using another blender, make sure to blend long enough to ensure the filling is smooth.  I love that this can be served chilled from the freezer.  It's such a great dessert for having company over since it can be made ahead of time.  I know we will be making this dessert over and over again!
Chilled Chocolate Hazelnut Espresso Torte
Ingredients
For the crust:
¾ cup hazelnuts
¼ cup unrefined coconut oil
3 tablespoons maple syrup
¼ teaspoon sea salt
1½ cups rolled oats

For the filling:
1½ cups unsalted cashews, soaked at least 4 hours, drained and rinsed
½ cup + 2 tablespoons maple syrup
5 tablespoons unrefined coconut oil
⅓ cup raw cacao powder
⅓ cup dark chocolate chips, melted
2 teaspoons vanilla
½ teaspoon sea salt
1 teaspoon espresso powder
shaved dark chocolate and unsweetened coconut flakes, for garnish
Instructions
For the crust:
To remove the bitter skins off the hazelnuts, roast the hazelnuts in a single layer for 10-12 minutes in a 350 oven. Transfer the hazelnuts to a kitchen towel, and use the towel to rub the skins loose.
In a food processor, process ½ cups of the oats until it becomes a coarse flour. Remove oat flour and set aside. Next process the hazelnuts until finely ground, being careful not to over process into nut butter. Add the oat flour, the remaining oats, the coconut oil, maple syrup, and sea salt. Pulse until mixture forms a loose dough and sticks together when pressed.
Transfer dough into a lightly greased tart pan or pie dish. Using slightly wet fingers, press the dough tightly and evenly around bottom and sides of the pan. Use a fork to poke holes in the crust to prevent air pockets.
Bake the crust for 10-12 minutes, until it starts to turn golden. Allow crust to cool before filling.
For the filling:
Add all of the filling ingredients to a blender. Blend on high speed until completely smooth.
Pour filling into cooled crust and use an offset spatula to smooth the top.
Freeze the torte, uncovered for a couple of hours, then cover with foil and freeze for another 4-6 hours, or overnight.
To serve, garnish with shaved dark chocolate and/or coconut flakes. Serve straight from the freezer, but allow 5-10 minutes for torte to thaw before slicing.
2 comments