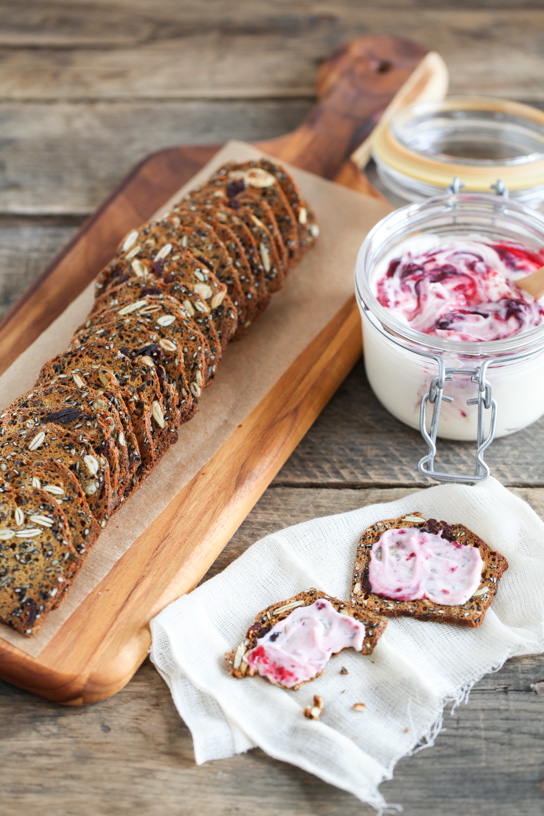 We recently hosted a small recital at our home for my son's graduation from his Suzuki Cello Book 1.  It seems that I've hosted so many recitals for my students before and I've always had so much fun coming up with a refreshments menu to serve afterwards. This time was different.  All of a sudden it was my responsibility to make sure that he practiced and could play all 17 of his pieces for memory.  Refreshments were not even on the radar for me this time.  I found myself at Whole Foods the day before his recital with my mind drawing a blank as to what to serve after the recital.  As I wandered around the store, I found samples of these Rock  Creek Crisps.  They were served with  creme fraiche and jam and the whole thing tasted like one delicious cookie.  Yes, please.  A perfect hors d'oeuvre which required practically no effort!
This doesn't even count as a real recipe, but it's so good that I'm posting it just so that I keep it in my repertoire.  I used sour cherry jam, but I think almost any flavor jam would be scrumptious.

Cherry Creme Fraiche with Rock Creek Crisps
Ingredients
1 5.3 oz package of Cranberry Multi- Seed Rock Creek Crisps
8 oz. creme fraiche
2-3 tablespoons sour cherry jam
Instructions
Dollop the sour cherry jam evenly over the creme fraiche and use a knife to swirl the jam into the creme fraiche. Serve with Rock Creek Crisps.
Comments Off

on Cherry Creme Fraiche with Rock Creek Crisps