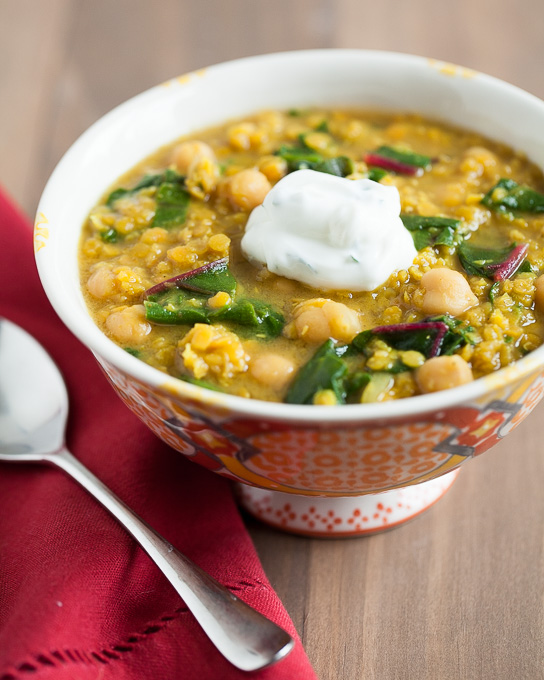 Lentils seem to be my fallback for quick meatless meals these days.  These curried red lentils are one of those one pot dishes that make a great weeknight meal.  When cooked long enough, the red lentils turn creamy while the garbanzo beans help add texture to the stew.  The cucumber raita complements the curry perfectly and helps to brighten up the flavors.  I like to serve this stew over a bed of brown rice to make it extra hearty and filling.
Curried Red Lentils with Garbanzo Beans and Swiss Chard
Ingredients
For the Red Lentil Stew:
1 tablespoon olive oil
1 large onion, thinly sliced
2 tablespoons curry powder
⅛ teaspoon cayenne pepper
½ teaspoon salt plus additional salt to taste
4 cups of chicken or vegetable broth plus 2 cups water
1 large bunch swiss chard, stalks removed, coarsely chopped
1 pound red lentils, rinsed and drained
⅔ cup dried garbanzo beans, cooked and drained, or 1 15 oz can garbanzo beans, rinsed and drained

For the Cucumber Raita:
2 cups plain yogurt
½ cup grated cucumber
3 tablespoons coarsely chopped cilantro
⅛ teaspoon cumin
salt to taste
Instructions
For the Red Lentil Stew:
Using a large pot, heat the oil over medium high heat and saute the onions until they start to turn golden, about 10 minutes. Add the curry powder, cayenne pepper, and salt and stir for another minute. Add the red lentils, give a quick stir, and then add the broth.
Bring red lentil mixture to a boil and then lower heat and simmer for 15 minutes, stirring occasionally.
Add the swiss chard and garbanzo beans and simmer for another 10-15 minutes, or until lentils reach desired consistency.
Serve with brown rice and cucumber raita.
For the Cucmber Raita:
In a small bowl, mix all ingredients together gently with a wooden spoon or spatula.
1 comment