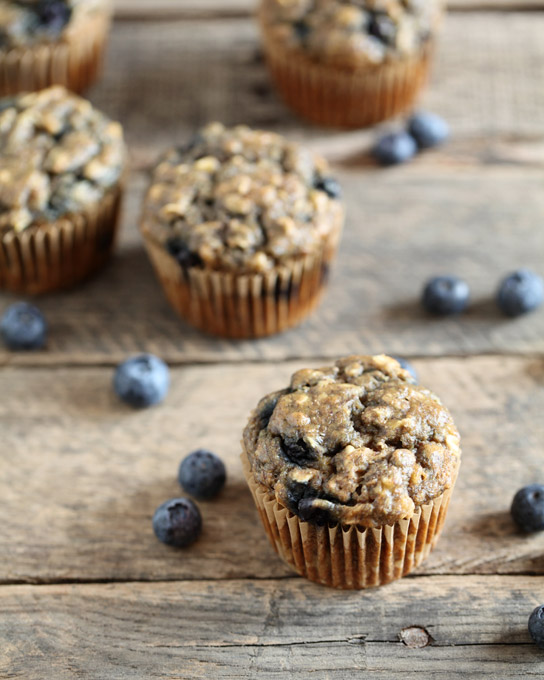 One of my favorite childhood summer vacations was spending a week in beautiful Martha's Vineyard.  I have fond memories of relaxed walks by the ocean, window shopping on the quaint streets, and of course, eating at lots of great restaurants.  One of the most well known restaurants on the island is The Black Dog and these muffins are adapted from one of the recipes found in their cookbook.  While I never ate these muffins at their bakery,  making these muffins from their cookbook reminds me of those lazy summer days.
These muffins are completely whole-grain, lightly sweetened with honey, and dairy-free.  I prefer my muffins not to be overly sweet, so if you prefer things on the sweeter side, increase the amount of honey by about 1/4 cup.  For an extra-special treat, substitute chocolate chips for the blueberries.  YUM!  These store well in the freezer and it's so convenient to be able to pull them out and pack for lunches!

Whole Wheat Blueberry Banana Muffins
Serves:
makes 20-22 muffins
Ingredients
2½ cups whole wheat flour
1½ cups rolled oats
2 teaspoons baking soda
⅛ teaspoon salt
¼ teaspoon nutmeg
½ cup honey
½ cup canola oil
¼ cup ground flaxseed
6 ripe medium bananas
1 tablespoon vanilla
2 cups fresh or frozen blueberries
Instructions
Preheat oven to 350. Grease or line muffins cups.
With a stand mixer, mash the bananas until smooth. Add the honey, canola oil, flaxseed, and vanilla. Mix together on medium speed until all ingredients are combined thoroughly.
In another bowl, whisk together the whole wheat flour, oats, baking soda, salt, and nutmeg.
Add dry ingredients to the wet ingredients and mix until ingredients are just incorporated. Batter will be lumpy. Fold in blueberries with a rubber spatula.
Divide muffin batter among muffin cups and fill each about ¾ full.
Bake for about 30-45 minutes until a toothpick comes out clean.
1 comment