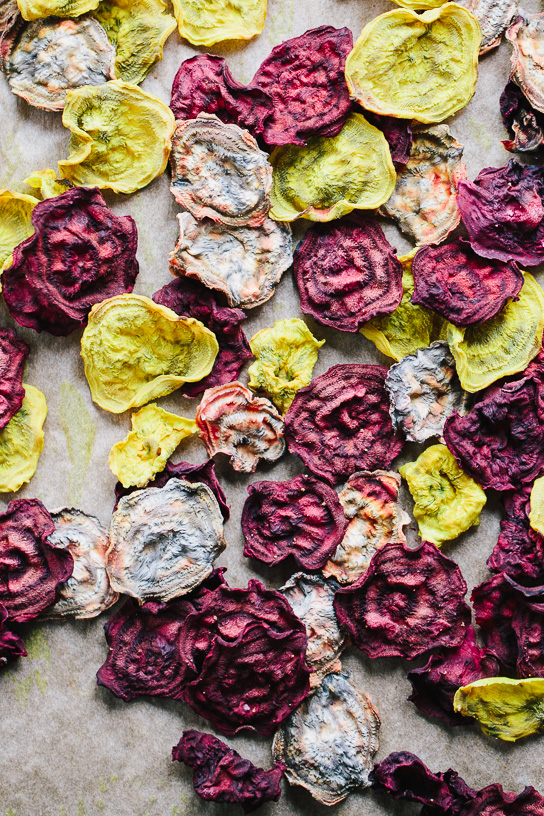 It seems that I am always on the hunt for ways to incorporate more vegetables into my kids lunches for school.  It's a challenge since neither of them are fond of raw vegetables (carrots being the only exception) and they only enjoy cooked vegetables when warmed.  I dream of the day when I can pack mason jar salads in their lunches, but for now veggie chips are the name of the game.  After years of being afraid of mandolines, I finally put on my brave face and bought one.  And just like that, I'm now in love with my mandoline.  I previously had visions of slicing off fingers, but I've realized it's really quite safe as long as the guard is used.   It makes slicing vegetables thin such a breeze and I love the consistency that comes when using the mandoline.  Making these oven-baked beet chips have been one of my favorite ways to use my new tool.  My heart is so happy when the beets are sliced into disks of vibrant color that then shrink and turn into crisp little chips.  These are such an irresistible snack when a big bowl is left on the counter for all who walk by.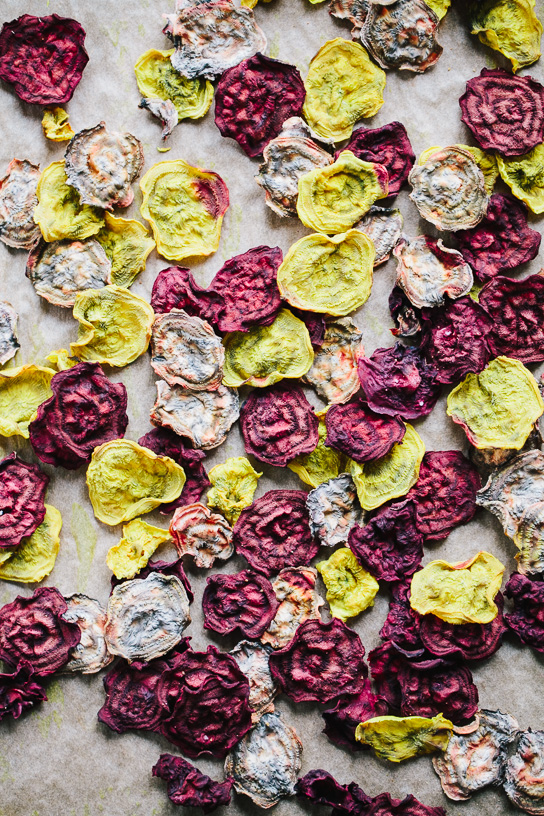 I used Karen Mordechai's method of making root vegetable chips found in her gorgeous book Sunday Suppers.  The beets first need to "sweat" after lightly salting; paper towels can be used to absorb the excess liquid.  Afterwards the beets are baked for 1 to 1 1/2 hours in a 250 degree oven until crispy and crunchy.  I've now made a few batches of these and my most recent batch was the most loved of all.  I've learned that it's easy to over salt the chips and really only a light sprinkling is all that's necessary for the beets to release liquid.  Also, how long in the oven depends on how thick the beet slices are.  The thicker the slice, the longer it will take, and the more crunchy and cracker-like the chip will become.  I sliced my latest batch quite thin and the results were light and crispy chips.  I added a light seasoning of onion and garlic powder right before the beets went into the oven, but again only a pinch adds a lot of flavor.  Lastly, keep the various colors of beets on separate baking sheets if you do not want the colors to bleed into each other.  (I did not mind overlapping colors.)  Hard to believe, but no oil at all is needed for these chips.  Simple, beautiful, and delicious.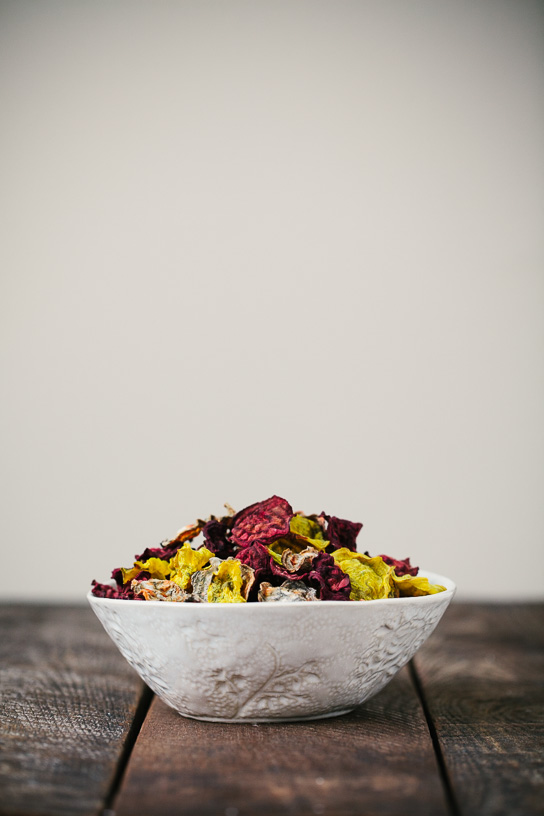 Print
Oven-Baked Beet Chips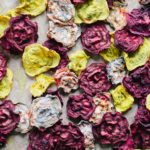 Ingredients
3 medium sized beets (I used 1 red, 1 golden, and 1 chioggia)
about 1 teaspoon kosher salt
1/4 teaspoon onion powder
1/4 teaspoon garlic powder
Instructions
Use a vegetable peeler to peel the skins off the beets. Trim ends off of each side.
Preheat oven to 250.
Thinly slice each beet using a mandoline or carefully by hand. Spread beets in a single layer on paper towels and lightly sprinkle with salt. Allow beets for rest about 30 minutes. As the beets begin to release liquid, use paper towels to absorb the liquid.
In a small bowl, mix together the onion and garlic powder. Lightly season the beets. (I used an old seasoning jar.)
Line 2-3 baking sheets with parchment paper and arrange beets in a single layer.
Bake for 1-1 1/2 hours, until chips are crispy. Rotate pans after 40 minutes for even baking. Store at room temperature in an airtight container.