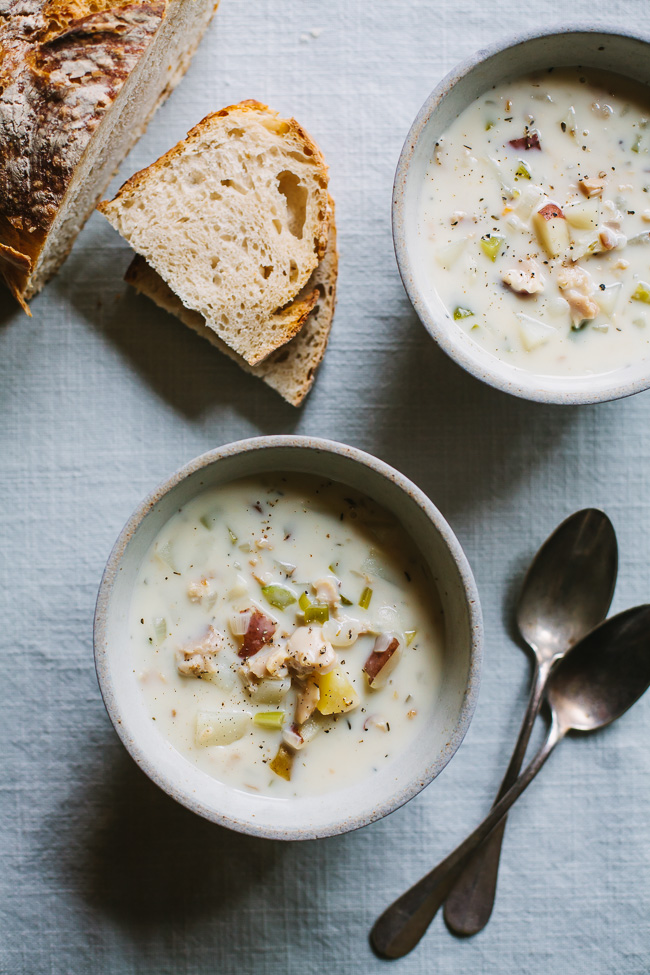 For years when I was growing up, my dream had been to someday live in Maine.  There is something absolutely magical about Maine, and whenever I have traveled there my heart feels alive and happy.  I love the rugged beauty of the New England coast, the quiet rolling mountains, the distinct charm of the quaint villages and towns.  There's wild blueberry picking, and lobster rolls and clam chowder abounding at every restaurant and roadside stand.  We had a family trip planned for this past summer and it was going to be our first time sharing this place with our children.  Plans were suddenly changed when we found out about my grandmother, and our trip to Maine turned into a trip to Hong Kong (which was also special, but just different).  As a consolation, we cuddled up and read Robert McCloskey's One Morning in Maine while dreaming of being on the shore, and I made a big pot of chowder.
[Read more…] about Weeknight Clam Chowder
Continue Reading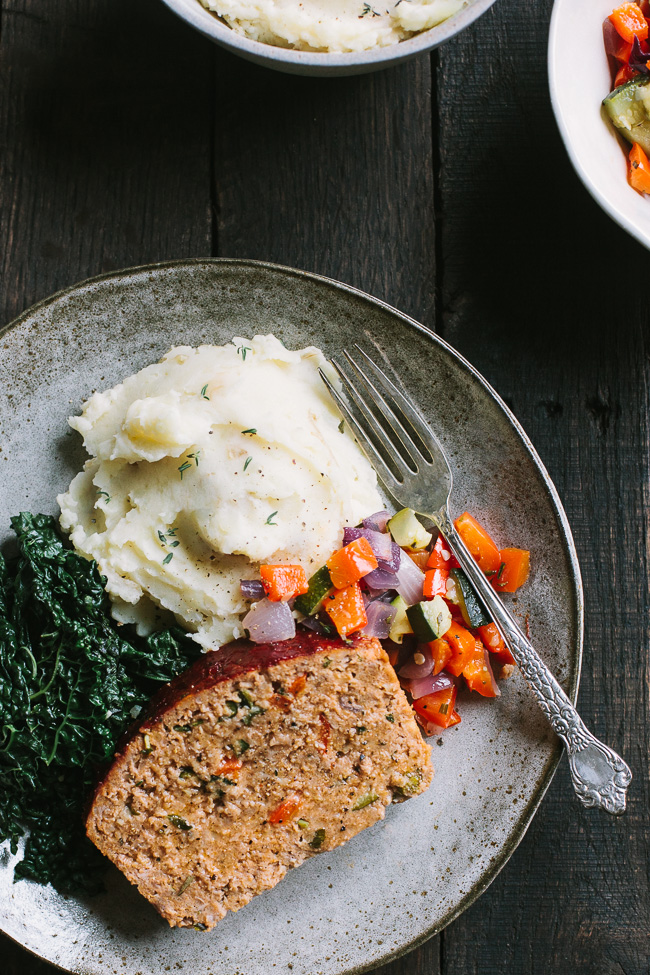 Retro tv dinners come to mind when I think of meatloaf, probably because I didn't grow up eating it and my preconceptions primarily come from passing through the frozen food aisle at the store.  It took me some time to come around on meatloaf, but after I saw this recipe,  it suddenly became appealing and worth giving a try.  In the updated version here, classic meatloaf gets a lightened up summer spin with turkey and an abundance of  colorful roasted summer vegetables and fresh basil.  This does require turning on the oven, but it's great when you need a make-ahead meal since everything can be assembled earlier and then simply baked in the oven before serving.  Grilling is great in the summer, but it also requires someone actively being at the grill right before the meal is served.  Sometimes it's nice to be able to work ahead of time, put on the oven timer, and forget about it until the timer goes off.  If I'm having guests over, meals like these make mingling so much easier.  This recipe makes more roasted vegetables than needed for the meatloaf.  I like having the extra veggies to serve alongside the meatloaf, but cut the vegetables in half if you only want enough for the meatloaf.  Mustard mashed potatoes make a wonderful accompaniment as well.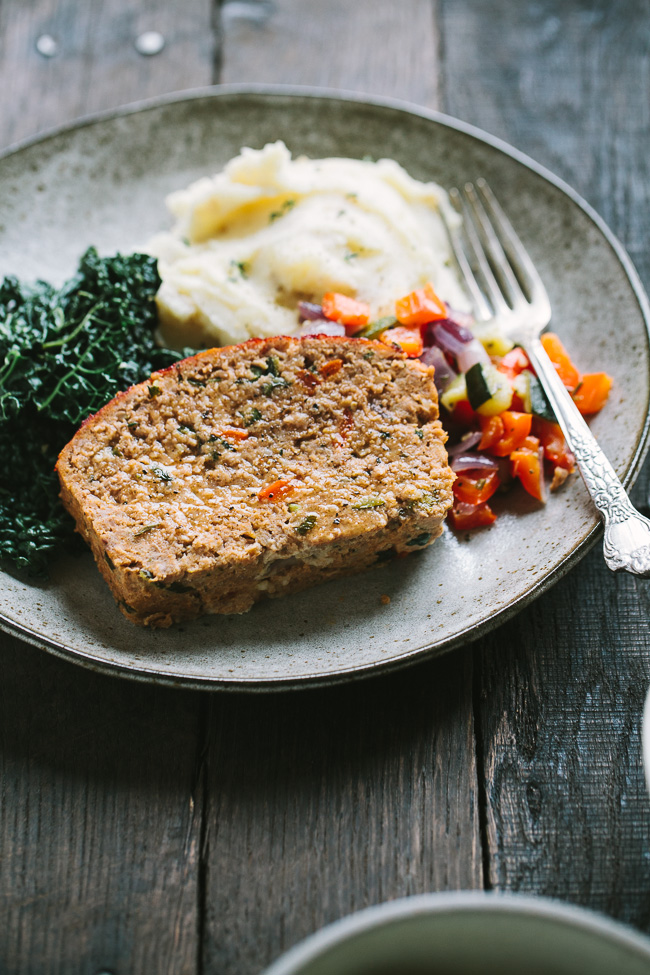 Print
Roasted Vegetable Turkey Meatloaf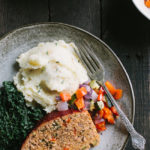 Ingredients
3 small zucchini, diced
3 red bell peppers, diced
2 medium red onions, diced
2 tablespoons extra-virgin olive oil
2 tablespoons chopped fresh rosemary, divided
2 pounds ground turkey thigh
2 cups grated mozzarella cheese
1 1/2 cups whole wheat panko (Japanese breadcrumbs)
1 cup thinly sliced fresh basil
1 tablespoons chopped fresh thyme
1 1/2 teaspoons kosher salt
1/2 teaspoon ground black pepper
1/4 teaspoon crushed red pepper
3/4 cup ketchup, divided
2 large eggs
1/4 cup white wine
Instructions
Preheat oven to 425. In a medium bowl, toss together the zucchini, peppers, and onions with olive oil and 1 tablespoon of rosemary. Spread evenly on a rimmed baking sheet and season to taste with salt and pepper. Roast vegetables until tender, about 25 minutes. Set aside to cool.
Reduce oven temperature to 375. In a large bowl, use a wooden spoon to mix together turkey, mozzarella, panko, basil, thyme, 1 1/2 teaspoons kosher salt, 1 teaspoon black pepper, crushed red pepper, remaining 1 tablespoon rosemary, and 1 cup roasted vegetables.
In a small bowl, whisk together 1/2 cup ketchup, eggs, and wine. Add to turkey mixture and mix again to incorporate. (It may be easier to use hands to mix together.)
Transfer mixture to a 9×5-inch loaf pan. Use the back of a rubber spatula to smooth and form a rounded top. Spread remaining 1/4 cup ketchup evenly over the top of loaf.
Bake until cooked through and top is lightly browned, about 1 hour 10 minutes. Remove pan from oven and allow meatloaf to rest 20 minutes before slicing. Serve with warmed roasted vegetables and mustard mashed potatoes.
Print
Mustard Mashed Potatoes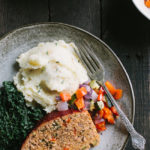 Ingredients
3 pounds Yukon Gold potatoes
4 tablespoons unsalted butter, at room temperature
3/4 cup (or more) whole milk
3 tablespoons Dijon mustard
kosher salt and ground black pepper to taste
Instructions
In a large pot, cover potatoes in lightly salted water and bring to a boil over high heat. Lower heat and simmer potatoes for 20-25 minutes, until potatoes are soft when a knife pierces through. Drain potatoes and return them to the pot.
Roughly mash the potatoes with a potato masher or pastry blender. (I leave the skins on for a more rustic feel, but peel potatoes if desired.) Add ¾ cup milk, butter, mustard, salt, and pepper and continue to mash until you reach desired consistency. Add more milk a couple tablespoons at a time if necessary.
Continue Reading