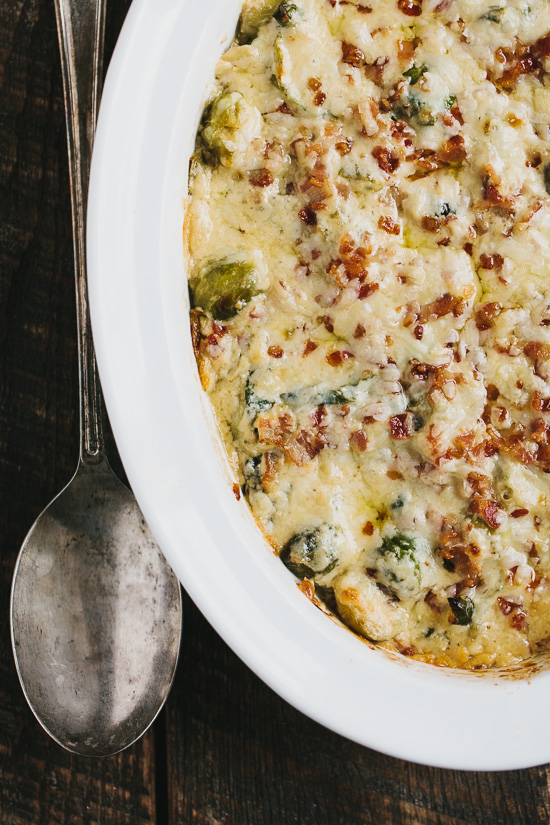 One more appearance for brussels sprouts here before I start transitioning over to spring vegetables.  We had light snow and temps in the 20s over the weekend so keeping with winter vegetables for now seems completely appropriate.  Cold weather calls for warm and cozy comfort food and this brussels sprouts and bacon gratin fits the bill.  Usually I prefer my vegetables on the lighter side, but every so often I crave something rich and cheesy such as this gratin.  It's adapted from the cover recipe of the Nordstrom Family Table Cookbook and while I am sure the original version is heavenly, I decided to lighten it up a bit by substituting whole milk for a portion of the heavy cream and slightly reduced the amount of gruyere.  After all, I wanted this dish to be mainly about the brussel sprouts and even though I love gruyere, too much can be overpowering.  I also used bacon instead of prosciutto, although I think the prosciutto would also be splendid.  This naturally makes a good side dish, but it can also be a main course when tossed with pasta and served along with a lighter salad.  This gratin can be made and assembled ahead of time and baked right before serving so it's perfect fare for special occasion meals when there's lots going on and it's best to work ahead.  If you are looking for a last minute vegetable for Easter brunch this weekend, consider making this one!
Print
Brussels Sprout and Bacon Gratin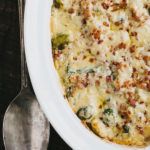 Ingredients
1 tablespoon extra virgin olive oil
4 ounces nitrate-free bacon, diced
1 1/4 pounds brussels sprouts, trimmed and halved lengthwise
1/4 cup finely chopped shallots
1/3 cup white wine
1 cup reduced-sodium chicken broth
1/2 teaspoon kosher salt
1/4 teaspoon ground black pepper
6 ounces shredded Gruyere cheese, about 1 1/2 cups
1 cup heavy cream
1 cup whole milk
Instructions
In a large skillet over medium heat, heat olive oil. Add the bacon and cook, stirring occasionally, until brown and crispy. Remove bacon with a slotted spoon and transfer to a paper-towel lined plate.
Add the brussels sprouts to the same pan with the bacon fat and cook, stirring occasionally, until brussels sprouts start to brown and turn golden, about 7-8 minutes. Add the shallots and stir for another 2 minutes, until shallots begin to soften. Add the wine and cook for another couple minutes until reduced by half. Add the broth, salt, and pepper and bring to a boil. Continue to cook until liquid is reduced by half and brussels sprouts are tender, about 5 minutes.
Preheat oven to 375. Lightly oil a 2-quart baking dish. Using a slotted spoon, transfer brussels sprouts to prepared dish. Sprinkle half of the gruyere on top. Boil the remaining cooking liquid until it's reduced to about 2 tablespoons. Lower heat to medium, add the cream and milk, and continue to cook to reduce by half, about 10 minutes. Season to taste with additional salt and pepper.
Pour cream mixture over brussels sprouts and gruyere. Sprinkle with crisped bacon and then top with remaining gruyere. Bake until bubbly and top starts to turn golden brown, about 20 minutes. Serve immediately.