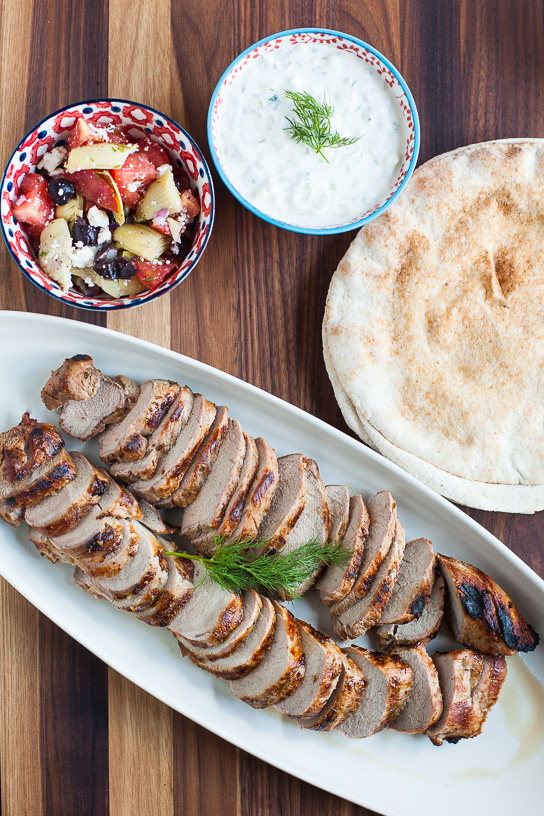 If you ask my daughter where her favorite place to eat is, without hesitation she'll answer Nordstrom.  Random, huh?  Not sure if it's actually the food for her, or simply that we usually meet there with a fun group of friends, but she loves going there.  If we eat lunch at the mall, Nordstrom is always her first choice and mine.    They seriously have great food and cater so well to kids.  This recipe comes from the Nordstrom Family Table Cookbook.  Since I like the cafe so much, I figured I would give their cookbook a try and everything I've made out of this cookbook has been wonderfully delicious.
The original recipe for this Greek-Marinated Pork Tenderloin calls for slicing and skewering the meat before grilling, but I thought it was simpler to grill the pork tenderloins whole and slice afterwards.  The pork is served in a pita and topped with a tomato and artichoke salad and a creamy tzatziki sauce.  The combination of the lemon-scented pork along with these accompaniments is something to be relished.  I tried taking a picture of the pork assembled in the pita, but didn't get a good one because I was in a rush and dinner guests were waiting to be served.  This is a great meal to make for company since all of the components can be made ahead of time and the meat can be put on the grill as the guests arrive.  Everyone can assemble their own pitas to their own liking and there you go, an easy dinner party!
Print
Greek-Marinated Pork Tenderloin with Tzatziki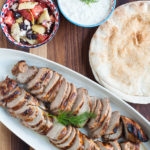 Ingredients
For the Pork Tenderloin:
1/4 cup red wine vinegar
1/4 cup fresh lemon juice
1 clove garlic, minced
1/2 teaspoon dried oregano
2 teaspoons kosher salt
1/2 teaspoon ground black pepper
2 pork tenderloins (about 1 1/4 pound each)

For the Tzatziki:
1/2 English cucumber, coursely chopped
1 1/2 cups plain Greek-yogurt
1 tablespoon olive oil
2 teaspoon fresh lemon juice
1 teaspoon minced fresh dill
kosher salt
ground black pepper

For the Tomato and Artichoke Salad:
5 roma tomatoes, diced into 3/4-inch pieces
1 14.5 ounce can artichoke hearts, quartered
1/2 cup feta cheese, crumbled
1/2 cup pitted and sliced Kalamata olives
2 tablespoons minced red onion
1 clove garlic, minced
1 teaspoon dried oregano
1/2 teaspoon minced fresh dill
kosher salt
ground black pepper
Whole wheat pita bread for serving
Instructions
For the pork marinade, place the vinegar, lemon juice, garlic, oregano, salt, and pepper into a gallon sized ziploc bag. Close the bag and use hands to mix the marinade together in the bag. Add the pork and marinate for up to 4 hours. Allow pork to sit at room temperature for 30 minutes before grilling.
For the tzatziki, place the diced cucumber in a food processor and pulse until finely chopped. In a mixing bowl, mix together the cucumber, yogurt, olive oil, lemon juice, and dill. Season with kosher salt and pepper to taste. Transfer to a serving bowl and refrigerate for at least an hour before serving.
For the tomato and artichoke salad, gently combine the tomatoes, artichokes, feta, olives, onion, garlic, oregano, and dill in a mixing bowl. Season with kosher salt and pepper to taste. Let stand at room temperature for at least an hour before serving.
Grill the pork on medium heat for 20-30 minutes, rotating the pork every ten minutes or so. Allow the pork to rest for 10 minutes before cutting into 1/2 inch-thick slices.
To serve, place a few slices of pork in the middle of the pita and add some of the tomato and artichoke salad and tzatziki sauce on top. Fold up pita and enjoy!