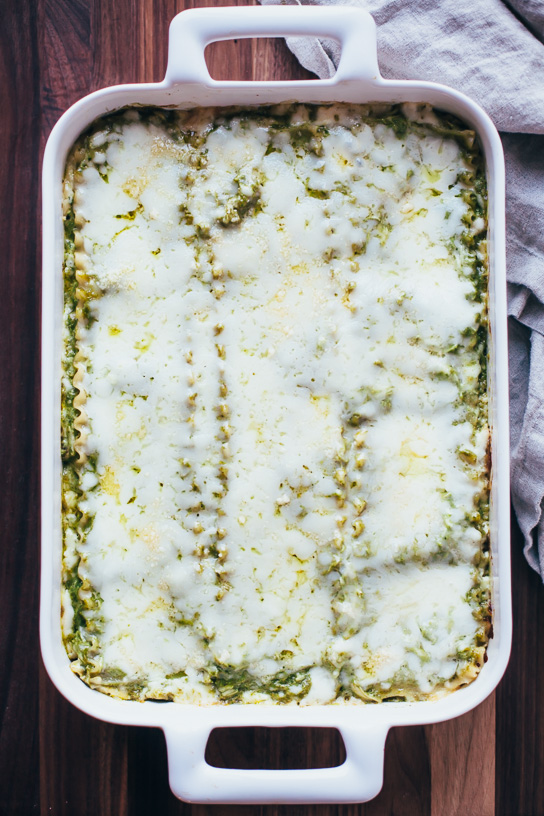 We reorganized our basement chest freezer a few weeks ago (always feels so good to get that done) and I discovered six containers of pesto from late summer.  Simple surprises like that totally make my day.  While the rest of the family would be completely content using the rest of the pesto for everyday pasta and pizza, I wanted something more than that for myself.  Cooking feels like so much less of a chore when it's an exercise in creativity and I'm not repeating the same meals over and over again.  Not that there's anything wrong with repeating meals (sometimes my kids complain that I don't repeat their favorites enough), but I selfishly think it's important to keep things interesting for the cook.
This pesto chicken lasagna is a refreshing twist on the more traditional lasagna.  It still has the rich layers of ricotta, parmesan, and mozzarella, but a creamy pesto chicken sauce replaces the tomato meat sauce here.  If you already have pesto and cooked chicken, this assembles fairly quickly and is one of those great make-ahead of time meals.  I hope you give this lasagna a try- it will definitely hit the spot with any pesto-loving crowd.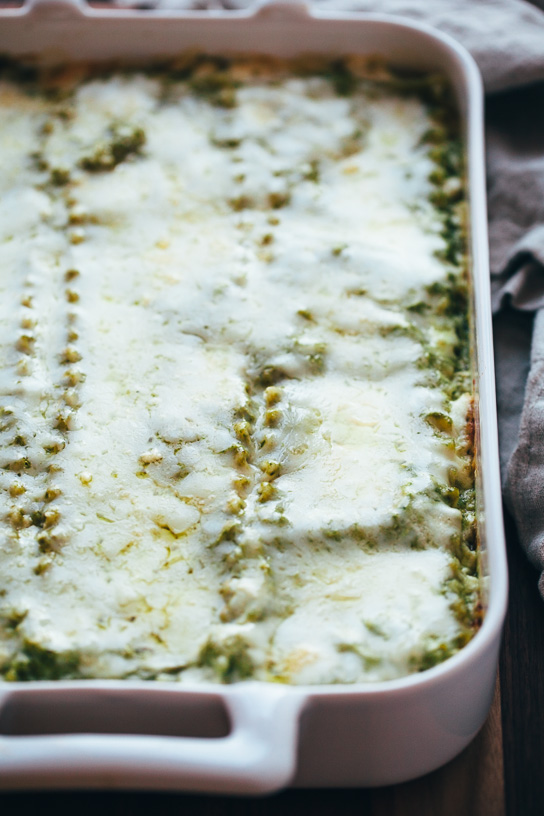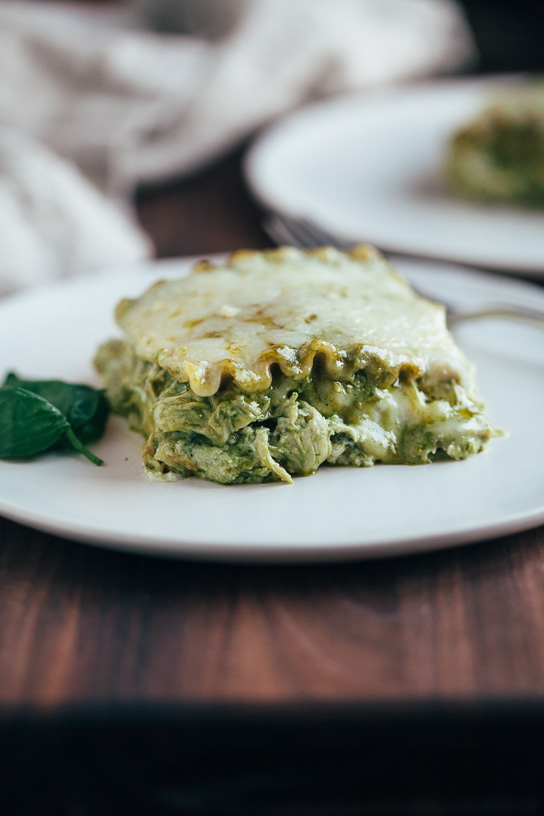 Print
Pesto Chicken Lasagna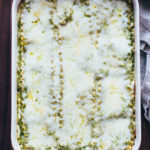 Ingredients
Creamy pesto sauce
2 tablespoons unsalted butter
4 teaspoons flour
1 1/4 cup whole milk
1 1/4 cup pesto
kosher salt and ground black pepper to taste
Lasagna
2 split bone-in chicken breasts, about 1.5 pounds
1 tablespoon olive oil
9 lasagna noodles, cooked according to package directions
15 ounces ricotta
1 large egg, lightly beaten
1/2 cup + 2 tablespoons freshly grated Parmesan, divided
2 tablespoons dried parsley
1 pound mozzarella, grated
Instructions
Creamy pesto sauce
In a small saucepan, melt butter over medium heat. Add flour and whisk for 2-3 minutes. Gradually add the milk and continue to whisk until thickened, about 3-4 minutes. Stir in the pesto and season to taste with salt and pepper.1. Preheat oven to 350. Rub olive oil over chicken breasts and season with kosher salt and pepper.
Lasagna
Bake chicken skin side up for 30-40 minutes, until chicken is cooked through. Cool. Discard skins and use hands or 2 forks to shred chicken into bite-size pieces. Increase oven temperature to 375.
In a medium bowl, use a fork to mix together the ricotta, egg, 1/2 cup grated parmesan, parsley, and 1/2 teaspoon salt.
Spread a thin layer of creamy pesto sauce on the bottom of a 9×13 lasagna dish, about 1/3 cup. Add the shredded chicken to the rest of the sauce and stir until combined.
Layer 3 lasagna noodles, half of the ricotta mixture, one third of the chicken pesto mixture, and one third of the mozzarella. Repeat. Finish with remaining 3 lasagna noodles, chicken pesto mixture, and mozzarella. Sprinkle the top with 2 tablespoons of parmesan.
Bake 25 minutes covered with foil, then an additional 5-10 minutes uncovered, until cheese is melted and edges are bubbly. Allow lasagna to set for 10 minutes before serving.
Notes
2 1/2 -3 cups cooked shredded chicken can be used instead of roasting the bone-in chicken breasts.