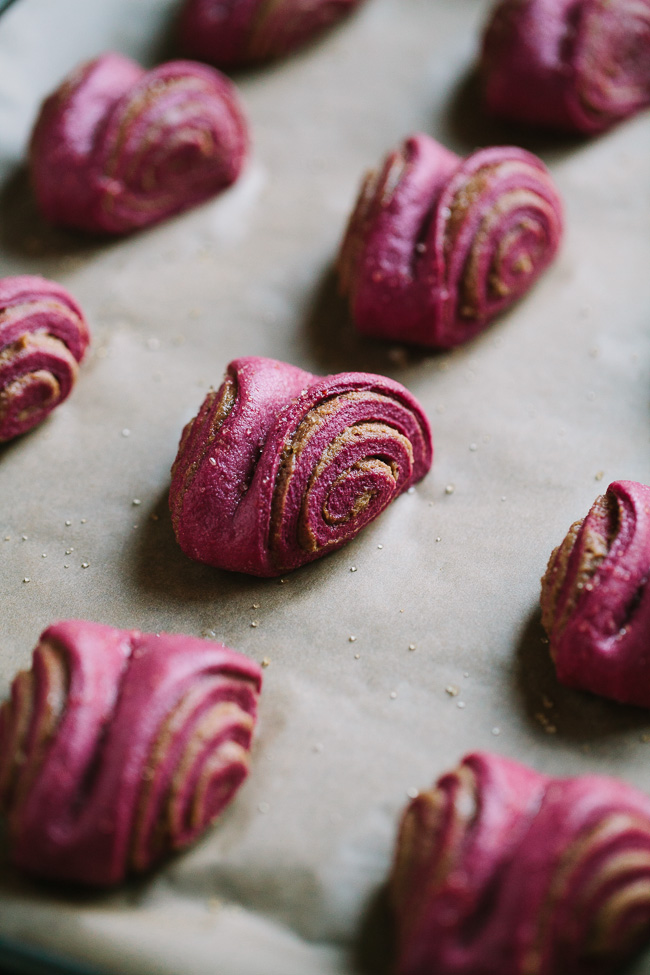 Over the summer our local CSA hosted a "kids on the farm" day and it was one of the highlights of our summer.  It was such a treat to visit a real farm and see how and where all of our summer produce is grown.  The kids went on an edible farm walk through raspberry bushes, fields of kale, rows of tomatoes, and even explored a mushroom forest.  They learned about healing herbs and made little pouches of homemade tea.  They were able to help feed the pigs and visit the cows.  The experience was wonderful and deepened our appreciation for all of those hard-working farmers out there.  Upon arriving at the farm, we were greeted by a large table set up with a heaping bowl of pink dough deeply colored from red beets.  The kids all delighted in being able to take a bit of dough and shape their own rolls for their morning snack.  And now as we approach Valentine's Day, I thought it would a festive time to make those beautiful pink sweet rolls again and bring back memories of our day at the farm.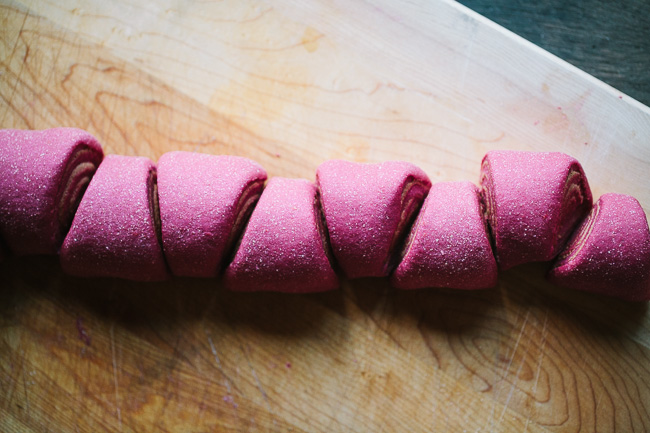 For as pink as these cinnamon rolls are, the beet flavor is surprisingly subtle if even detectable at all.  A bit of orange and ginger is added to bring out the sweetness.  This dough comes together quickest when you already have some beets pureed, so the next time you roast beets make a few extra so this puree will be on hand.   I left them unfrosted so as to not cover up the pink and instead finished them off with a light pinch of turbinado sugar for sparkle.  With Valentine's Day falling on a weekend this year, a special breakfast is much more manageable and I think a warm batch of these rolls would be an extra happy way to begin the morning.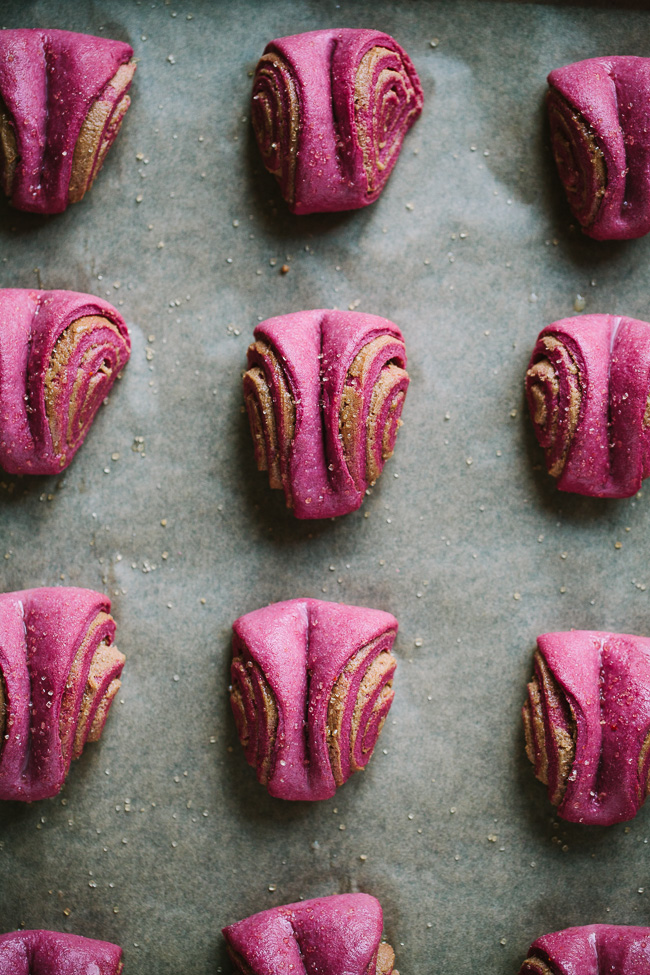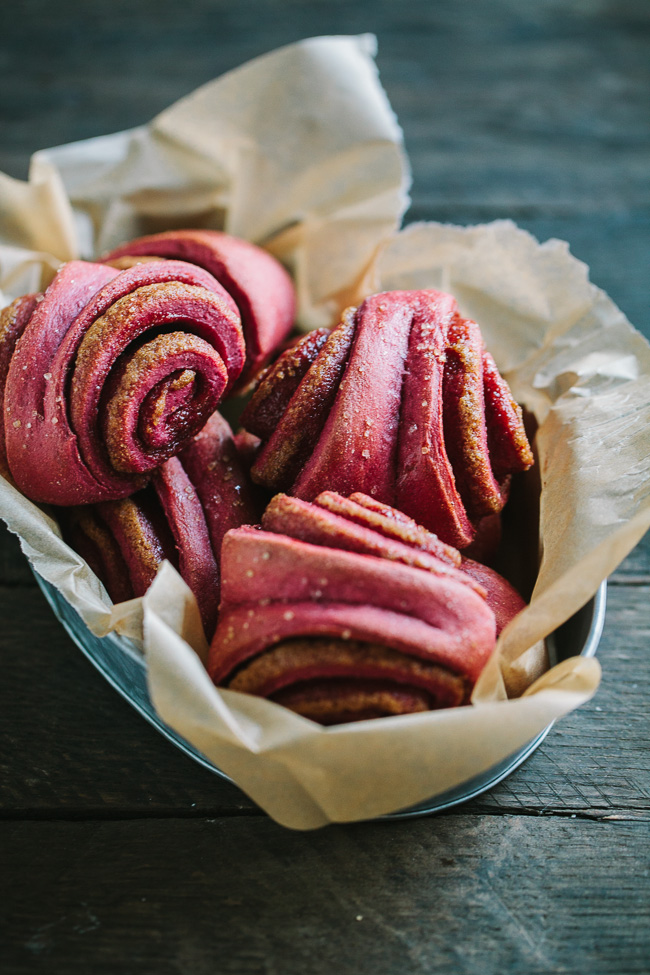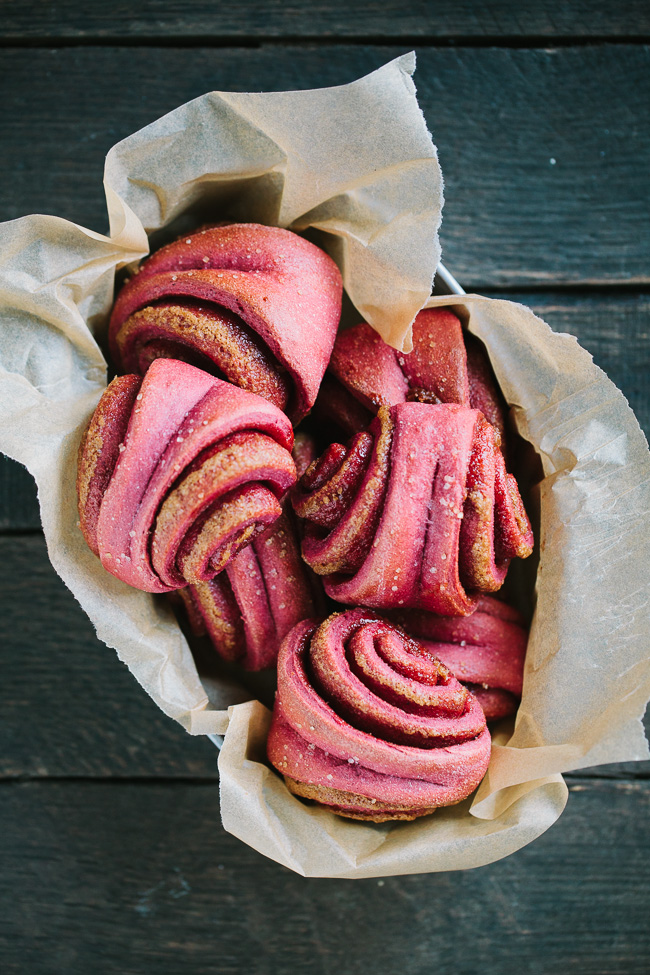 Print
Cinnamon Beet Rolls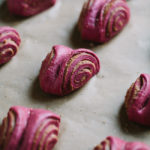 Ingredients
4 1/2 teaspoons active dry yeast (2 1/4-ouce packets)
1/4 cup warm water, about 105 degrees
1 teaspoon natural cane sugar
1 cup pureed beets
1 egg, lightly beaten
1 cup buttermilk
1/2 cup natural cane sugar
1/4 cup melted butter
1 tablespoon + 1 teaspoon orange zest
1 1/4 teaspoons fine grain sea salt
3 1/2 cups white whole wheat flour
2 1/2 cups light spelt flour
1-2 tablespoons raw turbinado sugar
1 egg + 2 tsp water, lightly beaten for egg wash, optional
Filling
6 tablespoons unsalted butter, softened
3/4 cup muscovado sugar
1 tablespoon cinnamon
1/4 teaspoon ginger
Instructions
In the bowl of a stand mixer, dissolve the sugar in warm water and sprinkle over the yeast. Let stand until yeast begins to foam, about 5 minutes. Add the beets, egg, buttermilk, sugar, butter, zest, and salt and mix together with paddle attachment.
Add about half of the flour and continue to mix with the paddle attachment. Switch to the dough hook attachment and add the rest of the flour. Knead until dough comes together and forms a ball, about 5 minutes. Transfer dough to a lightly greased bowl and cover. Let rise at room temperature for 1 1/2 to 2 hours or overnight in the refrigerator.
In a small bowl, use a fork to mix together the muscovado sugar, cinnamon, and ginger.
Divide dough into two portions. On a lightly floured surface, roll each portion into a rectangle about 13″ by 20″. Spread half of the softened butter on each rectangle and sprinkle with cinnamon sugar mixture, leaving a 1/2-inch border around the edges. Roll up dough lengthwise into tight logs, pinch the seams shut, and place the logs seam side down. Cut each log into 12 pieces, rotating cuts on the diagonal. (I cut the ends off first to make a clean edge.) Press an index finger firmly on the top and center of each roll to shape.
Preheat oven to 400.
Place rolls at least 2 inches apart on 2 parchment lined baking sheets. Lightly cover and allow rolls to rise again for 30 minutes. Brush with egg wash and sprinkle with turbinado sugar.
Bake for 14-18 minutes, until light golden. Serve warm. Store leftovers in the freezer wrapped in foil and reheat in the oven when ready to serve.