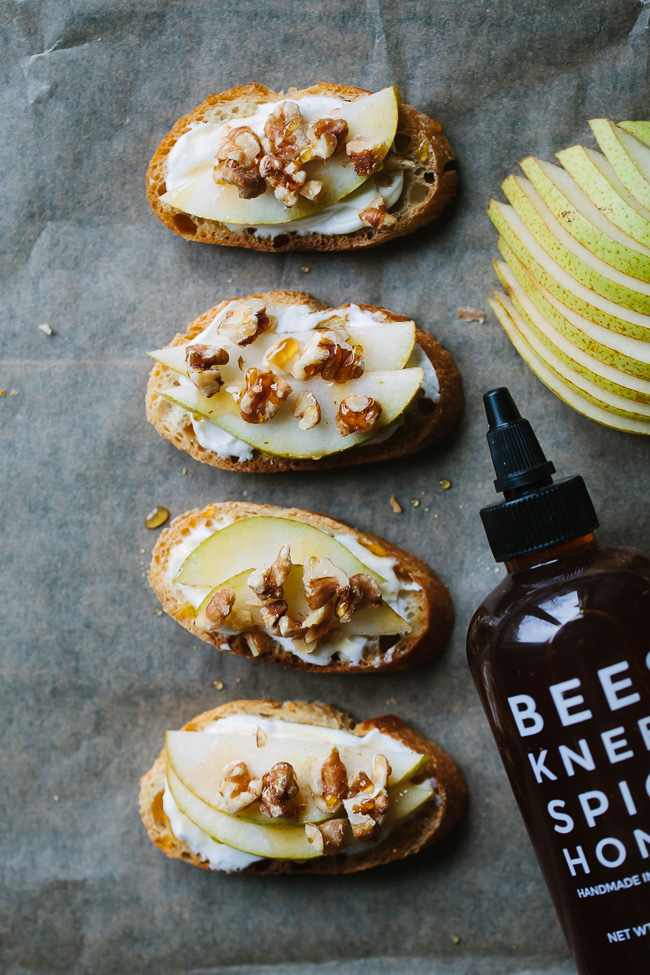 Crostini is almost always my appetizer of choice for bringing along to share at suppers and gatherings because I find little toasts with toppings irresistible and the variations are endless.  I recently discovered Bees Knees Spicy Honey through the Hatchery and it makes the most outstanding crostini.  For those of you not yet familiar with the Hatchery, they are a company that focuses on bringing small and independent artisans together in one online marketplace.  In addition to purchasing full size products through their marketplace, each month you can also sample various ingredients from these makers through their unique tasting boxes.  I've been receiving Hatchery tasting boxes for the past few months and each month I feel inspired to incorporate new flavors and spices into my cooking that I might not have otherwise tried.  And just in case you need some ideas, each box comes with a guide which introduces each of the makers and provides pairing suggestions for each ingredient.   Their marketplace sells jams, honeys, nut butters, spice blends, cooking sauces, oils, vinegars, and so much more.  Almost anything you could want to make your time in the kitchen just a little more interesting and exciting is sold at the Hatchery.  This spicy honey is one that I've been particularly smitten with.  It's infused with chili peppers and has just enough bite to spark a curiosity and leave you wanting more.  Here it's drizzled over juicy fresh pears and toasty walnuts layered on a spread of whipped fresh ricotta and creamy goat cheese.  The combination is heavenly.
Right now the Hatchery is kindly offering Gather & Dine readers an opportunity to try their first tasting box for just $10 when you use the code GATHERANDDINE at checkout.  And for this week only, they are offering G&D readers 15% off all marketplace purchases when you use the code HATCHGD15 at checkout.  (Disclaimer: Discount may not be used in conjunction with any other discounts.)  They currently have a new batch of Bees Knees in stock, but I've seen this honey sell out on numerous occasions so get some while you can!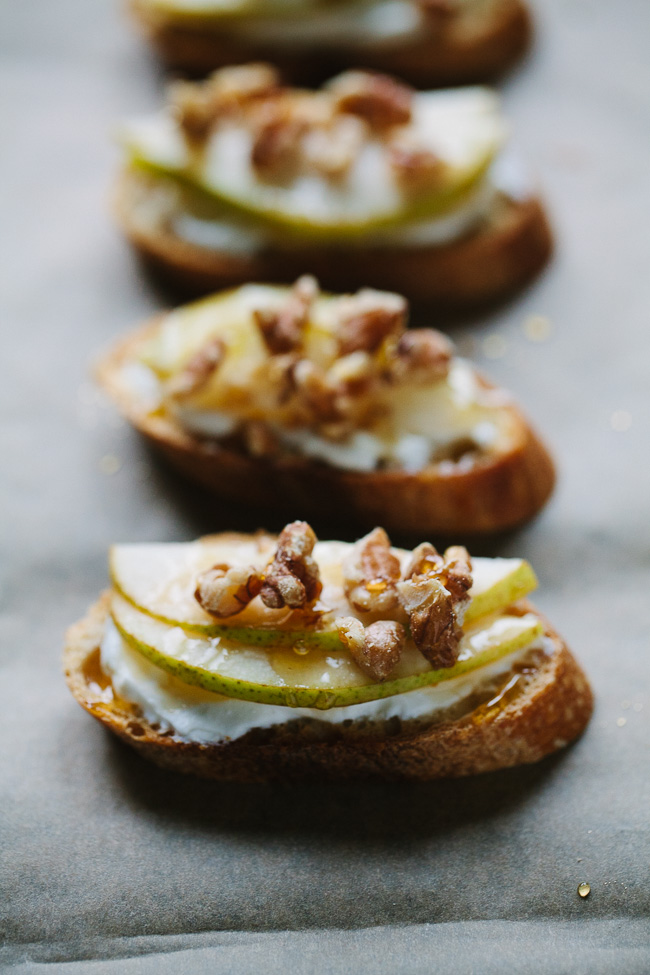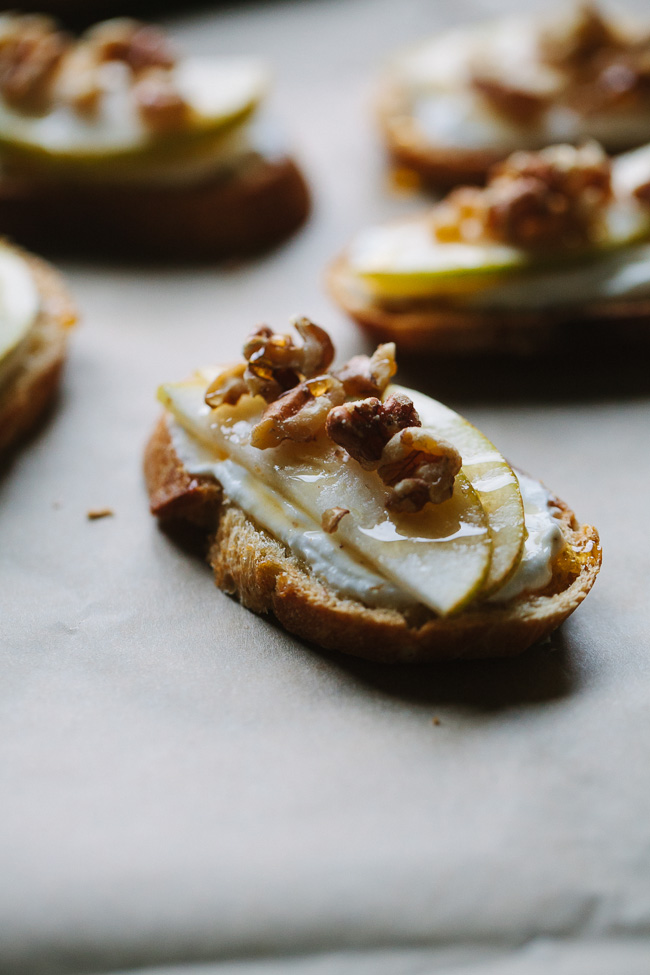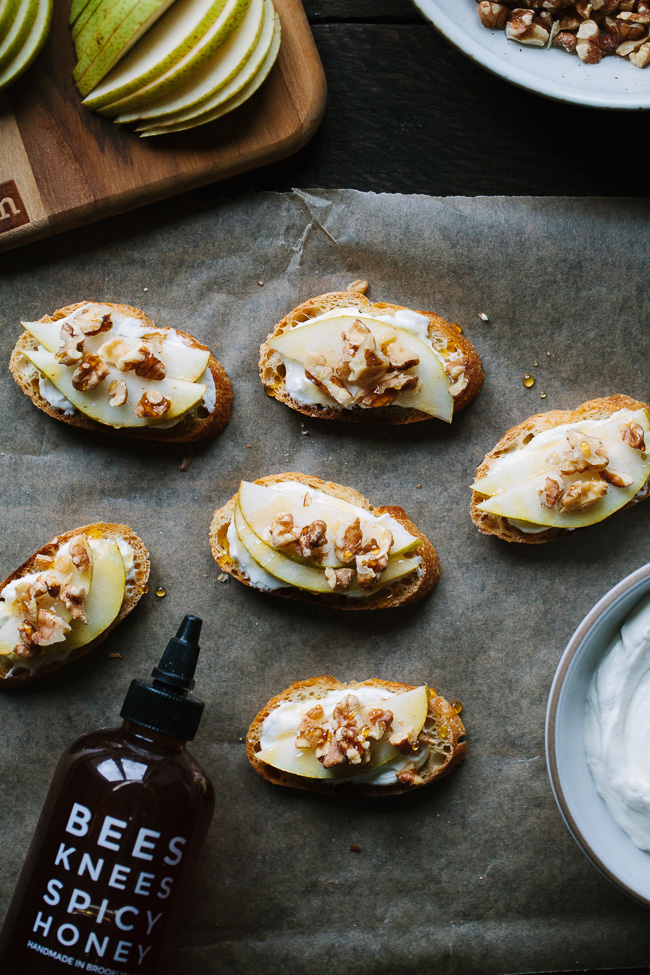 When I bring this along to share, I neatly pack the components in separate containers and then arrange it all on a serving board after I arrive.  Depending on the group, I might allow guests to assemble their own crostini or sometimes I'll assemble a few just to get the group started, but I always wait until I after I arrive to assemble.  If you work too far ahead of time, the crostini will lose it's crisp crunch and won't quite be what it should be.  For a light lunch, make it on a larger piece of toast for an open faced sandwich or add a few slices of turkey for some extra protein.
Print
Spicy Honey Crostini with Pears and Walnuts
Ingredients
1 whole grain baguette, sliced on the diagonal into 1/4-inch slices
olive oil for brushing
8 ounces fresh ricotta
3 ounces of fresh goat cheese
2 ripe pears
1 cup chopped walnuts, toasted
Bees Knees Spicy Honey for drizzling
Instructions
Preheat oven to 375. Lightly brush both sides of bread with olive oil and arrange on a baking sheet. Bake until lightly toasted and golden, about 10-12 minutes.
In a food processor or using a strong arm and a whisk, blend together the ricotta and goat cheese until smooth and creamy.
Slice pears in half lengthwise and remove cores. Cut each half into quarters and then into ⅓-inch slices.
To assemble, spread about a tablespoon of the whipped ricotta and goat cheese on a slice of toasted baguette. Neatly arrange 2 slices of pear and a sprinkle of toasted walnuts on top. Finish with a generous drizzle of spicy honey.