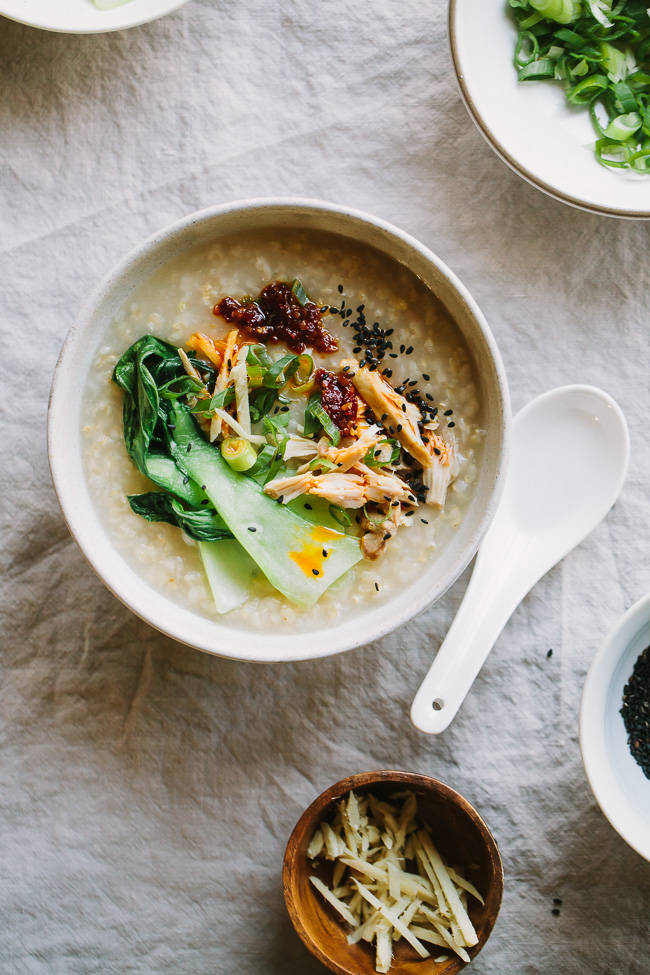 Sickness hit our family pretty hard last week; first it was my daughter, then me, and then my son.  Unfortunately for us, Ryan happened to be gone on a work trip and the three of us were left to fend for ourselves.  It was nothing too serious, mostly just stubborn colds and minor fevers, but it was enough to make us all tired, weary, and worn out.  We appreciated the extra time at home, however, as we slowed down and got in some extra snuggles.  This time instead of the usual chicken noodle soup, I made a pot of this soothing and healing ginger chicken congee (or in Chinese jook).  Congee, a savory rice porridge, was my childhood comfort food and I could always count on my mom to have a big pot simmering on the stove whenever anyone in the family became sick.  It's prepared by slowly cooking rice with some type of meat or vegetable stock and it turns wonderfully creamy and almost smooth after the slow cooking.  Its quiet simplicity makes it the perfect vehicle for adding an endless number of condiments and garnishes.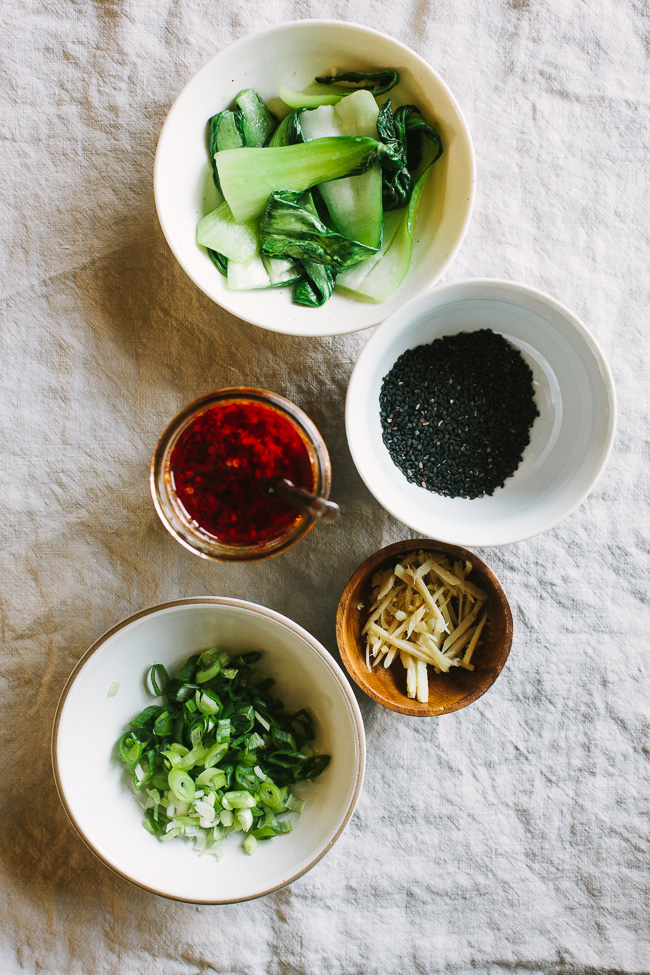 Congee is commonly made with white rice, but I prefer brown rice for both the flavor and the health benefits. Ginger does wonders for so many ailments and I made sure this version was simmered with plenty of ginger in addition to the chicken.  I garnished it with sautéed bok choy, sliced scallions, extra shredded ginger, sesame seeds, and chili oil.  The chili oil (I like this one) adds a lot of character and some heat, but swap it out for sesame oil if you prefer or use sriracha instead.  Sometimes we add some kimchi if I have a batch ready and any other dark leafy greens can be used in place of the bok choy.  I've found that using the slow cooker is the easiest way to make congee, although the stove can certainly be used if you are willing to stir occasionally to prevent the rice from sticking to the bottom of the pot.  The congee will thicken considerably as it sits so be sure to add additional broth or water as needed.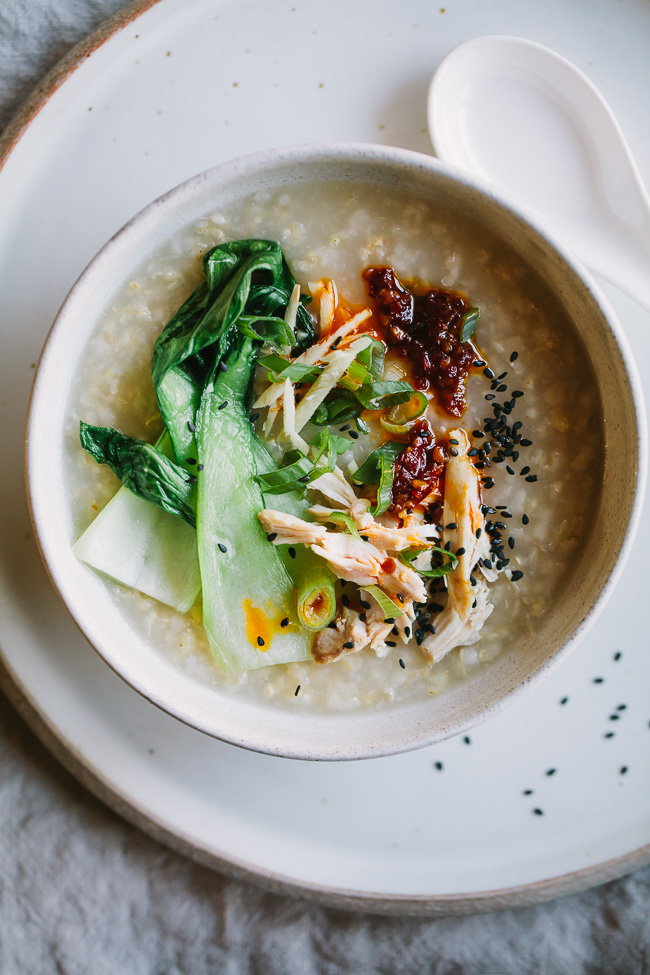 Print
Ginger and Chicken Brown Rice Congee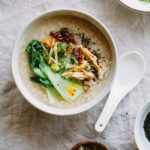 Ingredients
1 1/4 cup brown rice, rinsed and drained
4 cups low-sodium chicken broth
6 cups water
2-inch piece ginger, cut 4 slices
1 Ib boneless skinless chicken thighs
splash of tamari or soy sauce
2 teaspoons kosher salt
Garnishes for serving:
sauteed bok choy or other greens
sesame seeds
scallions
shredded ginger
chili oil, sriracha, or sesame oil
cilantro
Instructions
Combine rice, ginger, chicken, chicken broth, salt, and soy sauce in the bowl of a slow cooker. Cook on the high heat setting for 5-6 hours or on the low heat setting for 7-8 hours. Remove chicken about hallfway through the cooking time and set aside to cool. Porridge is done when the consistency is almost smooth. Season to taste with additional salt.
Shred the chicken into bite size pieces using two forks or your hands.
Ladle porridge into bowls and top with shredded chicken, vegetables, and other garnishes.
Notes
To prepare on the stovetop, follow above directions except use a large pot. Bring to a boil over high heat. Reduce heat to low, cover and simmer for 3-4 hours, stirring occasionally.