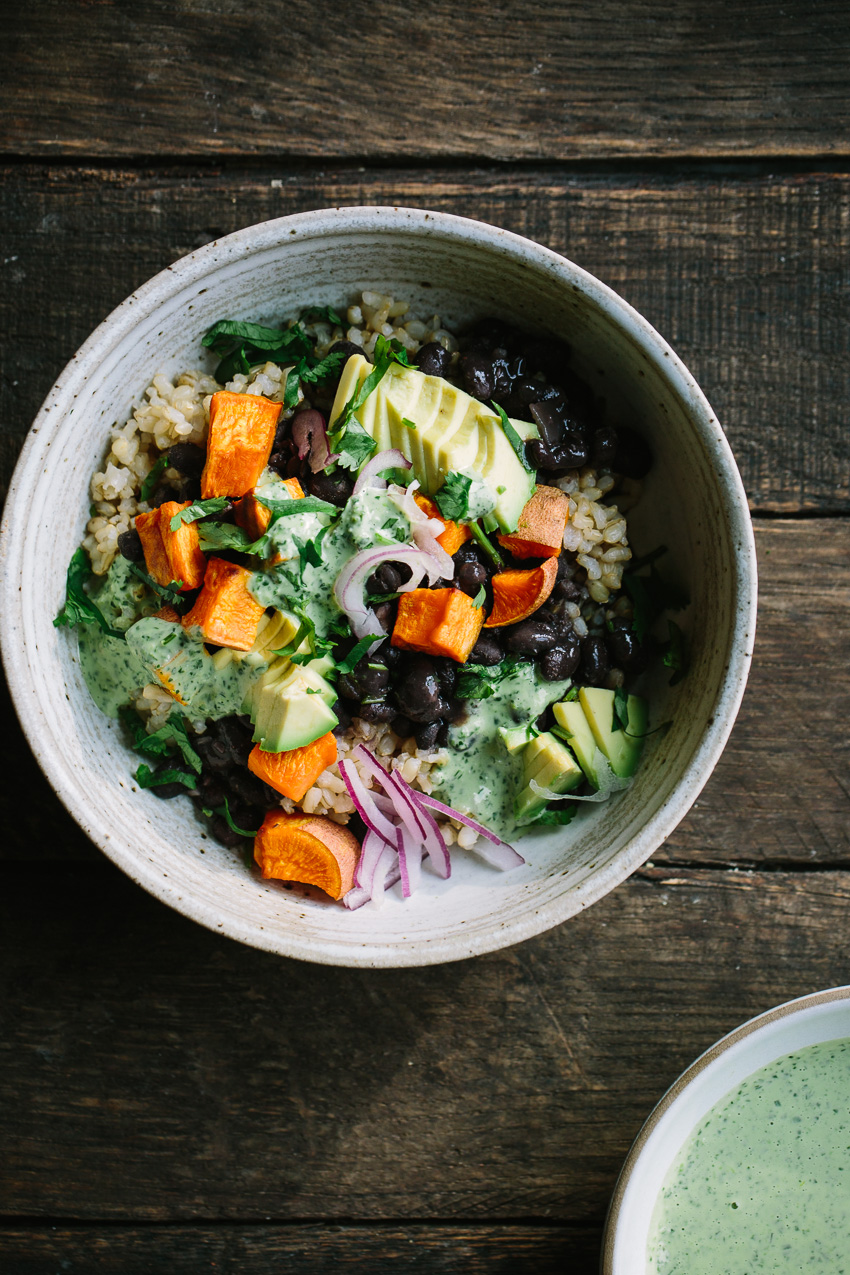 Oh the Instant Pot.  I held out for so long, resisting the craze in hopes of not adding yet another appliance to the kitchen.  I like cooking, and the thought of food in an instant did not sound appealing to me.  A few weeks ago though, I was simmering a pot of beans on the stove, and I began wishfully thinking about how nice it would be to merely press a button, walk away, and come back in less than an hour to a pot of perfect beans.  I impulsively set out to buy an Instant Pot the very next day.  And so far, there have been no regrets.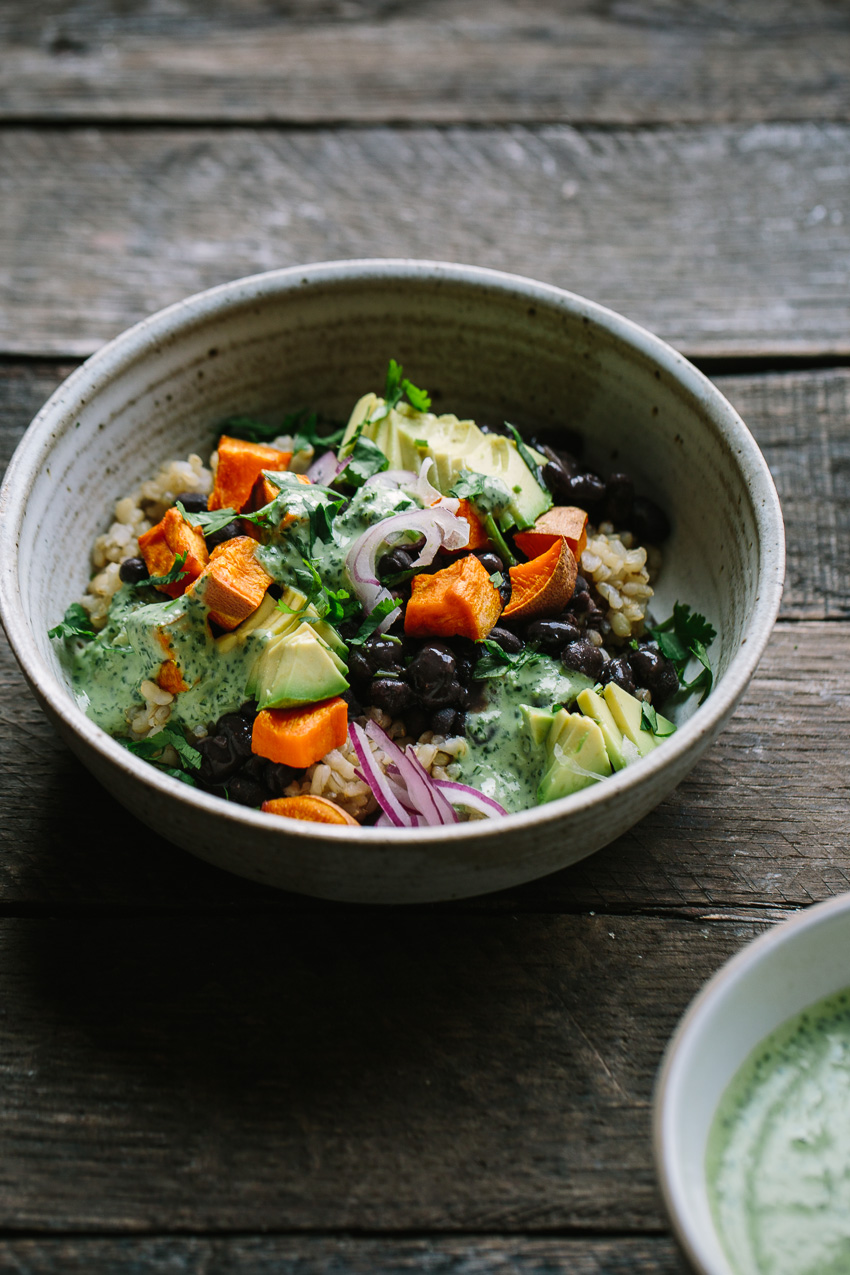 Although there's no shame in using canned beans (my pantry is well stocked with them), I do prefer the flavor and texture of dried beans that I've cooked myself.  Pressure cookers not only save time, they also deliver consistent results since the pressure and temperature are always consistent.  Vegetarian meals like these black bean sweet potato bowls now feel even simpler to prepare, and for that I am thankful.  Here we have the classic black bean and sweet potato duo on a bed of brown rice, topped with creamy avocado, crisp slices of red onion, and an herbed tahini yogurt dressing that brightens and brings it all together.  I'm a fan of all types of grain bowls, but this combination in particular is a keeper. Below you'll see that I've included directions for making the beans in both the Instant Pot and also on the stove. Canned beans will also work in a pinch, but cooking your own makes a difference so do try for that if you can.
Print
Black Bean Sweet Potato Grain Bowls with Herbed Tahini Dressing
Author:

Emily Nelson

Prep Time:

30 minutes

Cook Time:

1 hour

Total Time:

1 hour 30 minutes

Yield:

6 servings
Ingredients
For the Black Beans
1 pound dried black beans
1 onion, halved
2 garlic cloves
1 bay leaf
1 1/2 teaspoons fine grain sea salt
Sweet Potatoes
2 large sweet potatoes, cut into 3/4-inch cubes
extra virgin olive oil
For Serving
cooked brown rice
sliced avocado
thinly sliced red onion
cilantro leaves
herbed tahini dressing (see recipe below)
Instructions
(Pressure Cooker Instructions) In the pressure cooker, combine the beans, 7 cups of water, onion, garlic, bay leaf, and salt.  Cover and cook on high pressure for 25 minutes.  Allow natural pressure release for at least 20 minutes, and then manually release the pressure.  Discard onion, garlic, and bay leaf.

(Stovetop Instructions) Place the beans in a large pot and cover with 1 1/2 inches of water. Add the onion, garlic, bay leaf, and salt.  Bring to a boil and boil for 10 minutes. Reduce heat to low and simmer until beans are soft and tender, about 2 1/2 hours. Add additional water if necessary to keep the beans covered. Remove from heat and discard onion, garlic, and bay leaf.

While the beans are cooking, roast the sweet potatoes.  Preheat oven to 400.  Toss the sweet potato cubes lightly with olive oil and season with salt.  Arrange potatoes on a rimmed baking sheet, being sure to leave space between each piece.  Roast for 25-30 minutes until edges start to turn golden brown.

To serve, ladle a portion of the black beans over the rice.  Top with sweet potatoes, avocado, sliced onion, and cilantro.  Generously drizzle with herbed tahini dressing and serve immediately.
Print
Herbed Tahini Dressing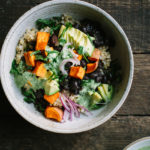 Ingredients
1/4 cup tahini
1/4 cup greek yogurt
1/3 cup packed parsley leaves
1/3 cup packed cilantro leaves
2 garlic cloves, minced
juice of half of lemon
1/2 teaspoon fine grain sea salt
2 tablespoons water
Instructions
In a food processor or blender, add the dressing ingredients blend until smooth.  Season to taste with additional salt or lemon and thin with additional water if necessary.