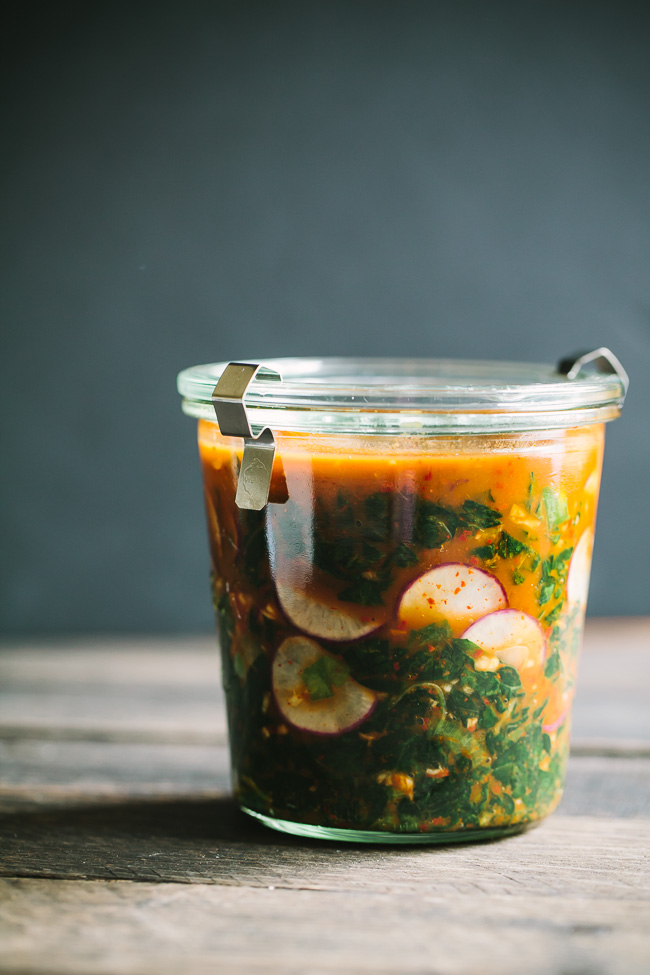 Fermentation is a process that I found intriguing but intimidating, and it took several months before I gathered enough courage to begin trying it for myself.  First I read Michael Pollen's Cooked,  next was Sally Fallon's Nourishing Traditions, and then I dug even deeper in Sandor Katz's The Art of Fermentation.  Still, the idea of leaving food out at room temperature for days, even weeks, seemed frightening to me.  Finally one of my best friends got me motivated to give it a try.  She has four kids and homeschools but has somehow managed to incorporate fermentation into her regular kitchen routine.  After having tried several batches of ferments myself now, I've been pleasantly surprised to discover the relative simplicity and ease of the whole process.  Since our CSA share has exploded lately with all kinds of fresh produce,  fermenting seems to be the perfect solution when there's a bit more than needed for the week.  So far our favorite ferment has been kimchi, usually made with napa cabbage, but this time I used kale and radishes from our CSA share.  Turns out kale and radishes make a wonderful kimchi as well.  Like a good sriracha sauce, kimchi seems to go with everything and makes great a condiment to accompany a wide variety of dishes.
There's been a lot of discussion going on about what type of jars/containers are best for fermentation and the controversy is beyond the scope of this blog.  I have successfully used weck jars and le parfait canning jars, but the type of vessel is not as important as making sure the vegetables are completely submerged under the brine.  The photo above shows the kale and radishes prior to being fermented so you can see how much brine was created just from the vegetables after adding salt.  To keep the vegetables submerged, I usually place a small glass prep bowl filled with water as a weight directly on top of the vegetables.  A plastic bag filled with water and sealed can also be used.  There's so much to be said about fermentation, its history, methods, and benefits, and the above mentioned books are excellent sources of information.  Fermentation is really not as hard or as strange as it might seem and while it's helpful to research and read, there's a lot to be learned simply by just doing and practicing.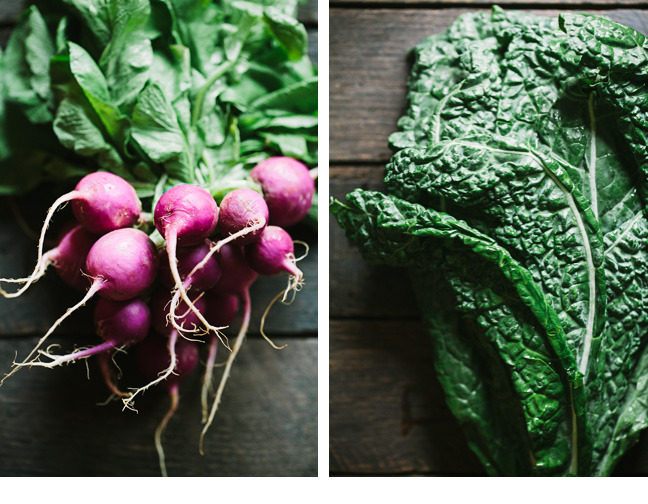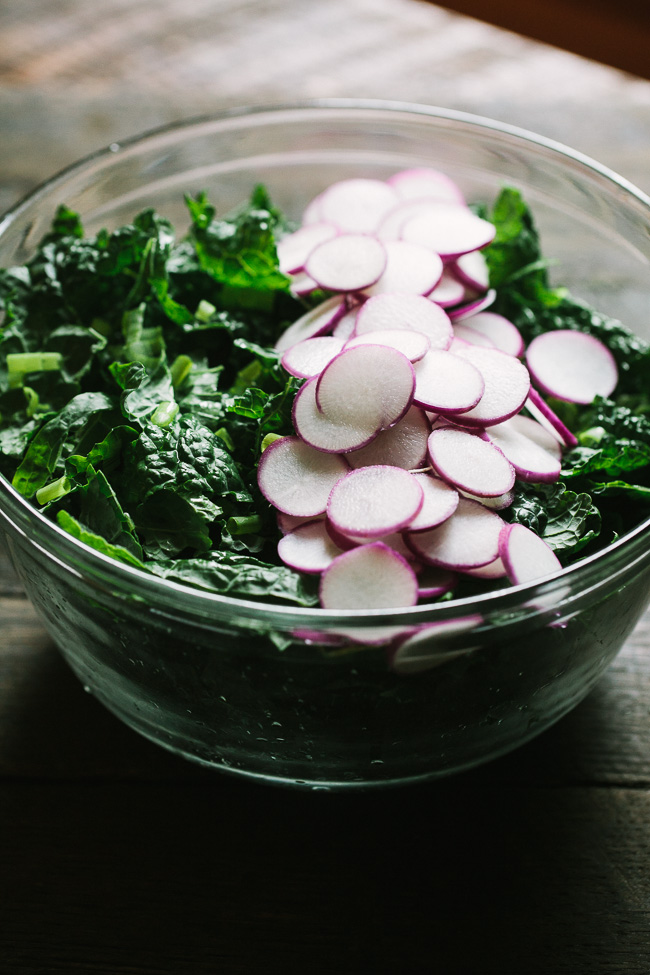 Print
Kale Radish Kimchi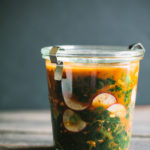 Ingredients
1 large bunch of kale, about 1 pound, stems removed and coarsely torn into pieces
10 radishes, sliced
1/3 cup sliced scallions
1 1/2 teaspoons sea salt
1 tablespoon minced ginger
2-3 garlic cloves, minced
2 tablespoons red chili flakes (korean gochugaru)
1/2 teaspoon fish sauce
Instructions
Place the kale, radishes, and scallions in a large mixing bowl. Sprinkle with salt and toss to combine.
In the bowl of a mini food processor, add the ginger, garlic, chili flakes, and fish sauce. Process until mixture becomes a thick paste, scraping down sides when necessary. Alternatively, this can also be done by hand with a mortar and pestle.
Add chili mixture to the kale and radishes. Use hands to thoroughly work and massage into the vegetables. Liquid should be released as the vegetables soften and wilt. Pack the vegetables into a jar, one handful at a time, pressing down as you go to eliminate any air. There should be enough liquid to cover the vegetables completely. Place a weight on the vegetables to keep them submerged under the brine. (This can be a small glass bowl/jar filled with water or a tightly sealed plastic bag filled with water.) Cover jar and leave at room temperature, ideally between 65-72 degrees, for 5-7 days. After 5 days, taste kimchi and if you like the flavor, refrigerate. Otherwise, allow kimchi to ferment for another couple of days until it reaches desired flavor.