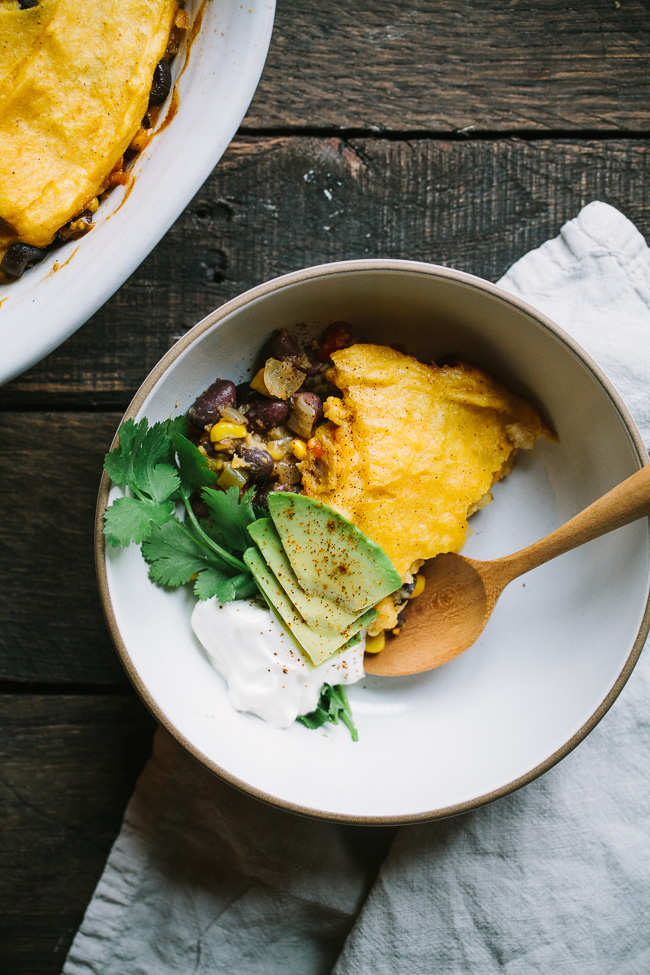 In an effort to incorporate more meatless mains into our everyday, I've been seeking out recipes that are heavily plant-based and at the same time hearty and satisfying.  This tamale pie, lightly adapted from Deborah Madison's New Vegetarian Cooking for Everyone, is just that and is also fitting for these cool rainy first days of spring.
A medley of beans, peppers, onions, and corn spiced with cumin, oregano, and chili makes up the base for the filling, which is layered with olives, cheddar, and the masa harina.  A recent splurge on Rancho Gordo beans has sparked my latest obsession with heirloom beans.  There are so many different varieties, and they cook up to be so much more plump and creamy than what I normally buy at the store.  A simple bean soup can seem truly luxurious when using high quality beans.  Rio zape beans work well in this tamale pie, but any type of red or black bean you can find will also do.  Using authentic masa harina makes a difference both in the taste and the texture, so seek that out if you can.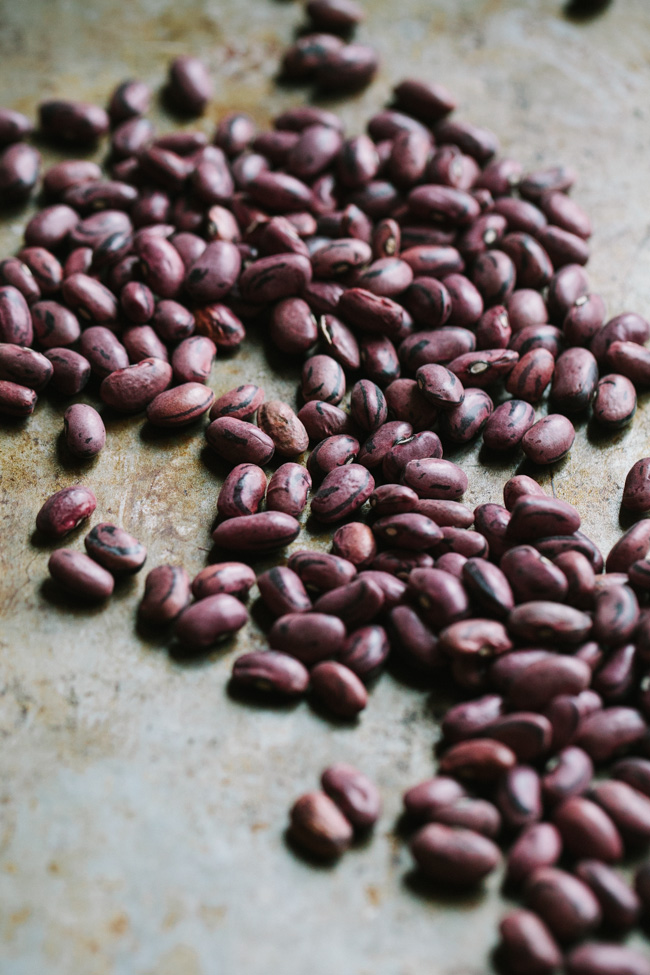 For those of you seeking freezer friendly meals, this one freezes wonderfully.  As much as I love cooking, I've learned that it's simply not possible to do everything everyday, and relying on freezer meals at least two days a week has helped keep the week much more manageable.  This recipe divides easily into two (10-inch) round baking dishes so that I can bake one and and freeze the other for later.  Half the recipe serves our family of four comfortably, especially when I set out chips, guacamole, and salsa as accompaniments.   It's also a great make-ahead dish since it can be assembled earlier in the day and baked right before being served.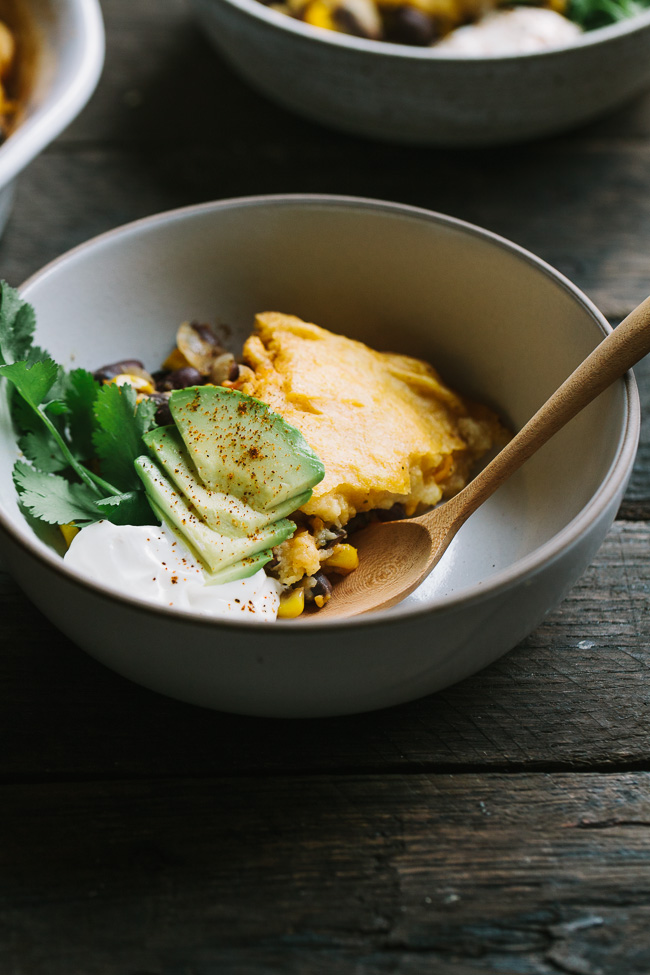 Print
Bean and Veggie Tamale Pie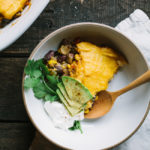 Prep Time:

1 hour

Cook Time:

1 hour

Total Time:

2 hours

Yield:

6-8 servings
Ingredients
Tamale Topping
1 1/2 cups masa harina
1 1/2 teaspoons fine grain sea salt
1/2 teaspoon chili powder
2 tablespoons olive oil
Filling
2 tablespoons olive oil
1 yellow onion, small diced
1 bell pepper, seeded and small diced
1 cup diced celery
2 garlic cloves, minced
2 cups corn kernels, from about 3 ears of corn
3 cups cooked kidney beans with 1 1/2 cups bean broth reserved, or 2 (15-ounce) cans beans, drained
1 teaspoon dried oregano
1 teaspoon ground cumin
2 teaspoons chili powder
1 1/4 teaspoons fine sea salt
4-ounce can black olives, sliced
2 cups grated cheddar cheese
Sour cream, avocado, and cilantro, for serving
Instructions
Tamale Topping
In a medium sized saucepan, bring 6 cups of water to a boil. Gradually whisk in the masa harina and return to a boil, stirring constantly. Lower heat and add the salt, chili powder, and olive oil. Transfer mixture to a glass bowl, cover, and place the bowl over a saucepan of simmering water.
Filling
While the masa harina warms over the simmering water, heat the oil in a large pot over medium heat. Add the onion, pepper, and celery. Saute until vegetables soften and onion becomes translucent, about 5-7 minutes. Stir in the garlic, corn, beans, oregano, cumin, chili powder, and salt. Add the reserved bean both or 1 1/2 cups water if using canned beans. Lower heat and simmer uncovered until most of the liquid has evaporated, about 30 minutes.
Assembly
Preheat the oven to 375. Transfer half the masa harina to a 9×13 baking dish or a quarter of the filling to 2 (10-inch) round baking dishes. Let it set for 5 minutes. Spread half the filling evenly over the masa. Layer with the olives, half of the cheese, and then the remaining half of the filling. Stir the remaining cheese into the rest of the masa and spread over the filling. Bake uncovered for 50-60 minutes, until hot ad bubbly. Serve with sour cream, sliced avocado, and cilantro, if desired.