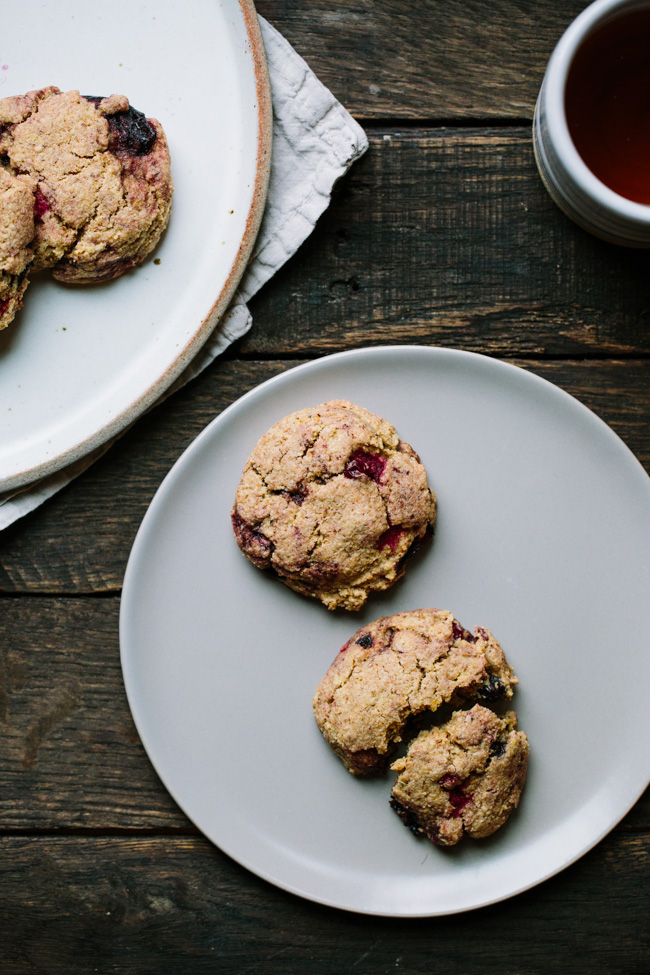 We are back home again, finally.  After a several days skiing with my sister's family out in Colorado, we managed to get ourselves stranded at the Denver airport for four long days as a result of the Delta chaos.   It was frustrating, stressful, and definitely inconvenient, but admittedly fun and bonding all at the same time.   The kids thought it was exciting to be stuck at the airport hotel, and we pretty much lived off of Einsteins Bagels and Jamba Juice for four days with airline vouchers.  Not exactly my favorites, but the kids loved it.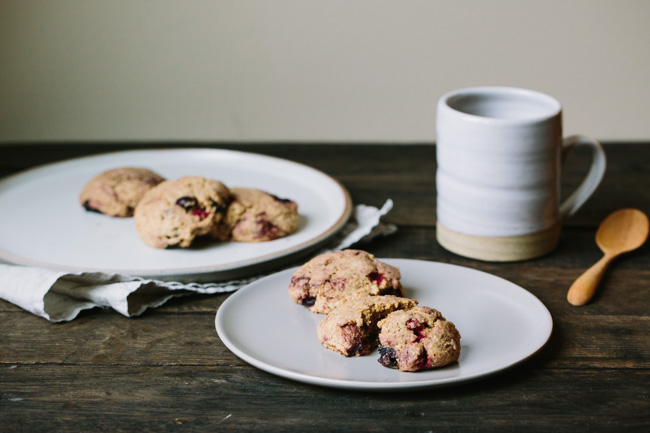 Right before we left, I had made a batch of these breakfast cookies to bring along with us for one of our mornings in the mountains.  They come inspired by a great little restaurant called Commonwealth Cafe, where I recently had brunch with a friend.  I couldn't resist ordering one of their berry breakfast cookies from their bakery counter.  It was love at first bite- the cookie was slightly crisp on the outside, soft and tender on the inside, scented with lemon, and bursting with fresh berries.  It's a cross between a muffin top and an actual cooke, and really perfect for a quick breakfast or snack.  Commonwealth was kind enough to share the ingredients with me and after three attempts, I think I got them.  Almond meal keeps them tender and lends a crisp, crackly outside, while the oats and whole wheat flour keep them whole grain.  There's a scattering of blueberries and cherries, and the cranberries give a pleasant hint of tartness for balance.  These are best the day they are baked, but they are almost just as good if you reheat them in the oven for a few minutes the next day.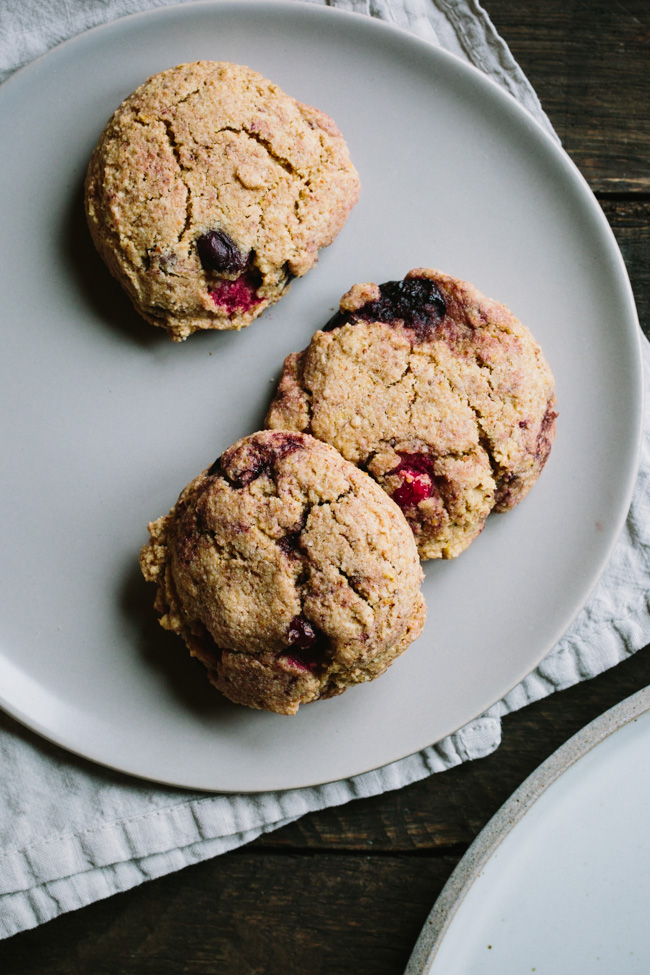 Print
Berry Breakfast Cookies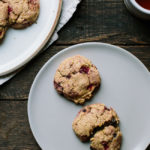 Prep Time:

20 mins

Cook Time:

20 mins

Total Time:

40 mins

Yield:

12 cookies
Ingredients
1/2 cup rolled oats
1 cup almond meal
3/4 cup whole wheat flour
2 teaspoons baking powder
1/4 teaspoon fine grain sea salt
1/4 cup coconut oil, melted
1/4 cup + 3 tablespoons maple syrup
1 large egg
2 teaspoons vanilla
zest of 1 lemon
1/2 cup fresh or frozen blueberries
1/2 cup fresh or frozen cherries, pitted and halved
1/4 cup fresh or frozen cranberries
Instructions
Preheat oven to 350. Line a large baking sheet with parchment paper.
In a food processor or blender, process the oats until it becomes a fine flour.
In a large mixing bowl, whisk together the oat flour, almond meal, whole wheat flour, baking powder, and salt.
In a medium bowl, whisk together the coconut oil, maple syrup, egg, vanilla, and lemon zest.
Pour wet ingredients into dry ingredients and stir together with a wooden spoon until just combined. Gently fold in blueberries, cherries, and cranberries, being careful not to overmix.
Use a small cookie scoop to form 12 equal portions onto a baking sheet and use palm of hand to flatten to about 3/4-inch. Bake until edges turn slightly golden, about 14-18 minutes. Cool for a few minutes on baking sheet and gently transfer to a wire rack to cool completely. Store in an airtight container at room temperature or in the refrigerator.
Notes
Baking time depends on whether you are using fresh or frozen berries.
These are best the day they are baked. If you'd like to enjoy them the next day, reheat in the oven for a few minutes until the outside becomes slightly crisp to the touch.