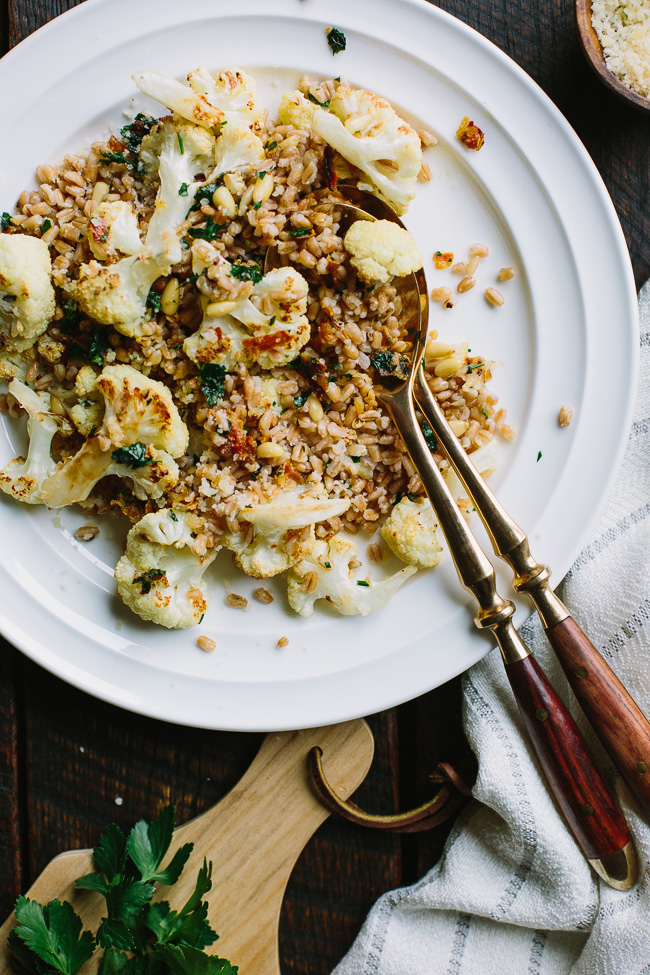 Cauliflower has been a long time point of difference between me and Ryan, but I finally won him over with this one.  Golden roasted garlicky cauliflower, nutty farro, and salty pecorino with a scattering of crisp pancetta bits, fried parsley, and toasted pine nuts.  He loved it just as much as I did.  When the pecorino is sprinkled over the cauliflower during the last few minutes of roasting, don't worry too much about keeping all of the cheese on the cauliflower.  The inevitable portion that lands on the hot pan will begin to brown and crisp, and it's one of the best parts as it's swept in with the rest of the dish.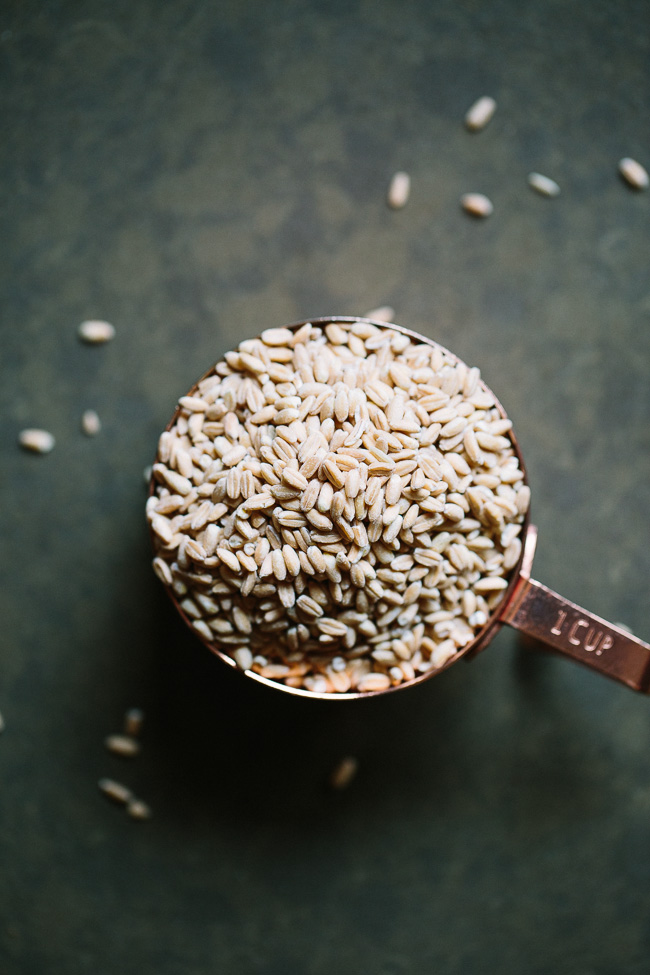 Farro can be a confusing grain to understand, but I've found this article to be a helpful summary.  I almost always use the semi-pearled variety since this seems to be the most widely available, and the recipe below includes the cooking directions for semi-pearled.  If you happen to find pearled or the completely whole grain variety, you'll need to adjust your cooking time accordingly.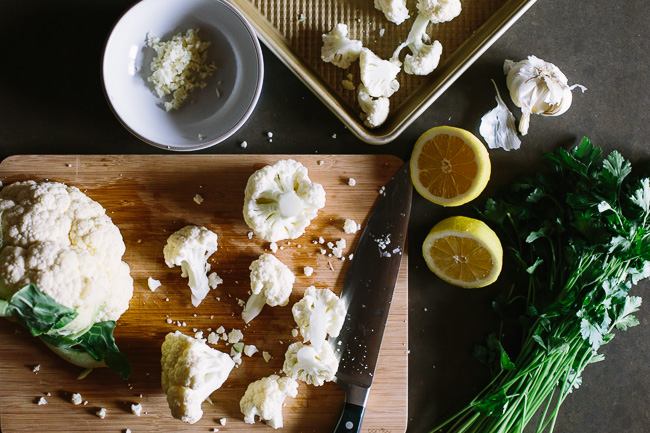 Lastly, on a more stylistic note, the plate, brass servers, and mini wood board used in these photos are all from my friend Jessica's company Propped.  Jessica has had to persevere through more than her fair share of hardships, and my heart is so happy to see her launch this new business.   Propped is an online marketplace for beautiful and unique cookware and tableware, sold by small makers and collectors of vintage kitchenware.  It's a great resource for food stylists and photographers, as well as anyone else looking for something special for the kitchen or table.   Jessica has a natural sense of style and beauty and this is very much reflected in her company.  To see more of what Propped has to offer, check out their marketplace here.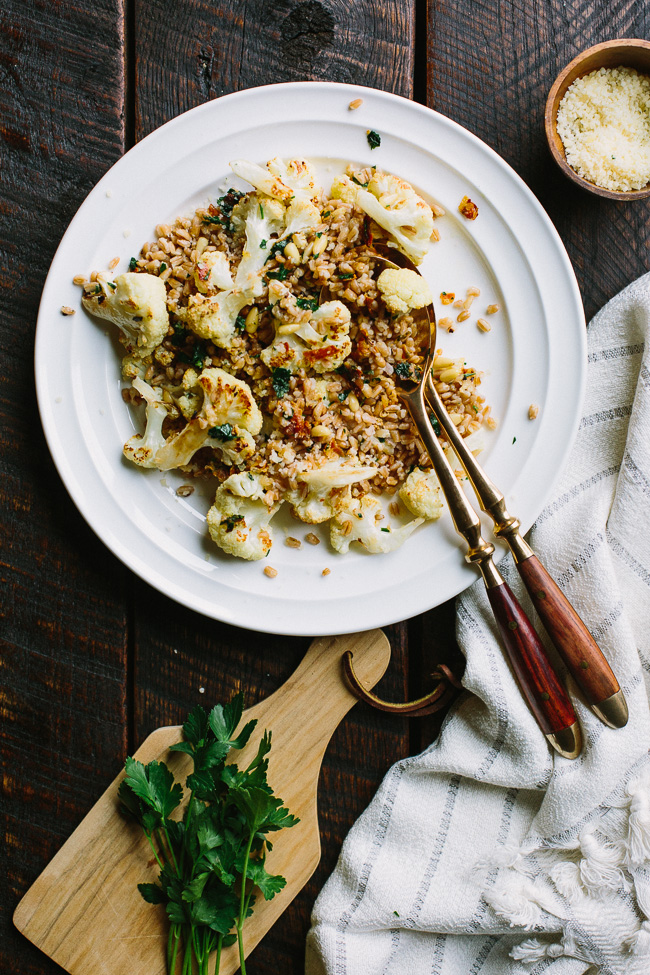 Print
Pecorino Roasted Cauliflower with Farro and Crispy Pancetta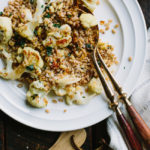 Cook Time:

40 mins

Total Time:

40 mins

Yield:

4 servings
Ingredients
1 cup semi-pearled farro, uncooked
1 head cauliflower, about 2 – 21/2 pounds, cut into florets
2 tablespoons extra virgin olive oil
1 tablespoon freshly squeezed lemon juice
2 cloves garlic, minced
1/4 teaspoon fine grain sea salt
generous pinch of freshly ground black pepper
1/4 cup grated Pecorino (Parmesan will also work)
2 tablespoons pine nuts
2 ounces pancetta, thinly sliced and chopped
1/3 cup chopped fresh parsley
Instructions
Preheat oven to 400.
In a small saucepan, toast the farro over medium heat for 2-3 minutes. Turn the heat off and add 2 cups of salted boiling water to the farro. Turn the heat back on and return to a boil. Lower the heat and simmer for 20-30 minutes. Farro should have a slightly chewy texture when done. Drain the excess water. Set farro aside in saucepan and cover to keep warm.
In a small bowl, whisk together the olive oil, lemon juice, garlic, salt, and pepper. On a large lightly-oiled baking pan, toss cauliflower with olive oil mixture.
Roast cauliflower for 25-30 minutes until golden and begins to brown, turning occasionally. During the last 5 minutes of roasting, sprinkle the cauliflower with pecorino and pine nuts.
While cauliflower is roasting, cook pancetta in a skillet over medium heat until crispy, about 5-6 minutes. Turn off heat and stir in the parsley.
Add the farro, pancetta, and parsley to the pan with the cauliflower and gently toss together, being sure to scape up the bits of toasted pecorino from the pan. Season to taste with additional salt and pepper. Serve with an extra drizzle of olive oil and additional fresh parsley, if desired.