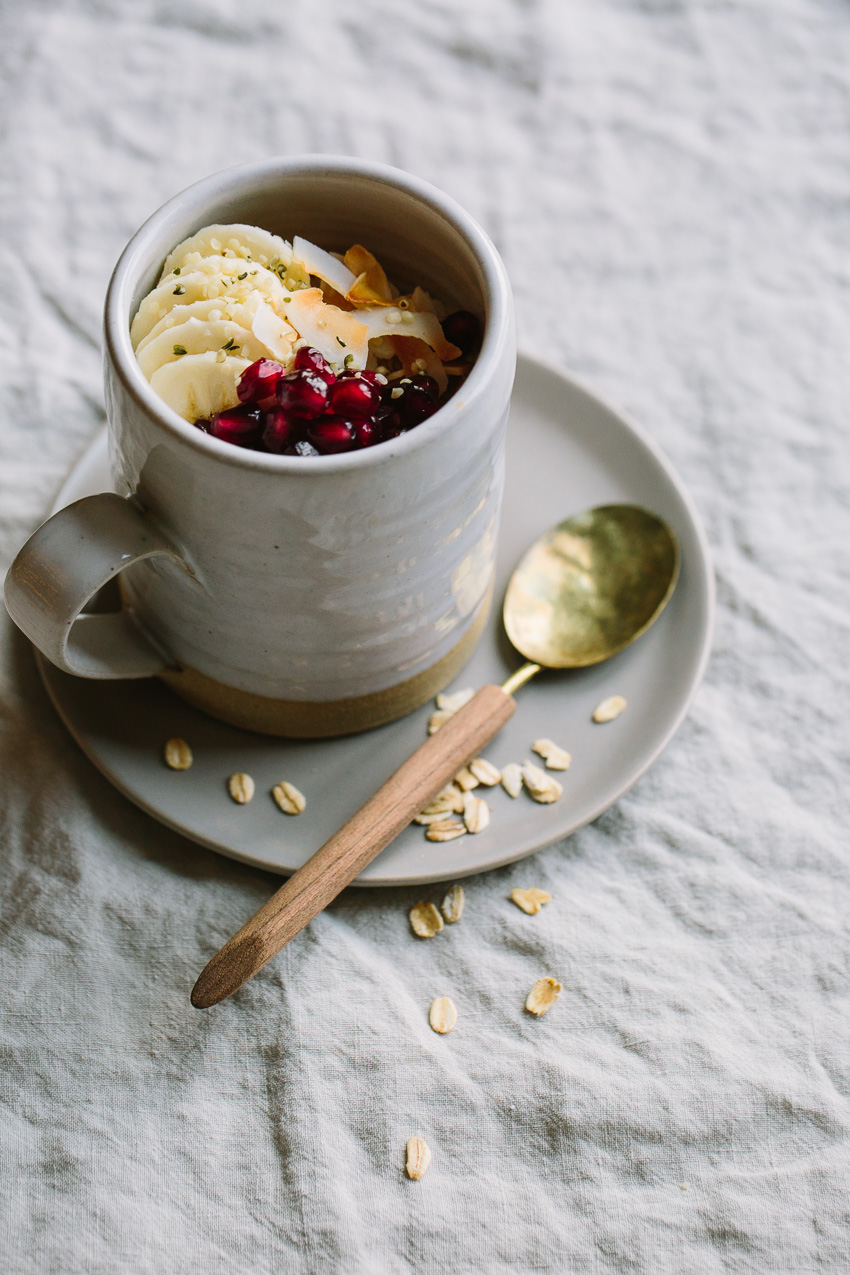 My daughter loves all types of eggs-  soft boiled, scrambled, fried, poached-  the girl just really likes her eggs.  My son, however, will only eat them one way-  microwaved.   Sounds appealing, doesn't it?  The microwave may not be glamorous, but it does make a good egg.  Have you ever tried?  Whisk together one egg and a tablespoon of milk in a small mug or teacup, and heat it in the microwave for 45-60 seconds, depending on the strength of your microwave.  The egg is done when you see it puffed like a souffle, and we like it best when the underside of the egg is just a tad runny.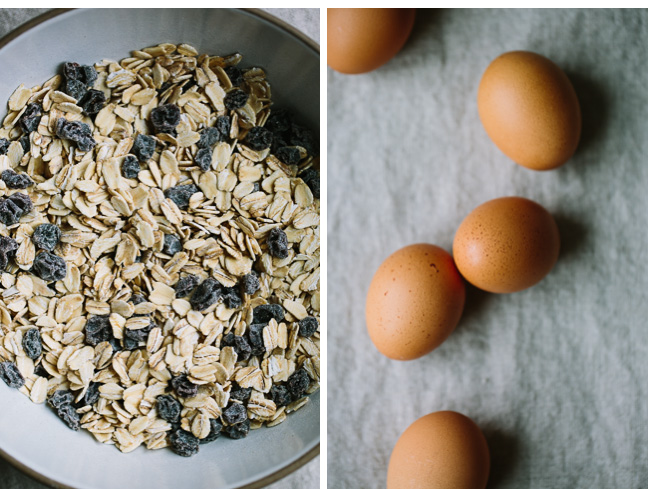 I recently ran across a recipe for these minute oatmeal puffs in Maria Speck's Simply Ancient Grains, and though there's oatmeal and fruit, it reminds me of our beloved microwaved eggs.  It begins by soaking oats like you would for overnight oats, and in the morning whisking in an egg along with some fresh fruit and maple syrup for natural sweetness.  The oats soften, the egg makes it puffy and custardy, and it's the coziest winter breakfast in a mug ever.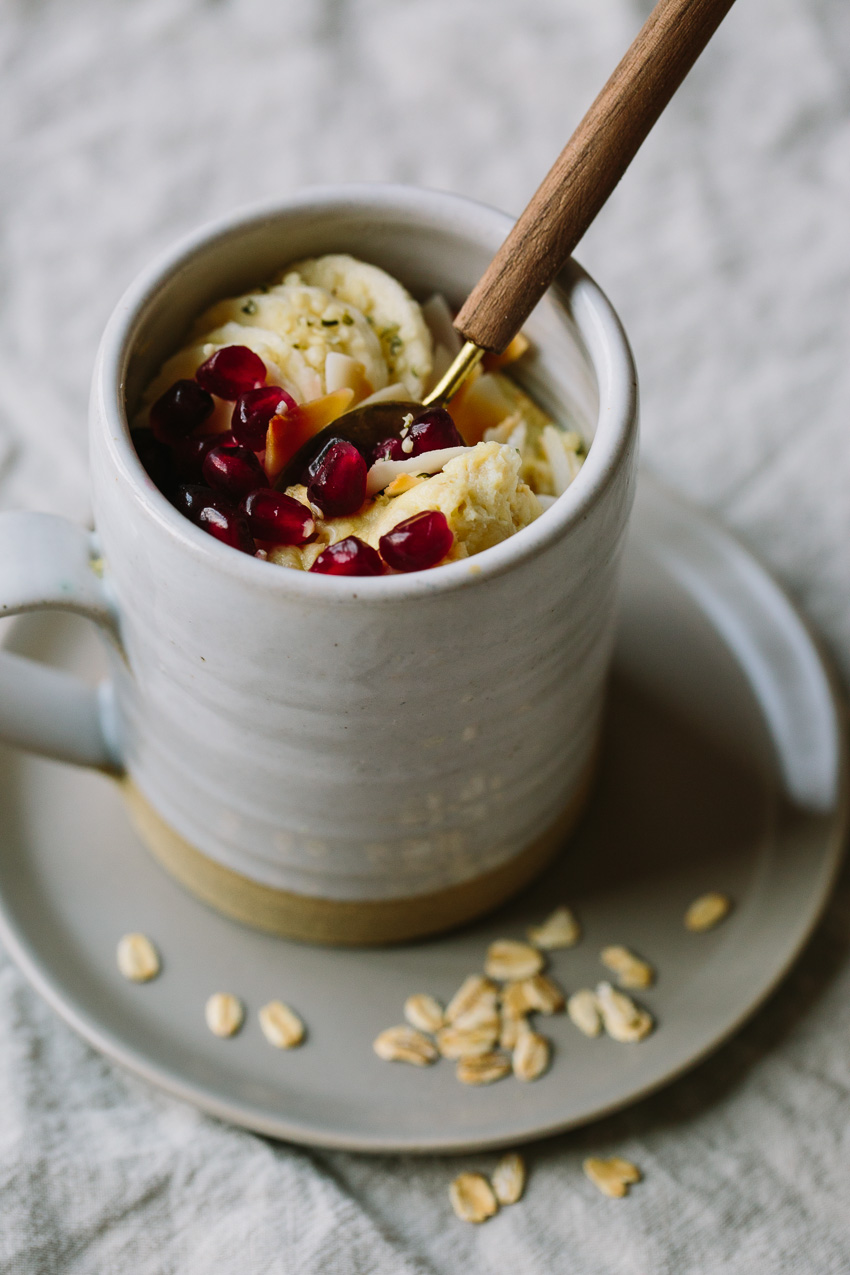 Maria calls for anise seeds and grapes in hers; my kids' palates are not quite sophisticated enough for anise, so we went with currents and bananas.  Since the currents and bananas add quite a bit of sweetness, I was able to reduce the maple syrup to just a teaspoon or so and my kids were perfectly happy.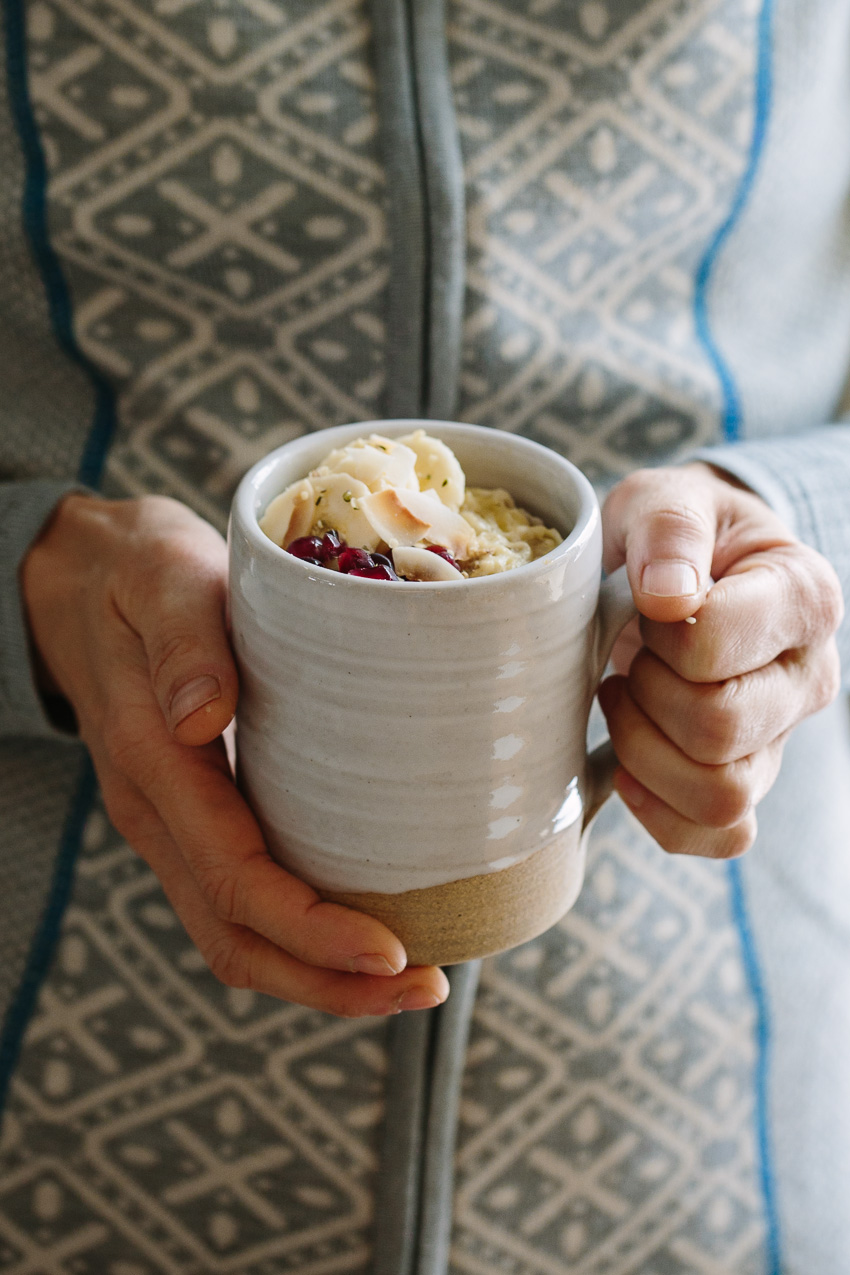 When it comes to whole grains of any variety, Maria Speck is one of my most important sources of inspiration.  Her book Simply Ancient Grains is full of creative uses for all sorts of whole grains from common oats to less common grains like freekah and kamut.  On my list to try is her spicy chili with amaranth and lime, the quinoa bites with smoked salmon and dill, and the greek sesame tahini cake with spelt.  For more whole grain inspiration, check out Maria's site and lovely instagram feed.
This recipe is reprinted (with a few minor changes) with permission from Simply Ancient Grains by Maria Speck, copyright (c) 2015. Published by Ten Speed Press, a division of Penguin Random House, Inc. 
Print
Minute Oatmeal Puffs with Currents and Bananas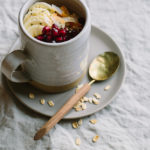 Author:

Maria Speck

Prep Time:

5 minutes

Cook Time:

1 minute

Total Time:

6 minutes

Yield:

1
Ingredients
Dry Oatmeal Mix (enough for 8 servings)
2 cups old-fashioned rolled oats (use gluten-free if desired) or mixed rolled whole grains
2/3 cup golden raisins (I used currants)
1 1/4 teaspoon baking powder
Per Oatmeal Puff
1/3 to 1/2 cup whole milk or low-fat milk (see notes)
1 tablespoon maple syrup (I used 1-2 teaspoons)
1/8 teaspoon vanilla extract
1 large egg
1-2 tablespoons chopped banana
sliced banana, toasted coconut flakes, or pomegranate for garnish
ground cinnamon, for dusting
Instructions
To prepare the dry oatmeal mix, add all of the ingredients to a bowl and combine well with a fork.  Transfer to an airtight container and store at room temperature for up to 4 weeks.

The night before, combine 1/3 cup of the dry oatmeal mix with the milk, maple syrup, and vanilla in a microwave safe mug or bowl (11- to 14- ounce capacity) and chill, covered.

The next morning, add the egg to a small bowl and beat with a fork until well blended, about 30 seconds.  Gently stir into the mug with the oat mixture to combine.  Stir in the chopped bananas.

Place the mug in the microwave and cook on high for 1 minute 20 seconds- the oatmeal will rise beautifully, maybe briefly above the rim, but not spill over.  Insert a cake tester or wooden skewer in the center; it should come out clean.  Otherwise cook 10 seconds more and check again.  Allow to sit for a few minutes; then top with garnishes, dust with cinnamon, and spoon in.
Notes
Maria adds 2 teaspoons anise or fennel seeds to the dry oatmeal mix along with a few fresh grapes for the oatmeal puffs.  Other variations she enjoys are dried figs with fresh pear, dried cranberries and fresh apples, dried apples and fresh blueberries, or chopped prunes with bananas.
Soaking the oats in milk overnight makes for a softer, more appealing texture.  Less milk (1/3 cup) gives a firmer spoonful while 1/2 cup milk results in a creamier breakfast.