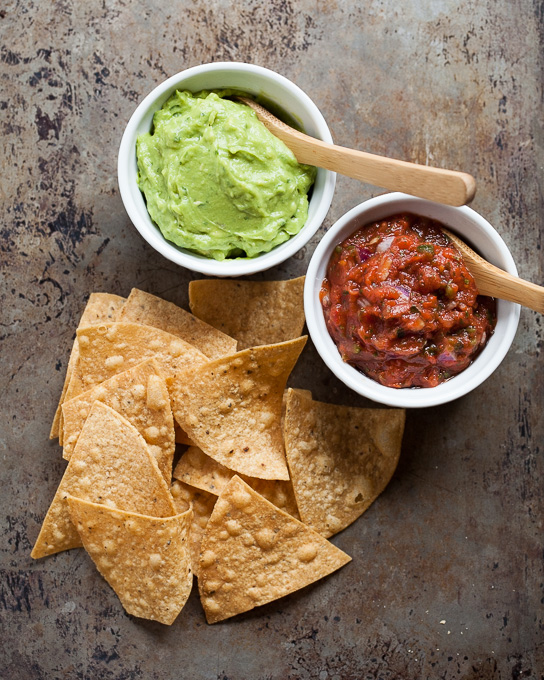 Our family likes avocado everything.  On toast, in soups, in salads,  in sandwiches…  to us everything avocado is delightful and delicious.  One thing that is NOT delightful for my kids is raw onion, so chunky guacamole does not go over well with them, even though they love avocado.  Once I started making guacamole in the food processor to achieve a super smooth and creamy guacamole, my kids devoured it.  Fine with me too, no chopping or dicing, throw everything into the food processor, and it's done.  What's not to love about that?!
The salsa recipe is one that my father-in-law came up with.  Yes, I have a father-in-law that can cook like no other.  Having dinner at my in-laws is always a big treat.  Since being married to my husband, I have developed my taste for hot and spicy foods.  And this salsa is hot.  If you prefer a more mild salsa, leave out the jalapeños, and reduce the amount of crushed red pepper and cayanne pepper.  While I often enjoy using fresh herbs, this recipe actually works better with dried parsley and cilantro.  The dried herbs soak up the crushed tomatoes and help to thicken up the salsa.   I love this salsa because it doesn't get watery, it's not too sweet, and it has so much flavor.  It's possible to eat the salsa immediately after making it, but the texture and flavors really develop after sitting overnight.  This keeps well for a couple weeks when stored in the refrigerator.
Print
Creamy Guacamole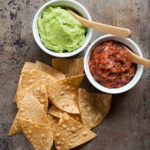 Ingredients
2 ripe avocados
1/4 medium onion (about 1/3 cup)
2 tablespoons fresh cilantro, lightly packed
2-3 teaspoons lime juice
1 garlic clove
1/2 teaspoon kosher salt
Instructions
Scoop flesh out of the avocados and put into a food processor, along with remaining ingredients.
Process for one minute, or until guacamole reaches desired consistency.
Print
Hot Salsa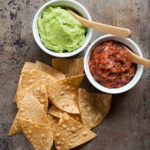 Ingredients
1 large onion
3-4 jalapeños, seeds removed
1 32 ounce can crushed tomatoes
2 cloves garlic, minced
3 tablespoons dried parsley
1 teaspoon cumin
1 teaspoon dried cilantro
1 teaspoon crushed red pepper
1 teaspoon cayenne pepper
2 teaspoons salt
1/2 teaspoon black pepper
4 tablespoons lime juice
Instructions
Use a food processor to finely chop the onions. Transfer to a large bowl, and then use the food processor to finely chop the jalapeños. Add the jalapeños to the onions.
Add the remaining ingredients to the bowl and stir together thoroughly. Transfer to storage containers and allow to sit overnight in the refrigerator.