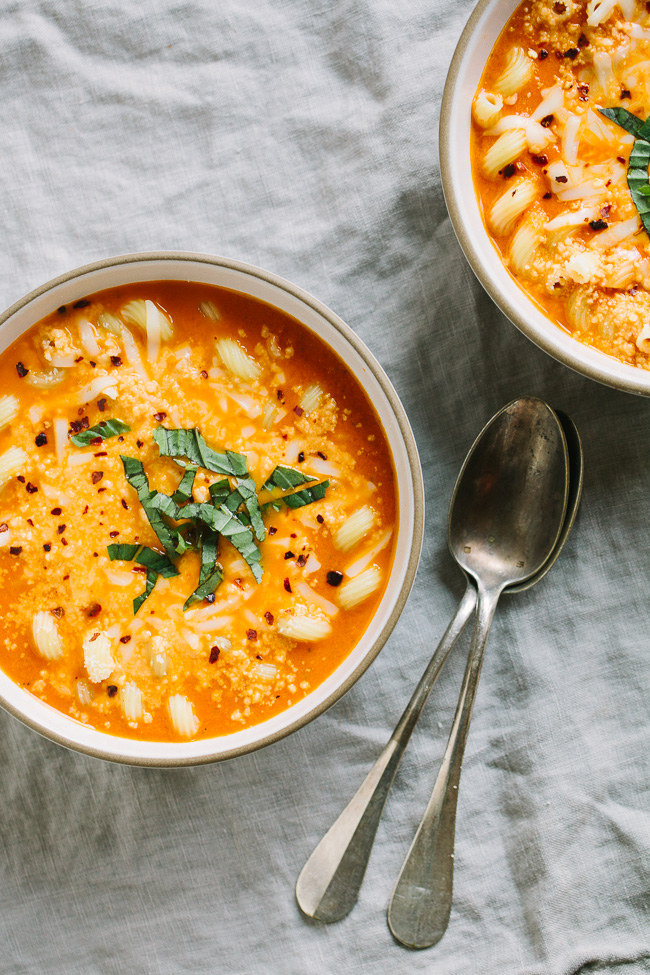 Summer may be slipping away, but luckily sweet tomatoes are still around in great abundance at the farmer's market.  I was a little teary when I went to pick up our CSA share at the market this week without the kids.  Every week this past summer they looked forward to market days– they loved seeing what various fruits were available and often I would let them pick out a pastry from one of the bakery stands.  Now that they're back at school, it seemed strangely quiet without them and I missed their help with hauling back our CSA share to the car.  Last week's share included over fifteen pounds of gorgeous tomatoes.  We made plenty of salsas and salads, but even then we still ended up with so many tomatoes leftover needing to be used.  The remaining went into a double batch of this creamy tomato basil soup which was enough for our dinner plus more to freeze.  There's just enough cream in this soup to add a bit of richness without it becoming overly heavy.   Adding pasta makes it a bit more substantial and qualifies it as a main dish while the mozzarella and parmesan turn melty and irresistible on top of the hot soup.  It's the perfect way to use up all of those end-of-summer tomatoes.
Print
Creamy Tomato Basil Pasta Soup
Yield:

6 main dish servings
Ingredients
3 tablespoons extra-virgin olive oil
1 1/2 cups chopped onion, about 2 onions
2 carrots, chopped
3 cloves garlic, minced
4 pounds tomatoes, coarsely chopped, about 5 large tomatoes
1 teaspoon natural cane sugar
1 tablespoon tomato paste
1/4 cup packed chopped fresh basil leaves
2 cups low sodium chicken or vegetable broth
2 teaspoons kosher salt
1 teaspoon ground black pepper
3/4 cup heavy cream or half and half
For Serving
1 14-ounce package shaped pasta, cooked (fusilli, rotini, and cavatappi work well)
shredded mozzarella cheese
grated parmesan cheese
julienned fresh basil leaves
crushed red pepper
Instructions
In a large heavy pot, heat the olive oil over medium heat. Add the onions and carrots. Cook until onions soften and become translucent, about 5-7 minutes. Stir in the garlic and cook for an additional minute. Add the tomatoes, sugar, tomato paste, basil, chicken or vegetable broth, and salt and pepper. Bring to a boil, then simmer uncovered until tomatoes are very soft, about 1 hour.
Use an immersion blender to puree the soup until smooth. Alternatively, transfer the soup in batches to a blender to puree. (see note below) Stir in cream and warm over low heat until just hot.
To serve, place a portion of the pasta in each bowl. Ladle soup over each. Sprinkle with a handful of mozzarella and a tablespoon of parmesan while soup is still hot. Garnish with julienned basil leaves and crushed red pepper.
Notes
soup adapted from Barefoot Contessa Back to Basics
Ina recommends using a food mill to strain out the skins and seeds. Since I don't own a food mill, I used an immersion blender instead and found this to be sufficient in achieving a smooth puree. The key is cooking the tomatoes long enough until they are very soft.