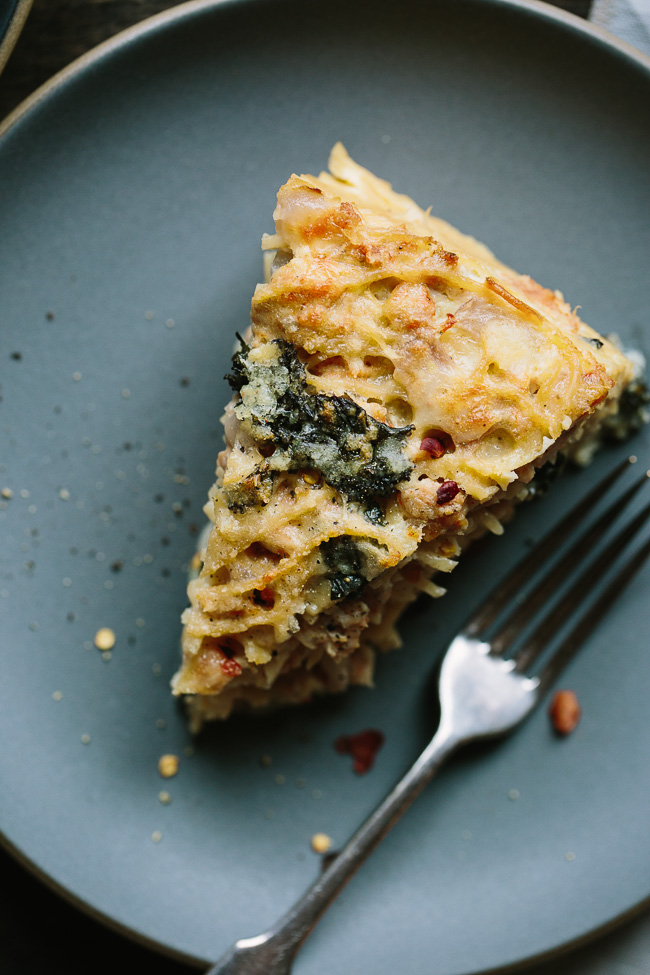 I have always been a meal planner, mostly because it helps me to stay organized, and I find it keeps the week running smoothly.  Spending a portion of the weekend browsing through my pile of cookbooks is something I usually look forward to, but lately for various reasons I've fallen out of the rhythm and have taken each day as it comes.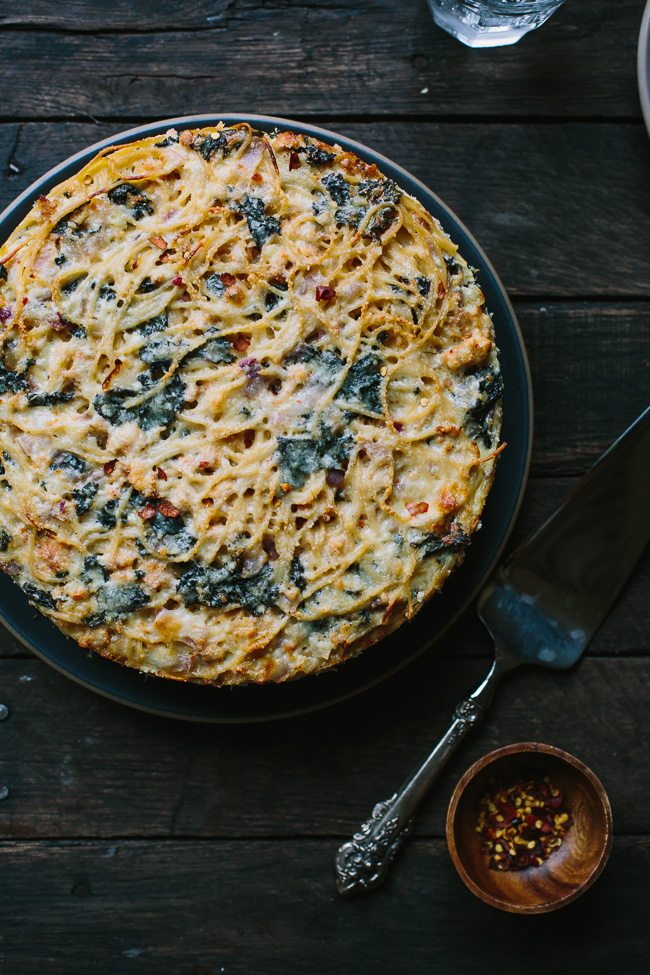 Spontaneity has it advantages too; I've learned that it encourages flexibility and creativity in the kitchen as you learn to cook with what you have on hand.  On a recent morning, I flipped through the latest issue of Food & Wine in search of dinner inspiration for the evening.  There was a mushroom and spinach spaghetti pie which I found particularly enticing (Spaghetti AND pie for dinner!  I knew the kids would go crazy for this one.), only I didn't have the mushrooms, spinach, or fontina that the recipe called for.   I did have some mozzarella, kale, and onions which would make easy substitutions, and there was some chicken sausage tucked away in the freezer.  Spaghetti is always in the pantry, and thanks to our affection for ricotta toast, there was also some leftover ricotta.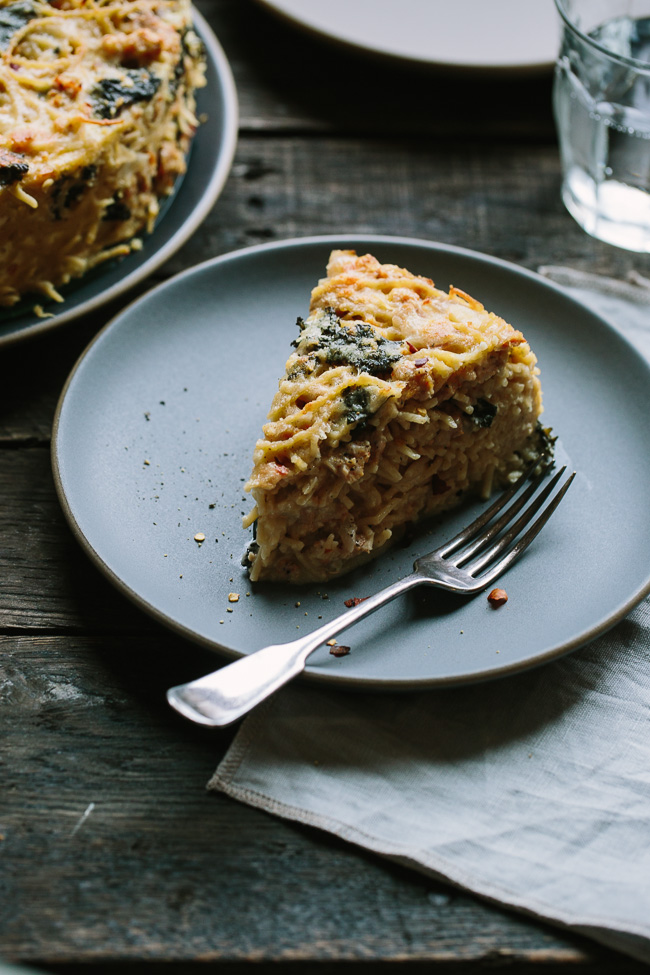 All four of us loved this adapted version.   From the golden almost chewy crust that forms on top to the creamy pasta hidden underneath- it's all incredibly good.   I've written the recipe below according to the ingredients I used, but these types of recipes are quite flexible so feel free to use whatever vegetables and meat you might already have on hand.  Hope you love spaghetti pie.  xo
Print
Sausage and Kale Spaghetti Pie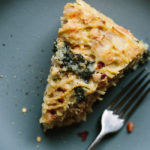 Prep Time:

45 mins

Cook Time:

35 mins

Total Time:

1 hour 20 mins

Yield:

8 servings
Ingredients
unsalted butter for coating the pan
1 (14.5 ounce) box spaghetti
1 tablespoon extra virgin olive oil
1 lb Italian sausage (I used chicken sausage)
1 red onion
2 large cloves garlic, minced
1 small bunch kale, ribs and stems removed, leaves coarsely chopped, about 4-5 cups
3 large eggs
1 1/4 cup milk
8 ounces mozzarella, shredded
1 cup fresh ricotta
1 cup + 1 tablespoon finely grated Parmesan
1 teaspoon oregano
1 teaspoon sea salt
1/2 teaspoon ground black pepper
Instructions
Preheat oven to 425. Wrap a 10-inch springfrom pan tightly with foil and generously coat the inside of the pan with butter.
Cook the spaghetti according to package directions until barely al dente. Drain pasta and set aside.
In a large skillet over medium-high heat, heat olive oil. Add the sausage and cook until meat is cooked through and crumbly. Transfer sausage to a paper-towel lined plate, and discard all but a tablespoon of oil. In the same skillet, add the onion and cook until onions begin to turn golden, about 10 minutes. Season with a pinch of salt, add the garlic, and stir until fragrant, about 30 seconds. Add the kale and cook until just wilted. Set aside to cool slightly.
In a large bowl, whisk together the eggs and milk. Stir in the mozzarella, ricotta, 1 cup Parmesan, oregano, salt, and pepper. Add the spaghetti, sausage, and onion and kale mixture. Use hands to combine, being sure that spaghetti is evenly coated with the cheeses and the meat and vegetables are evenly distributed throughout.
Press mixture firmly into prepared pan and sprinkle over remaining tablespoon of Parmesan. Set pan on a large rimmed baking sheet and bake until top is golden and crusty, about 25 minutes.
Let set for 15 minutes. Carefully remove ring and slice into wedges to serve.