It's often difficult to find Meyer lemons around here even during the right season, so I am always glad when I stumble upon them unexpectedly.   Meyer lemons are still tart, but are also sweeter than regular lemons and have a slight hint of orange.  Lemon desserts are always so bright and refreshing, but are also usually loaded with lots of sugar to balance the tartness.  Because Meyer lemons are naturally sweeter, I've found that it's possible to use less added sweetener and the dessert will still be well-balanced and delicious.  Last year I made this Meyer Lemon Cream with Graham Crackers and Sea Salt from Bon Appetit and decided I wanted to  make a  healthier lightened up version this year.  I started by swapping out the sugar for honey and also decreased the amount of honey to achieve the right consistency in the lemon curd base.   This honey lemon curd is still very sweet and is wonderful on its own.   Lemon and honey must be one of the most marvelous combinations ever.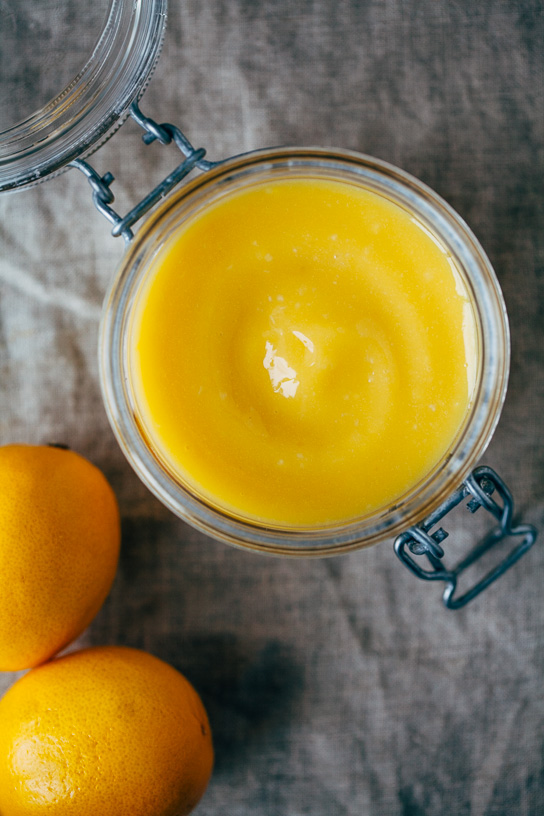 Then I swapped out the heavy whipping cream for plain greek yogurt.  I used 1/2 cup of lemon curd for every 1 1/2 cups of yogurt, but increase the lemon curd if you'd like a stronger lemon flavor and a more decadent treat.  The parfaits are topped off with a sprinkle of crushed grahams, lemon zest, and flaky sea salt.  Sweet enough for a dessert, but healthy enough for breakfast.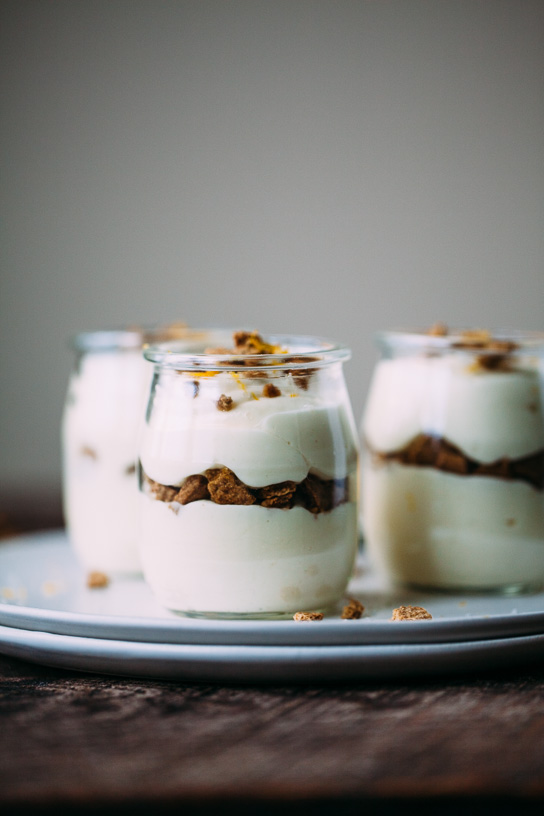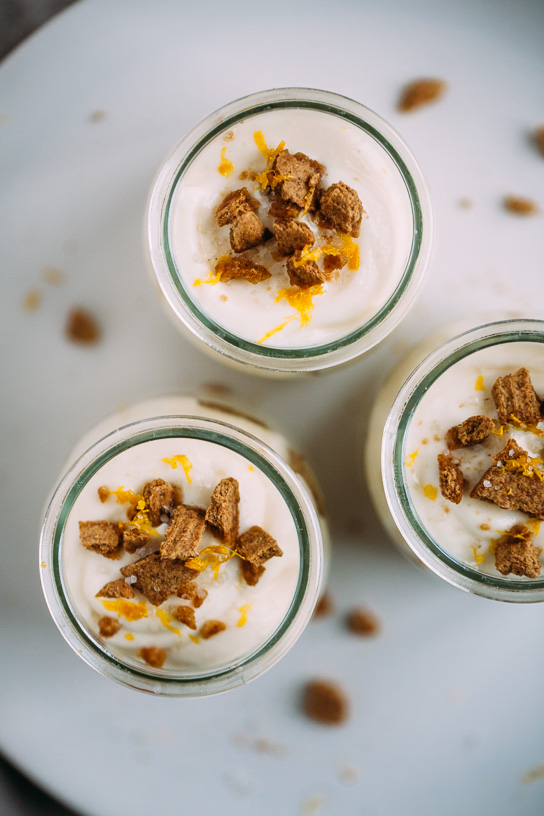 Print
Meyer Lemon Graham Parfaits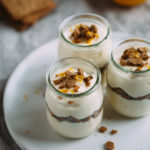 Ingredients
Lemon Curd
1/4 cup + 2 tablespoons meyer lemon juice, from about 3 lemons
1/4 cup + 2 tablespoons honey
2 large eggs
1 tablespoon unsalted butter
Assembly
1 1/2 cups whole milk or 2% greek yogurt
1/2 cup crushed graham crackers
flaky sea salt
lemon rind from 1 Meyer lemon
Instructions
Lemon Curd
In a small saucepan, whisk together the lemon juice, honey, and eggs over medium heat. Whisk continuously until mixture thickens, about 8 minutes. Turn off heat and add butter. Whisk until butter is melted and fully incorporated.
Transfer to a glass jar, cool to room temperature, then chill in the refrigerator for at least 2 hours.
Assembly
In a small mixing bowl, whisk together 1 1/2 cups greek yogurt with 1/2 cup lemon curd. If desired, adjust to taste and add more lemon curd a couple tablespoons at a time.
Add a couple tablespoons of yogurt to 4 small glass jars. Sprinkle with crushed grahams. Layer remaining yogurt over the crushed grahams. Top off with a sprinkle of crushed grahams, lemon zest, and flaky sea salt. These are best served immediately as graham crackers will become soft after sitting in the yogurt.