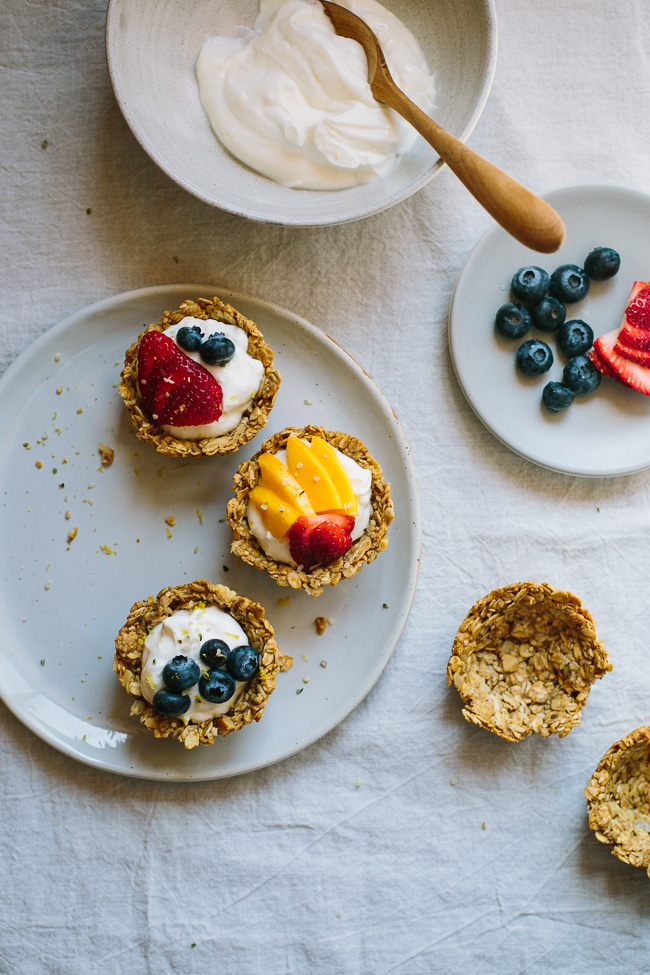 Today I'm delighted to be a part of a virtual baby shower for Sonja and Alex of A Couple Cooks.  They recently adopted their little baby boy, Larson, and my heart is filled with joy for them.  Even before starting my own blog, I'd been a long time reader of Sonja and Alex's blog for their healthy and simple recipes, and many of our weeknight dinners have been inspired by them.  Over time as they've shared more about their journey to become parents, I've also come to deeply admire their faith to wait and trust in the midst of trials and uncertainty.  After all that they've been through, it's especially sweet to see their little Larson finally at home with them.   To celebrate Larson and to honor Sonja and Alex, a group of bloggers (a big thank you to Melissa, Ashley, and Sarah for organizing!) have put together a "healthy snacks" themed shower, and I'm sharing these fun and easy muffin tin granola cups.  Sonja and Alex, I couldn't be happier for you both.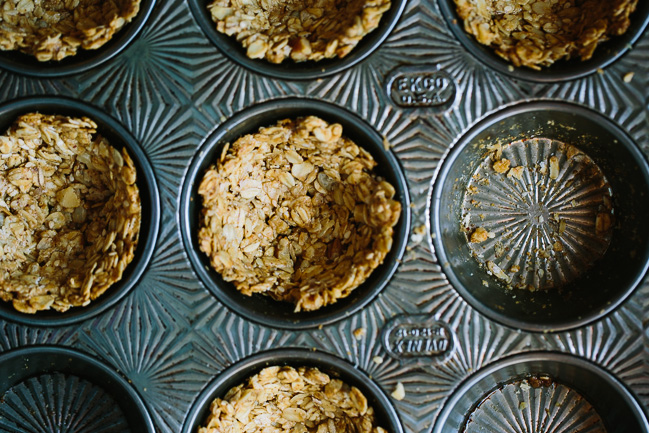 These granola cups have some resemblance to a thin and crispy granola bar, except these of course are shaped into mini-bowls, which makes them fillable and much more fun to eat.  Bound together with blend of almond butter, brown rice syrup, and olive oil, once you have the basic recipe there are so many ways to vary it up with different nuts and seeds.  I filled these cups with lemon greek yogurt sweetened with a bit of honey, but next time I'm thinking of using chopped peanuts and peanut butter in the granola and finishing it a dollop of chocolate yogurt and sliced bananas.  For other healthy snack inspirations, be sure to check out some of the other posts by many of my favorite bloggers in the links below.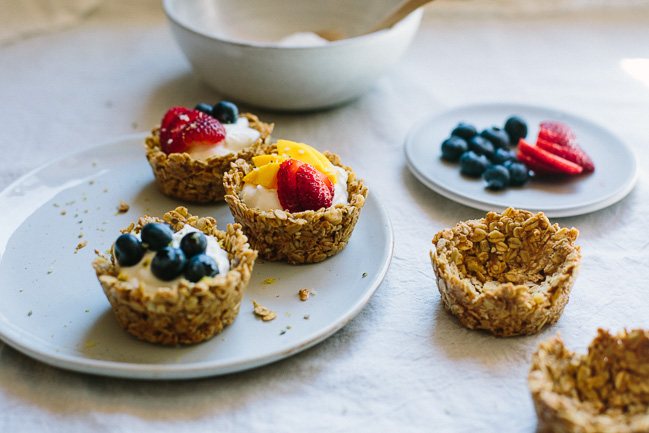 Flourishing Foodie  |  Avocado and Asparagus Tartines with Basil Pesto
The Full Helping  |  Individual Strawberry Chocolate Crisps
Snixy Kitchen  |  Roasted Lemon Mint Pesto Tartines, Two Ways
This Mess Is Ours  |  Coriander & Lime Scented Cashews
Making Thyme for Health  |  Hemp Ranch Hummus
Two Red Bowls  |  Buttered Eggs on Toast, with Radish & Parsley
Cookie and Kate  |  World's Greatest Guacamole
Dolly and Oatmeal  |  Sunshine Mung Bean Spread w/ Gluten-Free Za'atar Bread
Edible Perspective  |  Tropical Oatmeal Snack Cookies
Eat This Poem  |  Red Pepper and Walnut Hummus
Brooklyn Supper  |  Roasted Cauliflower Tacos with Cilantro-Avocado Sauce
The Fauxmartha  |  Laura's Sunshine Crackers
FoodieCrush  |  Baked Beet Chips
Harvest and Honey | A Healthy Candy Bar
Print
Muffin Tin Granola Cups with Lemon Greek Yogurt and Berries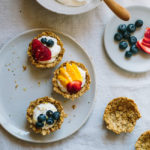 Prep Time:

15 mins

Cook Time:

25 mins

Total Time:

40 mins

Yield:

9 cups
Ingredients
Granola Cups
1 1/2 cups rolled oats
1/4 cup chopped pecans
1 tablespoon sunflower seeds
1 tablespoon sesame seeds
1/4 cup brown rice syrup
2 tablespoons olive oil
2 tablespoons almond butter
1/4 teaspoon fine grain sea salt
1/2 teaspoon vanilla
fresh berries, for serving
Honey Lemon Greek Yogurt
2 cups plain Greek yogurt
2-3 tablespoons honey
zest of 1 large lemon
Instructions
Preheat the oven to 325. Lightly oil 9 muffin cups.
In a mixing bowl, combine the oats, pecans, sunflower seeds, and sesame seeds.
In a small saucepan over medium low heat, whisk together the brown rice syrup, olive oil, almond butter, and salt until smooth. Remove from heat and whisk in the vanilla.
Pour the wet ingredients into the dry and stir until well combined and the oat mixture is evenly coated.
Divide mixture into 9 muffin cups. Using a small piece of parchment paper and hands, press the granola into the bottom and up the sides of the muffin cup. (The back of a small spatula also helps too.)
Bake for 20-25 minutes, until the edges start to become golden. Check on the granola cups about halfway through the baking time. If the cups seem to be collapsing a bit, simply re-press the granola back up the sides.
Allow granola cups to sit for 2 minutes. While they are still warm, run a paring knife around the edges to loosen from the tin. As soon as the cups feel solid, gently remove granola cups from the tins and cool on a wire rack. Serve with honey lemon Greek yogurt and fresh berries.
Honey Lemon Greek Yogurt
While the cups are baking, whisk together the yogurt with the lemon and honey to taste. Chill in the refrigerator until ready to serve.