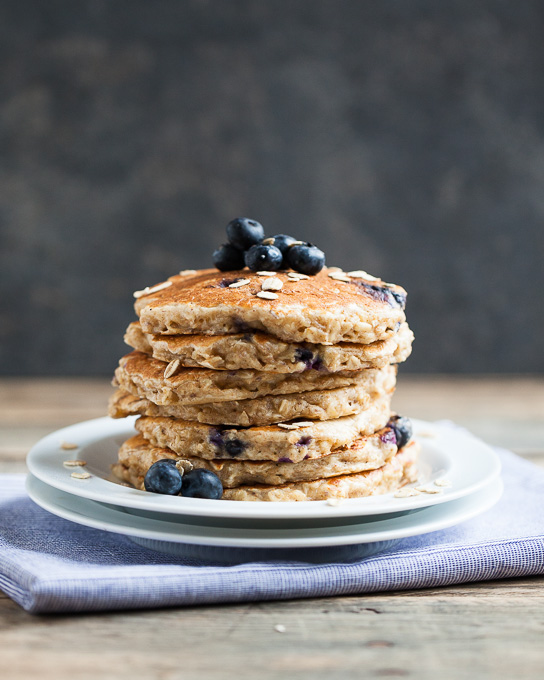 These Blueberry Oatcakes are slightly adapted from a recipe that my sweet college friend, Carissa, gave to me.  She told me that she makes these for breakfast at least once a week for her girls.  After I made these oatcakes this morning, my petite 4 year-old daughter ate 4 and then wanted to have the leftovers for lunch.  Needless to say that these are now a regular in our family too!
I love these oatcakes because they are completely whole-grain and comprised mostly of oats.  Although we are not even close to being a gluten-free family, I do try to vary our grains so that wheat is not our only whole grain.  This recipe does include a bit of whole wheat flour, but it can easily be substituted for a gluten-free flour to make these entirely gluten-free.  Some planning ahead is required on these as the oats and yogurt need to be mixed together the evening before in order to soften the oats.   I often like to combine my dry ingredients together the evening before as well and then everything comes together fairly quickly in the morning.
These Blueberry Oatcakes are wonderfully hearty and moist and make for a healthy morning breakfast.  Serve along with some warm maple syrup to make these even more of a treat.
Print
Blueberry Oatcakes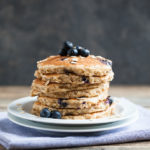 Ingredients
2 cups rolled oats
2 cups plain yogurt
2 eggs, slightly beaten
2 tablespoons honey
1 mashed banana, about 1/3 cup
1/2 cup whole wheat flour
1 tablespoon ground flax
1 teaspoon baking powder
1 teaspoon baking soda
1/2 teaspoon cinnamon
1/4 teaspoon sea salt
Heaping 1/2 cup fresh blueberries
Unsalted butter for frying
Instructions
The evening before, mix the oats and yogurt together in a large mixing bowl. Cover and refrigerate overnight.
In the morning, add the eggs, honey, and mashed banana to the oats and yogurt and mix together with a wooden spoon.
In a small mixing bowl, mix together the flour, flax, baking powder, baking soda, cinnamon, and salt.
Add the dry ingredients to the wet ingredients and mix together until dry ingredients are just incorporated. Batter should be fairly thick.
Use a rubber spatula to fold in the blueberries.
Melt 1 tablespoon of butter in a large skillet or griddle. Ladle the oat batter into the pan, spreading batter if necessary to make circles about 1/3″ thick. Cook for 2-3 minutes until the underside is golden brown and then flip to the other side and cook for another 2 minutes, until golden brown.
Serve warm along with maple syrup, if desired.