This sounds like a completely wacky combination, but please do not judge before you taste.  It's one of my new favorite things to eat.  I once saw this peanut butter cilantro toast  in a past issue of Bon Appetit and thought it sounded a bit strange, but set the idea in the back of my mind as something I might try someday.  Lately though I've had Thai food on my mind and suddenly the combination didn't seem so far out anymore.  I had some extra cilantro around and decided to make this on a whim the other day. It way surpassed my expectations.  In every bite you get creamy peanut butter, refreshing cilantro, crunchy peanuts, and spicy sriracha.  Oooh yeah.  It's just as easy to make as peanut butter and jelly, but the different layers of flavor and texture make this so much more interesting.  If you do not like sriracha, peanuts, or cilantro, then of course this isn't for you, but give this a try if you like Thai food.  With another slice of bread on top, it's going to be a new regular in my husband's lunch.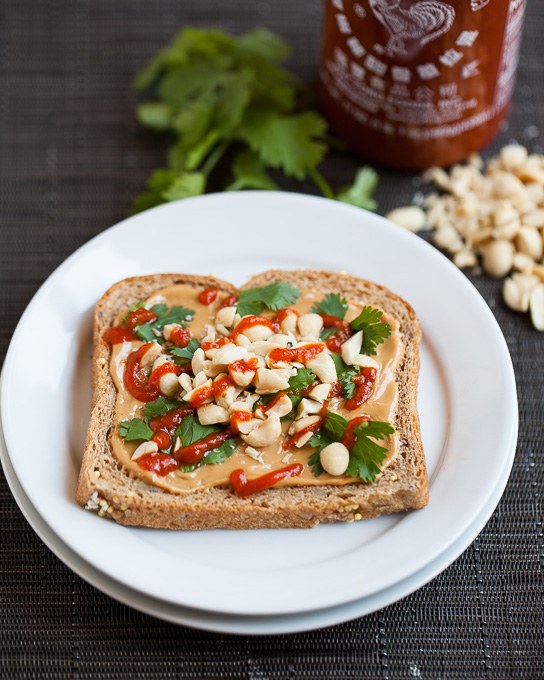 Print
Peanut Cilantro Sriracha Toast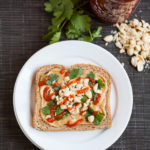 Ingredients
Slice of whole grain toast
Peanut Butter
Cilantro
Unsalted peanuts, roughly chopped
Sriracha
Flaky sea salt, such as Maldon
Instructions
Spread a generous amount of peanut butter on a slice of whole grain toast. Top with fresh cilantro leaves, crushed peanuts, and sriracha. Finish by sprinkling some sea salt on top.
Continue Reading