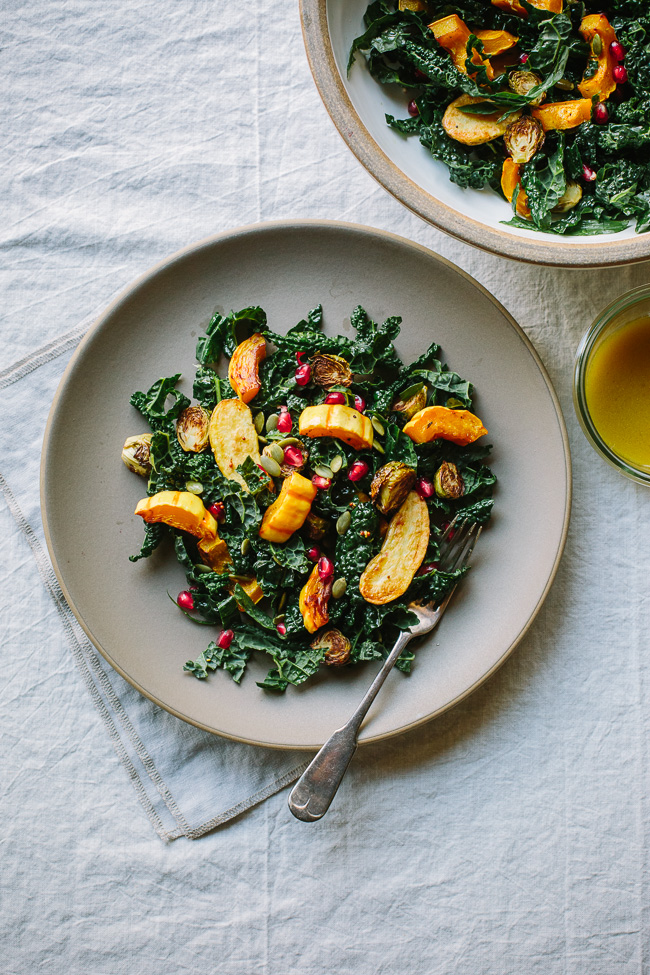 Speaking of living day-to-day, it was not until this past Monday that I realized that Thanksgiving and the beginning of holiday season is upon us next week.  I suddenly felt gripping tension and pressure until I caught myself and asked why.  Why do I feel the need to plan the most perfect menu, start shopping for the most perfect presents, keep a perfectly pieced-together calendar, all while being perfectly present to savor each moment?   My heart seeks perfection and wants it all-  the beautifully elaborate spread of food, gifts even more delightful and exciting than last year, the never having to say 'no' to holiday events, and a stylishly decorated house worthy of pinterest.  In the midst of worldwide suffering and hardship, I am embarrassed to admit my tendencies to fret over such little things.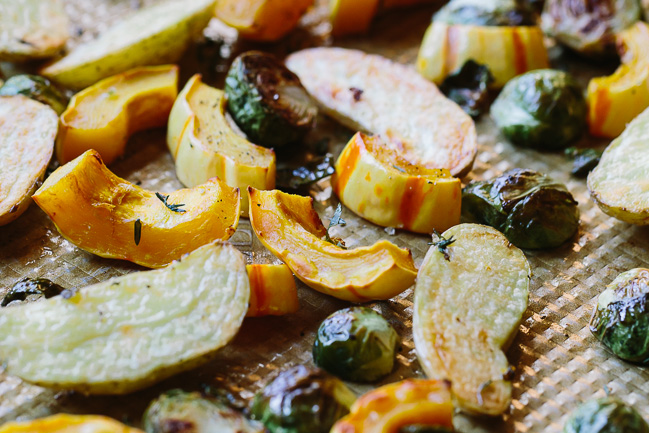 My mind knows better.  I know it's about thankfulness, and underneath the desire for perfection is a deeper longing for a life of contentment and gratitude.  As I nudge my heart to listen to my mind, I feel my stress ease as I realize that everything is going to be fine.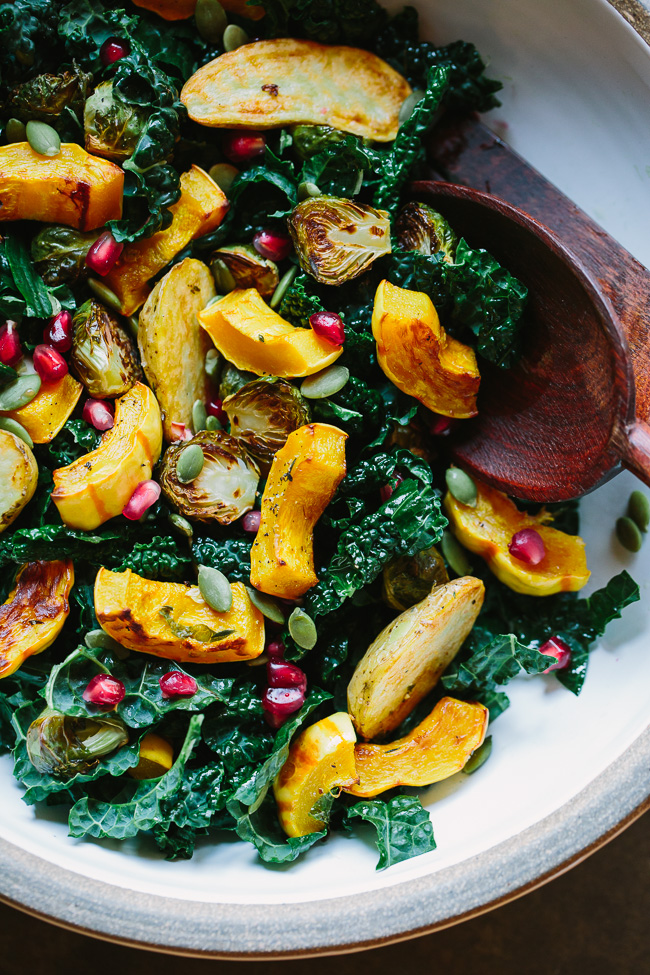 I'm giving myself permission to be simple, even on Thanksgiving.  I'll be hosting and doing most of the cooking this year, so I know it's going to be tough to pull off more than a few side dishes.  It's always nice to have a tray of roasted root vegetables, but I also appreciate some sort of raw fresh salad as well,  so this salad covers both of those in one.   We've been finding the sweetest delicata squash lately, so I roasted one of those along with some brussels sprouts and fingerling potatoes.  From the oven it gets tossed together with some coarsely chopped lacinato kale and then sprinkled with toasted pepitas for crunch and pomegranate seeds for a pop of color and sweetness.  The grainy mustard champagne vinaigrette is a versatile one to have in your repertoire of salad dressings and goes particularly well with the roasted squash and potatoes.  Champagne vinegar adds a special touch to elevate the dressing beyond an ordinary vinaigrette, and while it's an extra bottle to store in the pantry, I find it's worth it.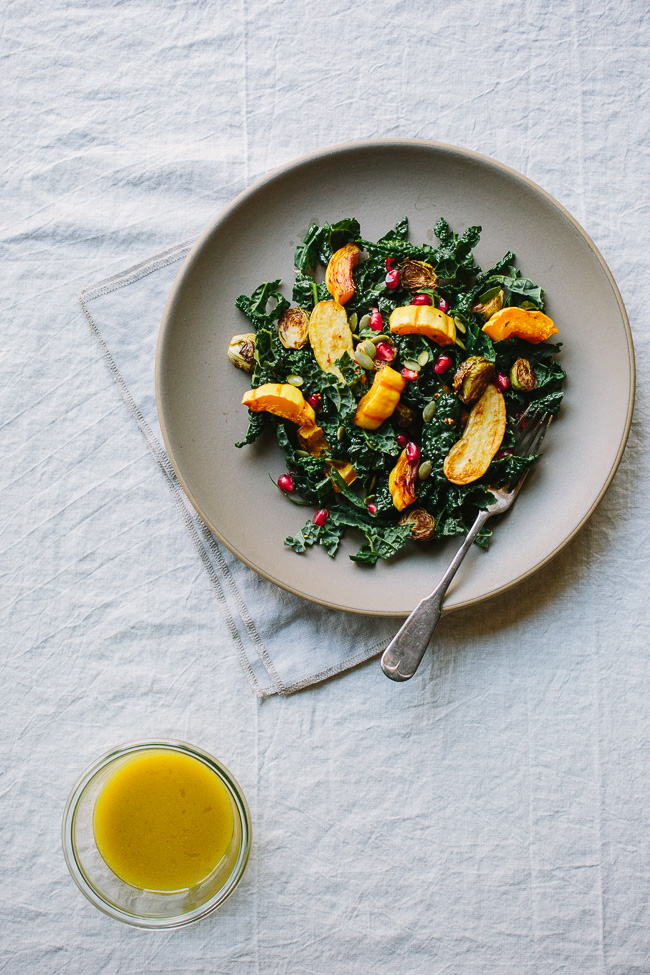 In other news, my sweet friend Laurel over at the interior design blog, The Little Black Domicile, featured a few photos of my kitchen so head on over there if you'd like to take a peek.  I may not get to posting next week so just in case, I wish you all a wonderful and meaningful Thanksgiving holiday.  xo
Print
Roasted Harvest Salad + Champagne Vinaigrette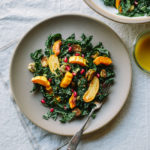 Prep Time:

15 mins

Cook Time:

30 mins

Total Time:

45 mins

Yield:

4 side servings
Ingredients
Salad
I delicata squash, halved lengthwise and seeds removed
heaping cup of brussels sprouts, trimmed and halved
6-8 fingerling potatoes, halved lengthwise
1 teaspoon chopped fresh thyme leaves
kosher salt and black pepper to taste
1 tablespoon extra virgin olive oil
1 small bunch laminate kale, stems removed and leaves trimmed, coarsely chopped
1/3 cup pomegranate seeds
1/4 cup toasted pepitas (shelled pumpkin seeds)
Champagne Vinaigrette
2 tablespoons champagne vinegar
1 teaspoon maple syrup
3/4 teaspoon dijon mustard
1/2 teaspoon whole grain mustard
1/4 teaspoon kosher salt
1/8 teaspoon ground black pepper
1/4 cup + 1 tablespoon extra virgin olive oil
Instructions
Preheat the oven to 400. Slice the delicata squash into half-moons, about 1/2-inch thick. Place on a large rimmed baking sheet, along with the halved brussels sprouts and fingerling potatoes. Sprinkle with thyme, salt, and pepper. Drizzle with olive oil. Gently toss to evenly coat the vegetables with oil and arrange vegetables cut side down on the baking sheet. Roast for 25-30 minutes until the vegetables turn golden brown. Remove from oven and allow to cool slightly.
While vegetables are roasting, whisk together the vinaigrette ingredients in a small bowl. Set aside.
In a large bowl, add the kale and roasted vegetables. Drizzle about half the dressing over the salad and gently toss. Add additional dressing to taste. Sprinkle with pepitas and pomegranate. Serve immediately or chill in refrigerator until ready to serve.