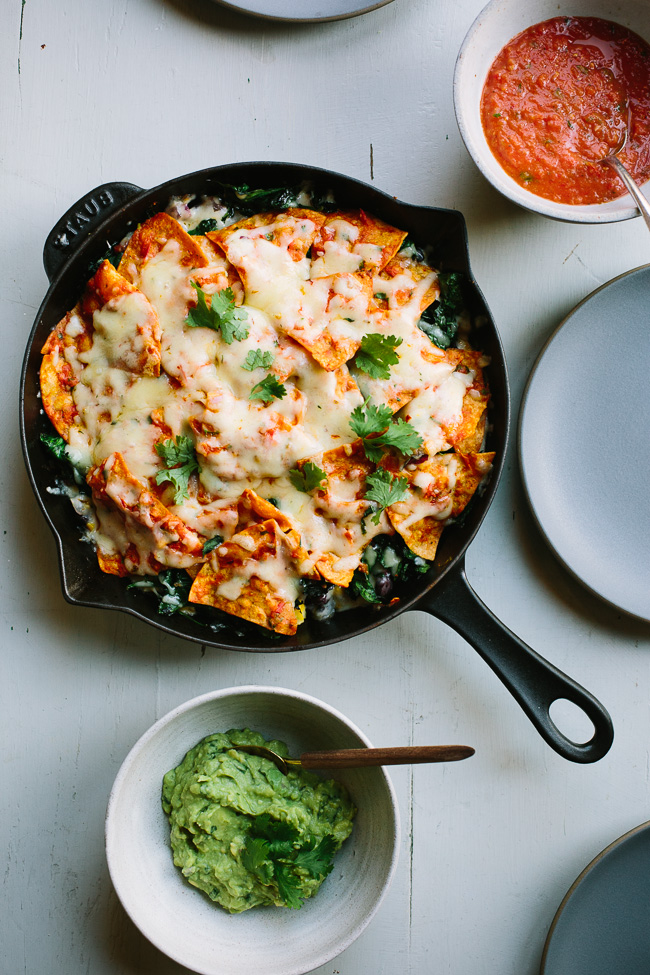 This post is coming a bit later than I had intended.  If you happened to check this site during the past week, things were looking pretty wonky.  I was able to get it fixed yesterday, but the fix is only temporary so there's still work to be done.  There's a lot that goes into the backend of blogging, and much has been learned because of this week's frustrations.  I'm working with someone right now to find a more permanent solution to the issues and ask for your patience if things appear a bit off again over this next week.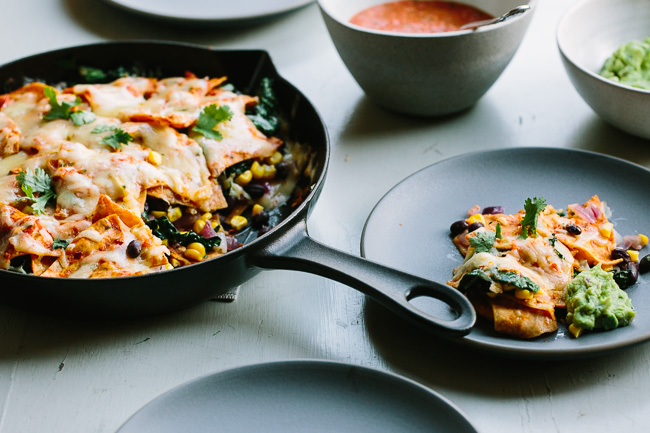 I did want to pop in here though to share this quick and relatively easy dinner idea.  With the busy holiday season upon us, I always appreciate dinners that aren't too time consuming.  This is my take on a vegetarian version of chilaquiles with a number of short-cut options.  Usually chilaquiles are made with tortillas that are cut into wedges and lightly fried before assembling the dish.   Using chips instead of tortillas saves time and is a great option if don't want to bother with mess of frying.   Try to find a sturdy chip (I like Donkey Chips) that will hold up to being baked with the other ingredients.  I made a simple roasted tomato salsa to toss with the chips, but using a favorite store bought salsa or enchilada sauce would be an alternative if you'd like to save even more time.  The chips get layered with a sauté of onions, black beans, corn, and spinach, there's some shredded monterey jack, and it all melds together in the oven for a colorful one pan dinner.  Serve with extra chips, salsa, and guacamole to make the meal even more complete.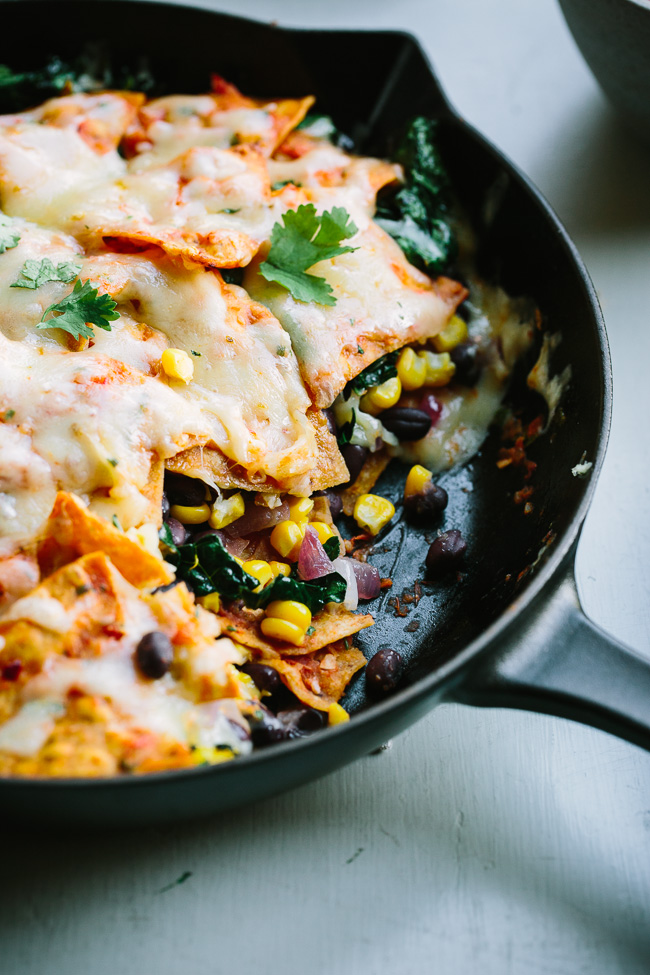 Print
Baked Black Bean Chilaquiles Casserole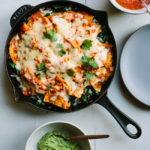 Prep Time:

25 mins

Cook Time:

40 mins

Total Time:

1 hour 5 mins

Yield:

4-6 servings
Ingredients
1 tablespoon olive oil
1 red onion, chopped
1 1/2 cups corn kernels
1 1/2 cups cooked black beans (or one 15-ounce can, drained)
2 tablespoons fresh lime juice
1/2 teaspoon kosher salt
1/4 teaspoon ground black pepper
3 cups chopped spinach or swiss chard
6 cups corn tortilla chips
2 cups shredded monterey jack cheese
1 cup roasted tomato salsa (see recipe below) or store bought salsa or enchilada sauce
fresh cilantro, salsa, and guacamole for serving
Instructions
Preheat oven to 350. Lightly coat a 10-inch oven proof skillet or an 8×8 baking dish with oil.
Heat the oil in a large sauté pan over medium heat. Add the onion and sauté until onion starts to become translucent, about 7-8 minutes. Add the corn, black beans, lime juice, salt, and pepper and cook for another 5 minutes, until heated through. Season to taste with additional salt and pepper. Transfer to another bowl and set aside.
In the same pan, heat another teaspoon or so of oil and cook the greens until just wilted.
Gently toss the chips together with 1 cup of salsa and spread half of them evenly across the bottom of the prepared skillet. Spoon the black bean mixture over the chips and then half of the shredded cheese. Arrange the greens over the cheese. Cover with the remaining chips and top with the remaining cheese.
Bake 35-40 minutes, until heated through and cheese melts and begins to brown. Serve with fresh cilantro, extra salsa, and guacamole.
Print
Roasted Tomato Salsa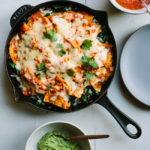 Prep Time:

5 mins

Cook Time:

20 mins

Total Time:

25 mins
Ingredients
2 pounds tomatoes, chopped
1 large onion, chopped
1 chili pepper, chopped
1 clove garlic, minced
1 tablespoon olive oil
1/2 teaspoon kosher salt
1/8 teaspoon ground black pepper
1/4 teaspoon cumin
1/8 teaspoon coriander
1/4 cup fresh cilantro leaves
Instructions
Preheat oven to 425.
Lightly oil a large rimmed baking sheet. Spread the tomatoes, onion, chili pepper, and garlic on the baking sheet. Drizzle with olive oil, and sprinkle with seasonings. Stir to coat evenly.
Roast until tomatoes and onions soften, stirring occasionally, about 20 minutes. Transfer to a blender and add cilantro. Blend until smooth.
Notes
This recipe makes enough for the chilaquiles as well as extra for serving.