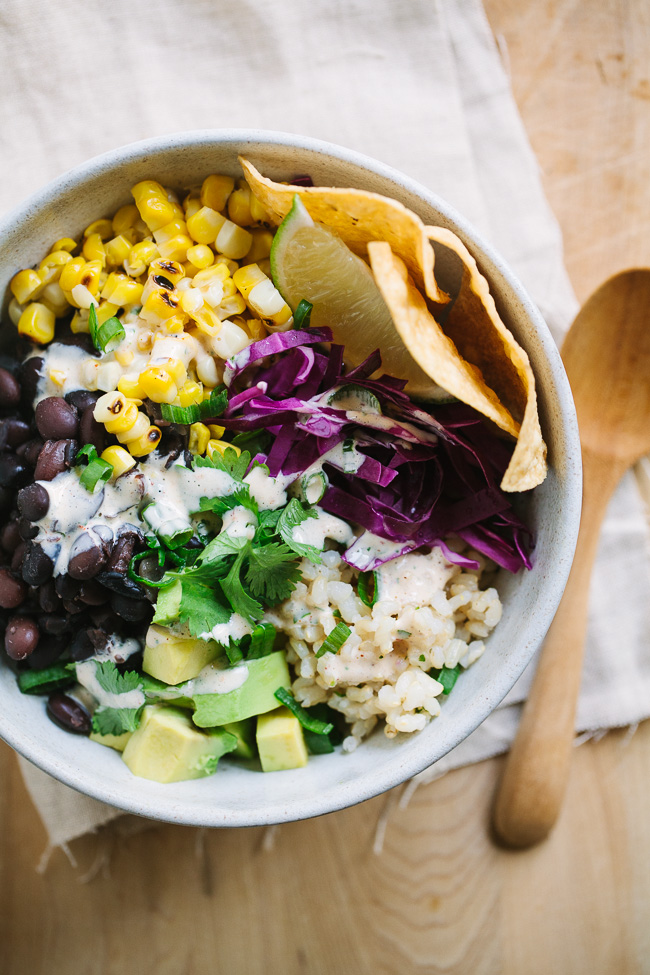 We've been fortunate to have had several long distance friends and family come through and visit us at our home this summer.   I often marvel at how much our lives have changed over these years and yet somehow when we get together everything still feels the same.  One of my best friends from childhood visited for a couple days and although we may only correspond two or three times a year, whenever we have the chance to catch up we always have so much to share with one another.  She's the kind of friend I aspire to be– always thoughtful, fiercely loyal, and faithfully supportive through both joys and hardships in life.  She brought her family with her and it was delightful to watch our kids laugh and play together.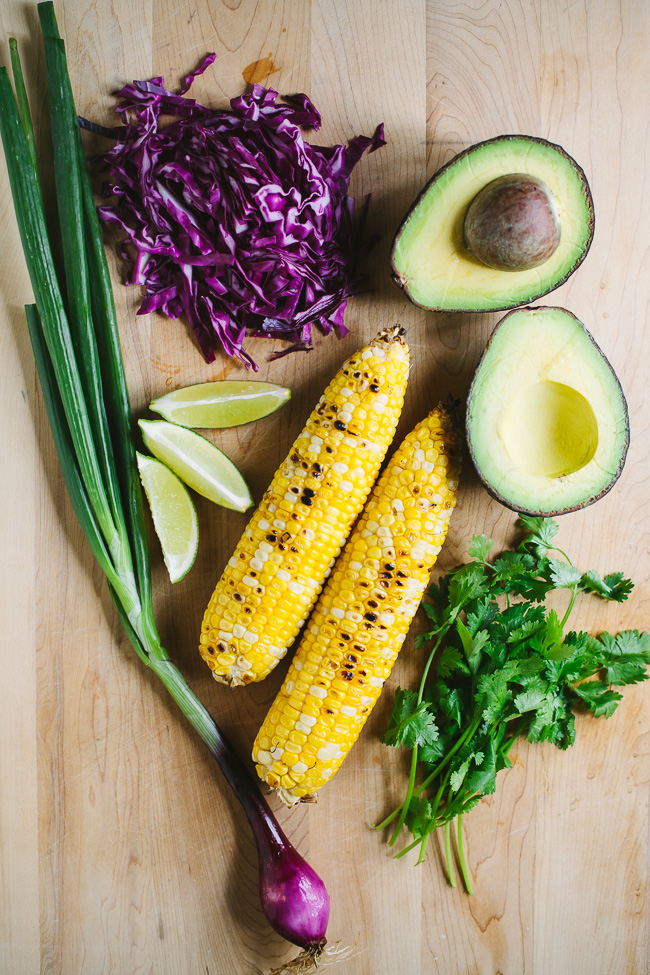 When it comes to cooking for other families with kids, I always find myself a bit nervous because I find that kids can be so unpredictable when it comes to food.  My solution lately has been to serve bowls such as these so everyone can assemble their own bowl and customize it to their own liking.  I served these southwestern-inspired bowls for lunch during the visit and the kids all seemed to enjoy being able to choose what went in their bowl.  There are layers of cilantro lime rice, cuban black beans, grilled corn, shredded cabbage, sliced scallions, and a generous drizzle of chipotle ranch dressing.  Grilling the corn is not completely necessary, but I think it's a nice touch since it adds a flavor you simply can't achieve by just boiling the corn.  It may be tempting to substitute canned beans for the cuban black beans, but the cuban beans are not complicated and it's worth the extra bit of effort.  The chipotle ranch dressing is what makes these bowls extra delicious so definitely don't skip out on the dressing.  Both the beans and dressing can prepared ahead of time and once those are made everything else comes together fairly quickly for a festive and colorful summer meal.
Print
Southwestern Rice Bowls with Chipotle Ranch Dressing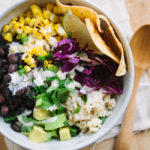 Ingredients
Cuban Black Beans
1 pound dried black beans, rinsed, soaked overnight, drained, and rinsed again
4 ounces nitrate-free bacon
1 onion, peeled
2 tablespoons extra virgin olive oil
1 onion, diced
2 garlic cloves, minced
Chipotle Ranch Dressing
3/4 cup greek yogurt
3/4 cup good quality mayonnaise
1/2 cup milk
1 1/2 tablespoons chopped fresh cilantro
1/2 teaspoon chili powder
1/4 teaspoon cumin
1 garlic clove, minced
1 1/2 teaspoons chipotle pepper in adobo
1/4 teaspoon fine grain sea salt
Cilantro Lime Rice
2 cups brown rice
juice of 1/2 lime
2-3 tablespoons chopped fresh cilantro
1/2 teaspoon cumin
1/2 teaspoon fine-grain sea salt
Assembly
4 cups shredded cabbage
4 ears of corn, grilled
2 avocados, sliced
1 bunch scallions, thinly sliced
lime wedges and fresh cilantro for garnish
tortilla chips for serving
Instructions
Cuban Black Beans
Place the beans in a large pot and cover with 1 1/2 inches of water. Add the bacon and onion and bring to a boil. Reduce heat to low and simmer until beans are soft and tender, about 2 1/2 hours. Add additional water if necessary to keep the beans covered. Remove from heat and discard bacon and onion.
In a large skillet, heat the olive oil over medium heat. Add the diced onion and garlic. Saute until onion softens and becomes translucent, about 5-7 minutes. Add 1 cup of the cooked beans and mash with a fork or the back of a wooden spoon. Return mixture to the rest of the beans in the pot and stir to combine. Season to taste with salt and pepper.
Chipotle Ranch Dressing
Blend all ingredients together in a blender or food processor until smooth. Season to taste with additional salt and pepper. Transfer to a glass jar for storage and refrigerate.
Cilantro Lime Rice
Cook rice according to package directions.
While rice is still warm, gently combine with lime juice, chopped cilantro, cumin, and salt.
Assembly
Assemble bowls with a layer of rice and then arrange portions of the beans, cabbage, corn, avocado, and scallions on top. Drizzle with a generous amount of chipotle ranch dressing and garnish with lime wedges and cilantro. Serve with tortilla chips if desired.