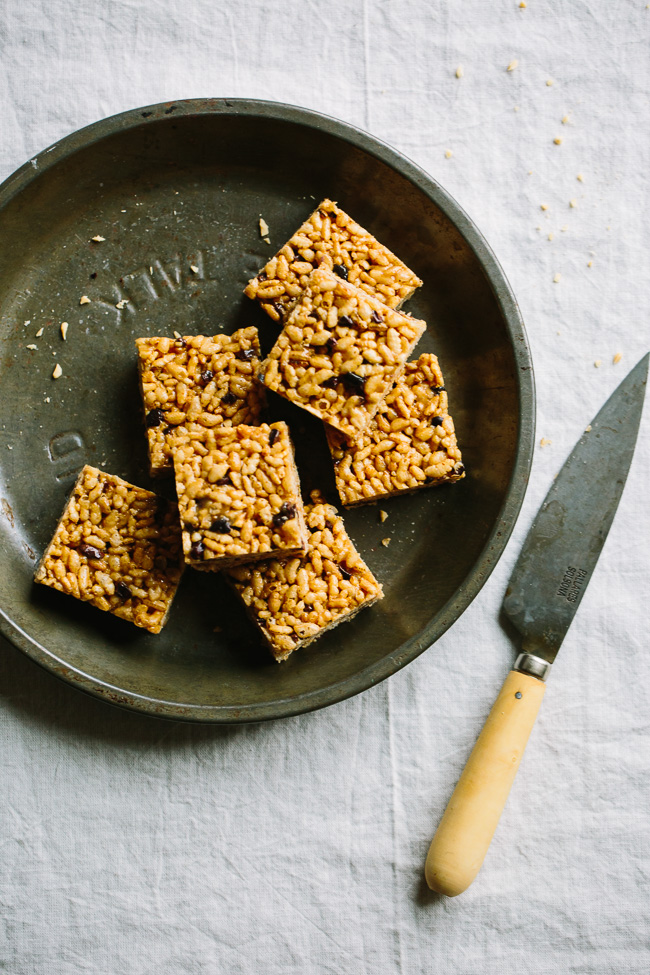 Wolf Gourmet generously provided one of their high powered blenders for me to review.  As always, opinions are my own.  
I always enjoy having a few minutes to peruse the nut butter aisle during a trip to the grocery store.  There are so many interesting varieties to choose from.  A while back I discovered a chai spice almond peanut butter which I bought from time to time as a treat.  Because it's still a favorite, I've learned to make it myself.  Nut butters are so easy and satisfying to make at home if you have the right equipment.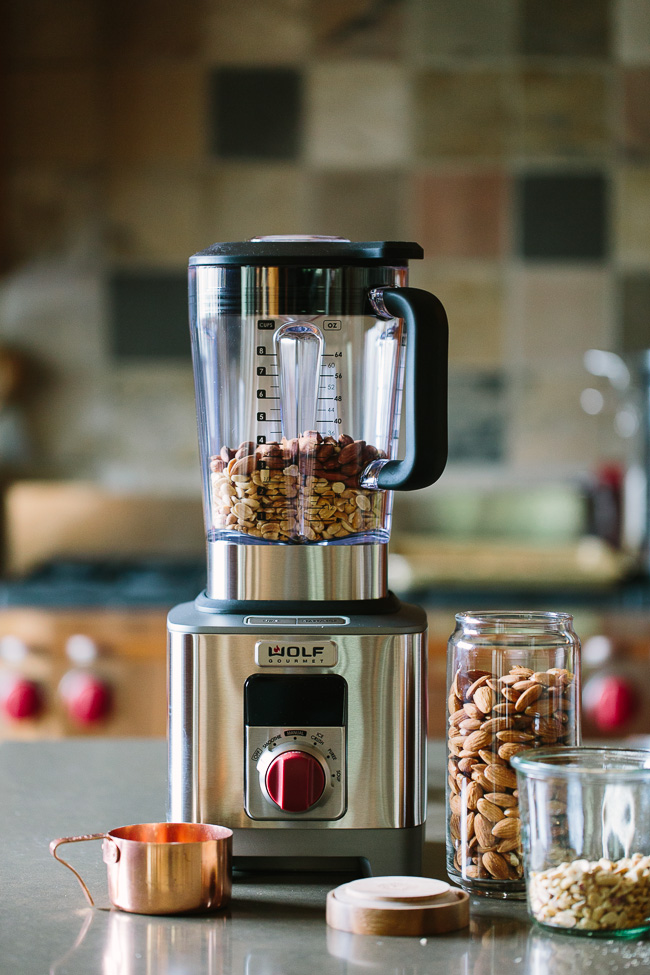 So let's talk equipment, shall we?   Wolf Gourmet sent me one of their high powered blenders to review and I've been putting it to good use by using it for all sorts of tasks- smoothies, dressings, soup, grating cheeses, chopping vegetables, etc.  The blender is extremely powerful, quick, and easy to use.  I've been a loyal Vitamix user for the past few years and truly this Wolf Gourmet blender is every bit as capable.  Unlike the Vitamix, however, the base of this Wolf Gourmet blender is incredibly stable, even when blending at the highest speeds.  In addition to being highly functional, the Wolf blender is also beautifully designed, so I enjoy keeping it out on my counter.  There's an easy to read LCD display, 4 programmed settings, and even an emulsion cap for slowly adding oil to make perfect dressings and mayonnaise.   Wolf Gourmet is offering to give away one of these blenders to a reader of G&D, so be sure to check out the details below to enter!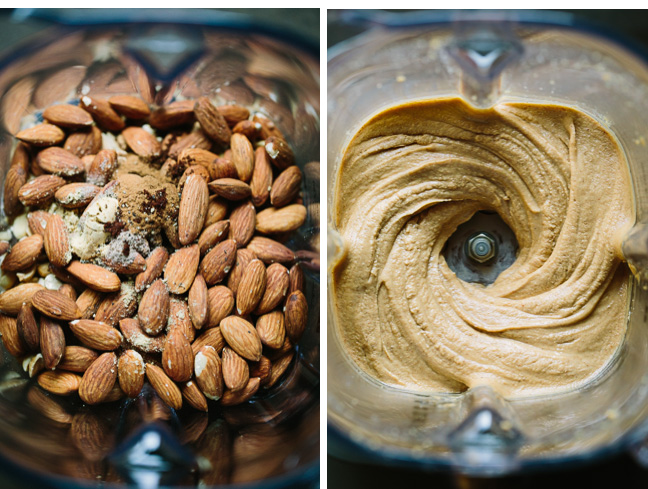 Back to this chai spice nut butter, notice how creamy it becomes in the Wolf Gourmet blender?  This DIY version is a fragrant blend of lightly roasted almonds and peanuts with just the right amount of cardamom, ginger, cloves, cinnamon, and a touch of honey.  It's excellent by itself on toast as well as slathered underneath a layer of sliced banana or pear.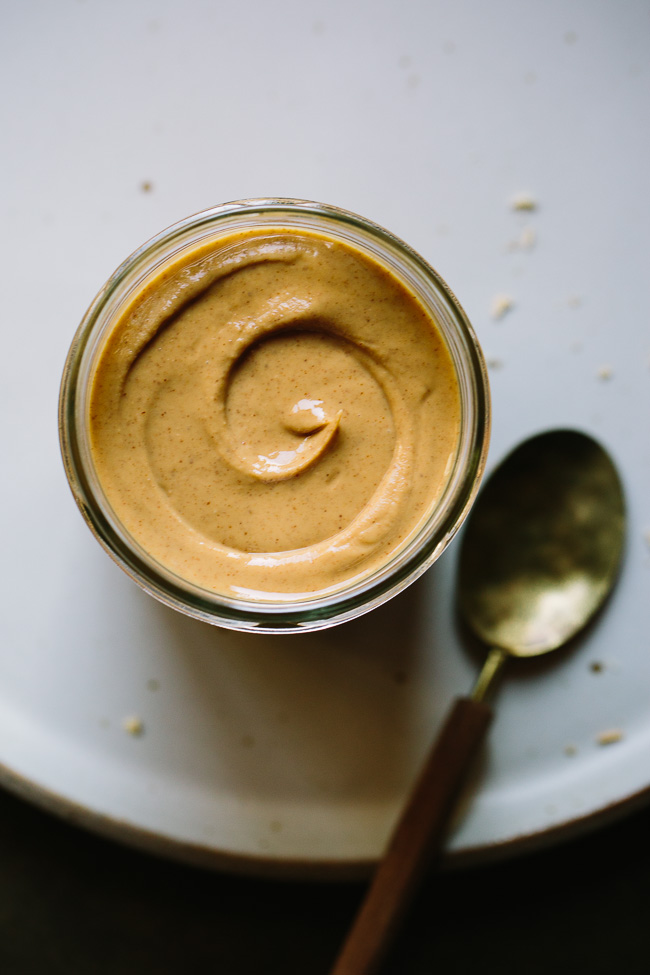 It also turns these crispy bars into something special enough to serve on a holiday cookie platter.  I like including a wide assortment of cookies on my tray ranging from indulgent to some lighter options.  Using brown rice crisps and rice syrup as a sweetener makes these on the healthier side, but they are delicious and festive just the same.   They are no-bake and quick to put together especially if the nut butter has already been made, and works for anyone eating gluten-free or vegan.
To enter this giveaway, you must be at least 18 years of age and a US resident.  Sorry, Wolf Gourmet cannot deliver to PO Boxes.  This giveaway will close on December 20 at 11:59 pm EST.  The winner will be announced here and notified through email.   The giveaway is now closed.  Thank you to everyone who entered.  Congratulations to Renee C.  for winning the Wolf Gourmet Blender!  Check your inbox for an email.
Print
Chai Spice Crispy Bars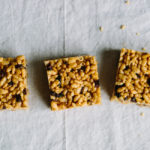 Prep Time:

15 mins

Total Time:

15 mins

Yield:

16 squares
Ingredients
3 3/4 cups brown rice crisps cereal
1/3 cup cacao nibs or mini chocolate chips
1/2 cup chai spice nut butter (see recipe below)
1/2 cup brown rice syrup
1/2 teaspoon fine grain sea salt
Instructions
Line an 8×8 baking dish with parchment paper.
In a large bowl, mix together the brown rice crisps and the cacao nibs.
In a small saucepan over medium heat, whisk together the nut butter, brown rice syrup, and salt until well combined.
Pour the nut butter mixture over the cereal mixture and gently stir together until cereal and cacao nibs are evenly coated.
Transfer to prepared pan and use the back of a spatula to firmly press mixture into pan. Chill in the refrigerator for about 30 minutes before cutting into squares. Store in an airtight container at room temperature for up to one week.
Print
Chai Spice Nut Butter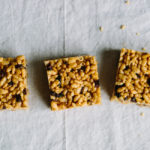 Ingredients
1 1/3 raw almonds
2 2/3 cup dry roasted + unsalted peanuts
1 teaspoon cardamom
1/4 teaspoon ground cloves
1/2 teaspoon ground ginger
1/4 teaspoon cinnamon
1/4 teaspoon sea salt
pinch of ground black pepper
1/2 vanilla bean, cut in half lengthwise and seeds removed
2 tablespoons honey
Instructions
Preheat oven to 325. Spread almonds on a rimmed baking tray and roast almonds until fragrant and toasty, about 10-12 minutes.
Add almonds, peanuts, and spices to the blender and blend on medium speed until nuts are finely ground. Add the seeds from the vanilla bean and the honey and turn the blender to high until nut butter turns creamy and smooth, scraping down sides when necessary. (It may look like the nut butter wants to seize up once you add the honey, but continue blending and eventually the oils will break down and the nut butter will smooth out.)