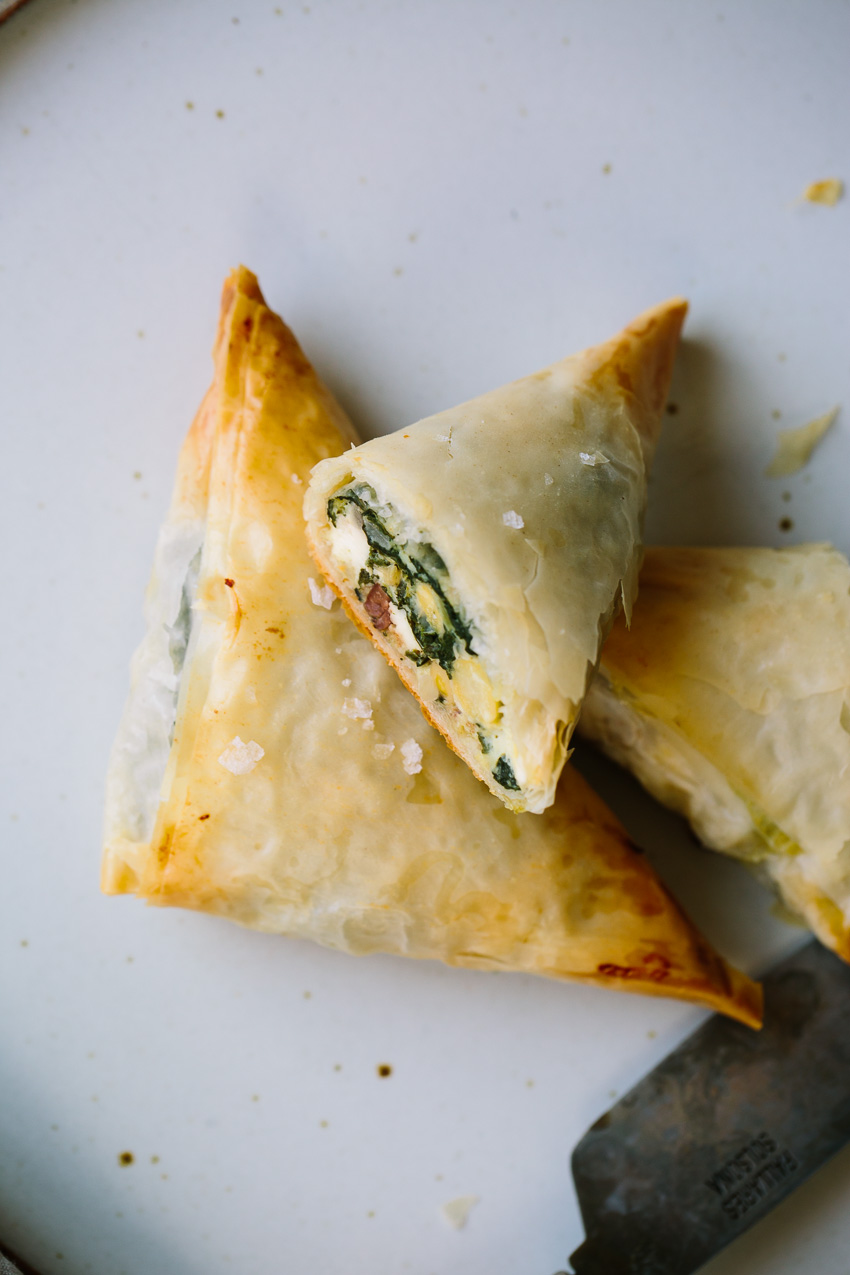 Happy New Year! While I love the holidays, moving into January with a fresh start always feels good.  This year we stayed home for Christmas and Ryan was off for the whole week, so we had lots of down time together as a family.  It's a temptation to fill our schedules when I see open days in our calendar, but this time we were intentional about not over-scheduling the time off so we could take a break from the everyday crazy.  Instead we cooked simple meals at home, organized closets (fun for me, not fun for the kids), played lots of board games (Pandemic and Lattice are our new favorites), and cozied up on the couch to watch a few movies.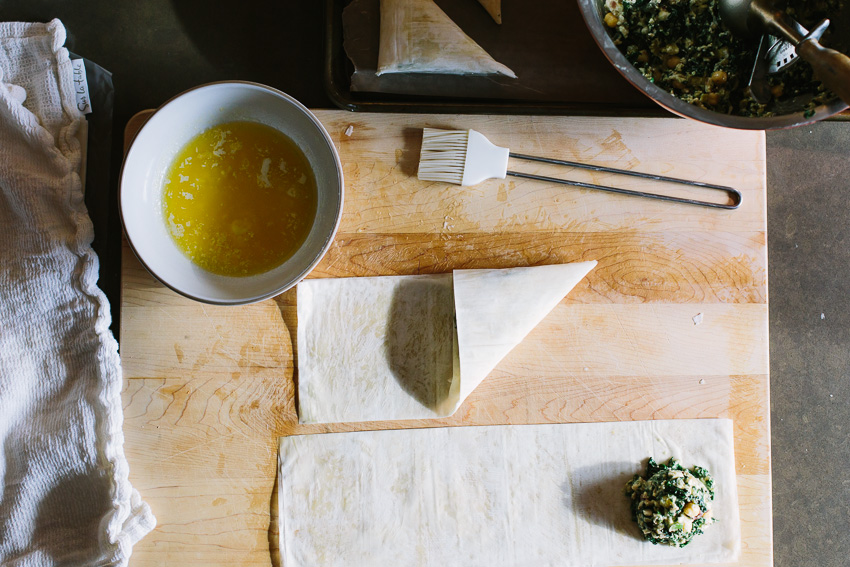 We made these chard chickpea olive spanakopitas and according to the kids they were "awesome".  Anything that's packed with vegetables and loved by my kids is worthy to be shared in my opinion, and this recipe can be a fun family project.  Phyllo dough takes some patience, but it's really not difficult.  The key is working quickly and keeping the layers of pastry covered so they don't dry out while you work. Spanakopitas are often made into appetizer sized triangles, but since I portioned these to be for dinner they are easier to wrap and there's also fewer to wrap.  There's less feta here than a more traditional recipe, but adding in some kalamata olives keeps the flavor strong.  Chickpeas add protein and enough heartiness to make these a meal.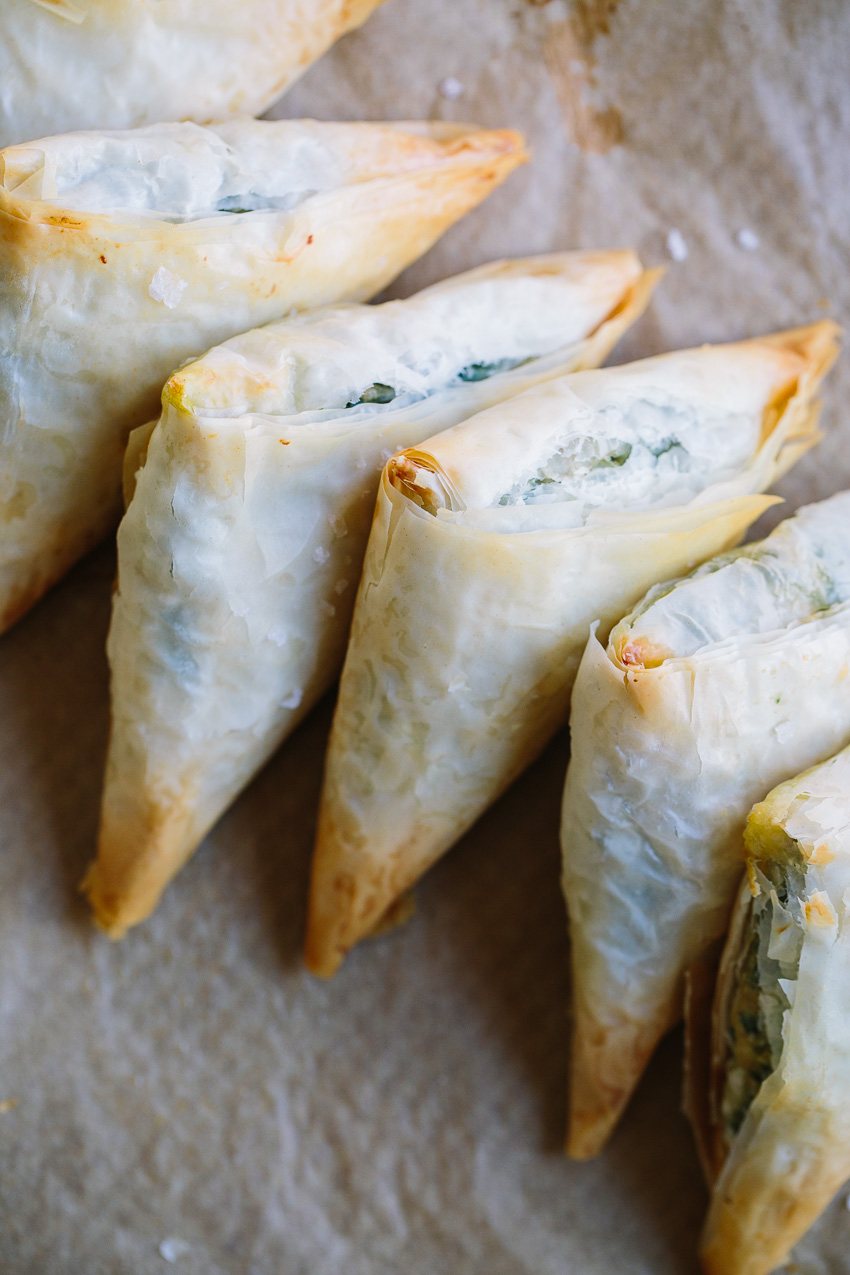 One last thing to love about these- you can make a batch ahead of time, stash them in the freezer, and bake when you're ready to serve.  A full recipe of these makes sixteen triangles, so I baked eight for dinner and tucked away the remaining eight for another night.  And to my heart's delight, the kids are already asking me to bake the rest.
Print
Chard Chickpea Olive Spanakopitas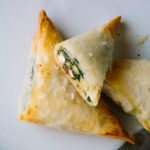 Author:

Emily / Gather & Dine

Prep Time:

1 1/2 hours

Cook Time:

30 minutes

Total Time:

2 hours

Yield:

16 triangles
Ingredients
1 tablespoon olive oil
1 cup chopped red onion
3 scallions, chopped
2 bunches swiss chard, stems removed and coarsely chopped
4 large eggs, lightly beaten
3 tablespoons freshly grated Parmesan
8 ounces feta cheese, crumbled
1 cup cooked chickpeas
1/4 cup chopped kalamata olives
3 tablespoons whole wheat panko bread crumbs
1 teaspoon kosher salt
1/2 teaspoon ground black pepper
3/4 pound phyllo dough
8 tablespoons melted unsalted butter
flaked salt, for sprinkling
Instructions
Heat the olive oil in a large saute pan over medium heat.  Add the onion and saute until onion turns translucent, about 5 minutes.  Add the scallions and cook for another minute.  Add the chard and cook until just wilted.  Remove from heat and set aside to cool for a few minutes.

In a large mixing bowl, gently combine the eggs, Parmesan, feta, chickpeas, olives, salt and pepper.  When the chard mixture is cool enough to handle, squeeze out the excess liquid and add it to the mixing bowl.  Stir again to combine.

Preheat the oven to 375.  Line 2 large rimmed baking pans with parchment paper.

Gently unwrap the phyllo dough, lay it flat, and cover with a towel.  Place one sheet of phyllo on your work surface and brush it lightly with butter.  Working quickly, place another sheet of phyllo directly on top of the first layer and lightly brush again with butter.  Repeat until you have 4 layers of phyllo dough on top of each other.  Cut the sheets in half lengthwise.  Place about 1/3 cup of the chard filling on one end and fold diagonally to make a triangle.  Fold the triangle over straight and then diagonally again.  Continue folding until you reach the end of the sheet.  Brush the triangle once more with melted butter being sure to seal the seams.  Place seam side down on baking sheet and sprinkle with a pinch of flaked salt.  Repeat with the remaining dough and filling.

Bake 25-30 minutes, until phyllo is brown and crisp.  Serve immediately.