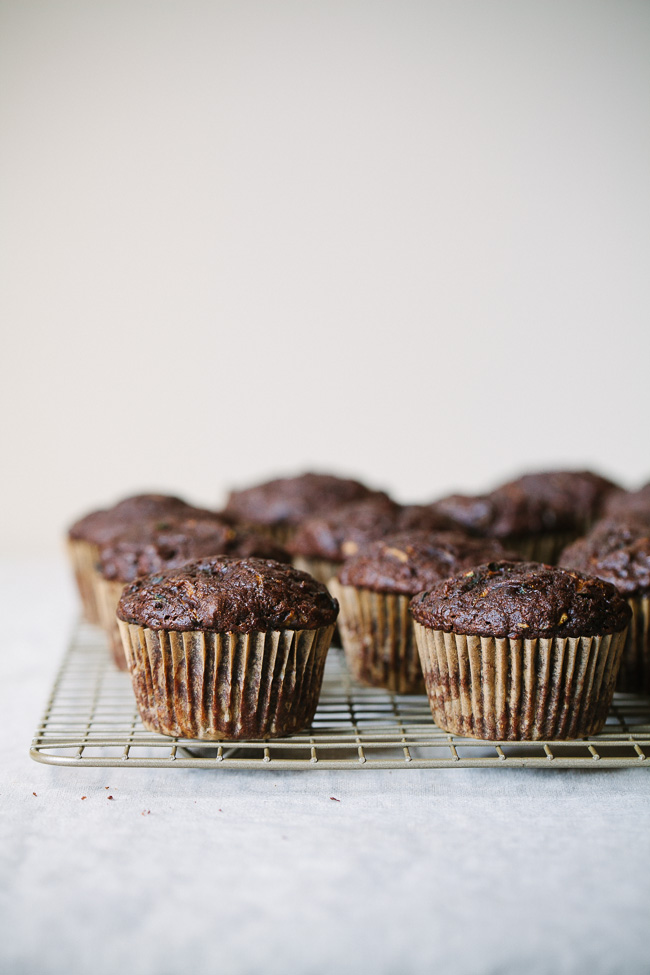 Things are looking a little different around here today, thanks to the talented Erin and Melissa of Wooden Spoons Kitchen.  I am so thankful for them and the opportunity to work with them.  They made me feel like more than just another client- they truly cared, they listened, they took time to get to know me, and they patiently worked to develop a design and site which personally reflects me.  I could not speak more highly of them and their work.  Thank you, Erin and Melissa.
Today I'm celebrating the new site design with these chocolate zucchini muffins.  We are right about at the peak of summer squash season and whenever I have more zucchini than I can handle, I've been making these muffins.  I'm not going to tell you how many batches of these I've already made, but I will say that we eat these for breakfast, snacks, and dessert.  A combination of whole wheat pastry flour and spelt flour keeps the texture light, they are lightly sweetened with coconut sugar, and the sweet aroma of coconut oil is a nice complement to the chocolate.  Studded throughout are pieces of dark chocolate that become melty and oozy when you enjoy them warm.  Having loads of shredded zucchini in these muffins qualifies them as healthy enough for breakfast, don't you think?   And adding a scoop of vanilla bean ice cream on top makes it a most delicious dessert.
Print
Chocolate Zucchini Coconut Oil Muffins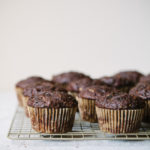 Ingredients
1 1/2 pounds zucchini, about 3 medium
1 1/2 cups whole wheat pastry flour
1 1/2 cups spelt flour
1/2 cup cocoa powder
1 1/2 teaspoons baking soda
1 teaspoon baking powder
1 teaspoon fine grain sea salt
1/2 cup coconut oil, melted
1 cup coconut sugar
1 cup buttermilk
2 large eggs
2 teaspoons vanilla
4 ounces dark chocolate, chopped
Instructions
Preheat oven to 375. Lightly oil muffin tins or use muffin liners.
Line a colander with a kitchen towel. Gently grate the zucchini into shreds and place on the towel. Allow zucchini to sit while mixing the dry and wet ingredients.
In a large mixing bowl, whisk together the flours, cocoa powder, baking soda, baking powder, and salt.
In a medium mixing bowl, whisk together the coconut oil and coconut sugar. Whisk in the buttermilk, eggs, and vanilla.
Gently pat zucchini with towel to soak up some of the accumulated excess liquid. (Do not squeeze all liquid out of zucchini.) Add zucchini to wet ingredients and whisk until zucchini is evenly distributed.
Add the wet ingredients into the dry ingredients and stir until just combined, being careful not to overmix. Fold in chopped chocolate.
Divide batter evenly among prepared muffin tins. Bake for 20-22 minutes until a tester comes out clean. Cool in pans 10 minutes before transferring to a wire rack to finish cooling.