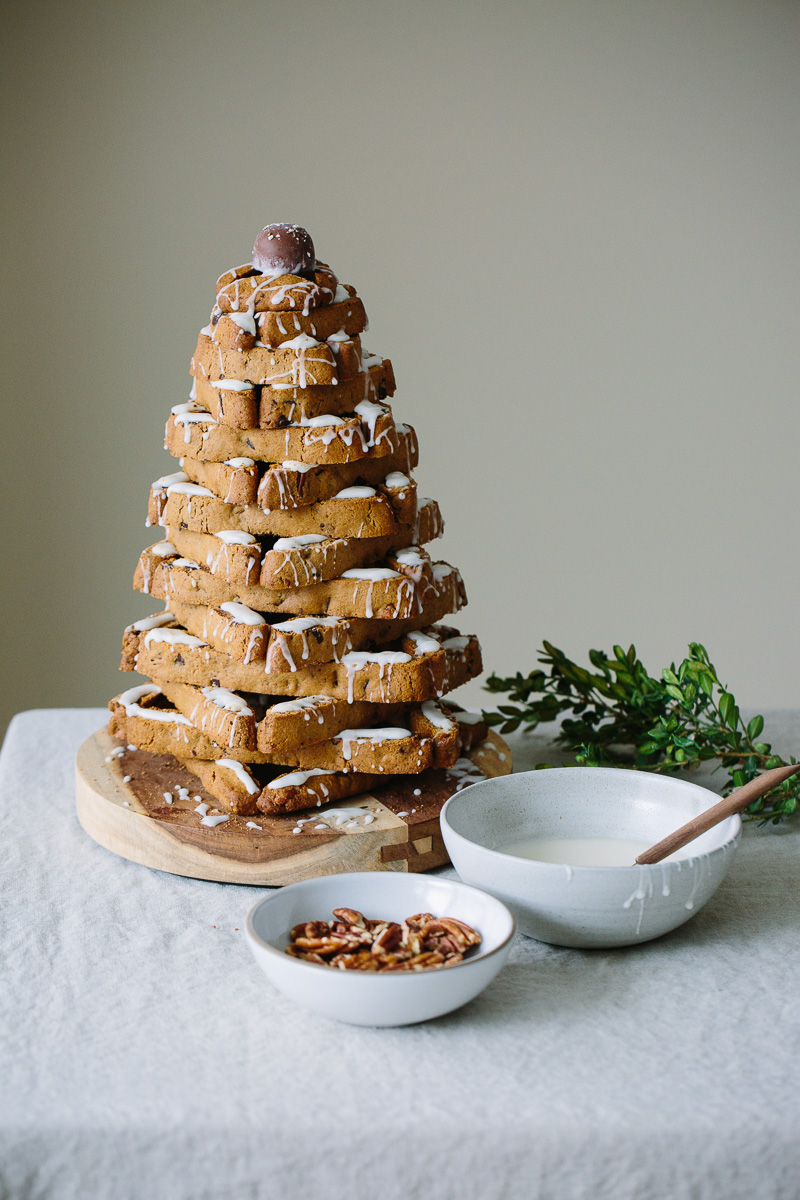 Biscotti trees are a newer tradition in our home, but one that we have been enjoying for the past few Christmas seasons.  I've made this almond version for the past two years, but I recently baked some other fantastic almond cookies (coming soon!) so I decided to change up this year's biscotti a bit.  Though I'm not a coffee drinker myself, I do enjoy a good coffee flavored dessert.  After discovering how well coffee and pecans paired together in these little bars, I thought I'd try for a similar flavored biscotti.  The pecan meal assures a tender crumb, and the bits of pecan and chocolate scattered throughout complements the espresso flavor in the best way.  Biscotti are always twice baked, but other than that they are no more difficult to make than ordinary cookies.  Assembling is fun and makes a good snowy afternoon activity, and the taking apart and eating is even more delightful.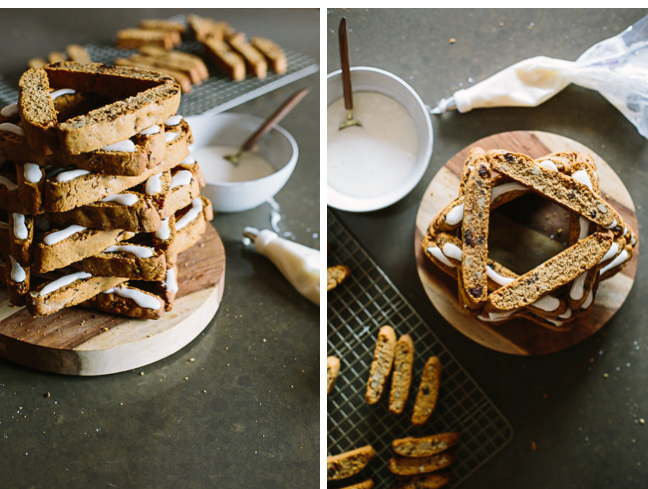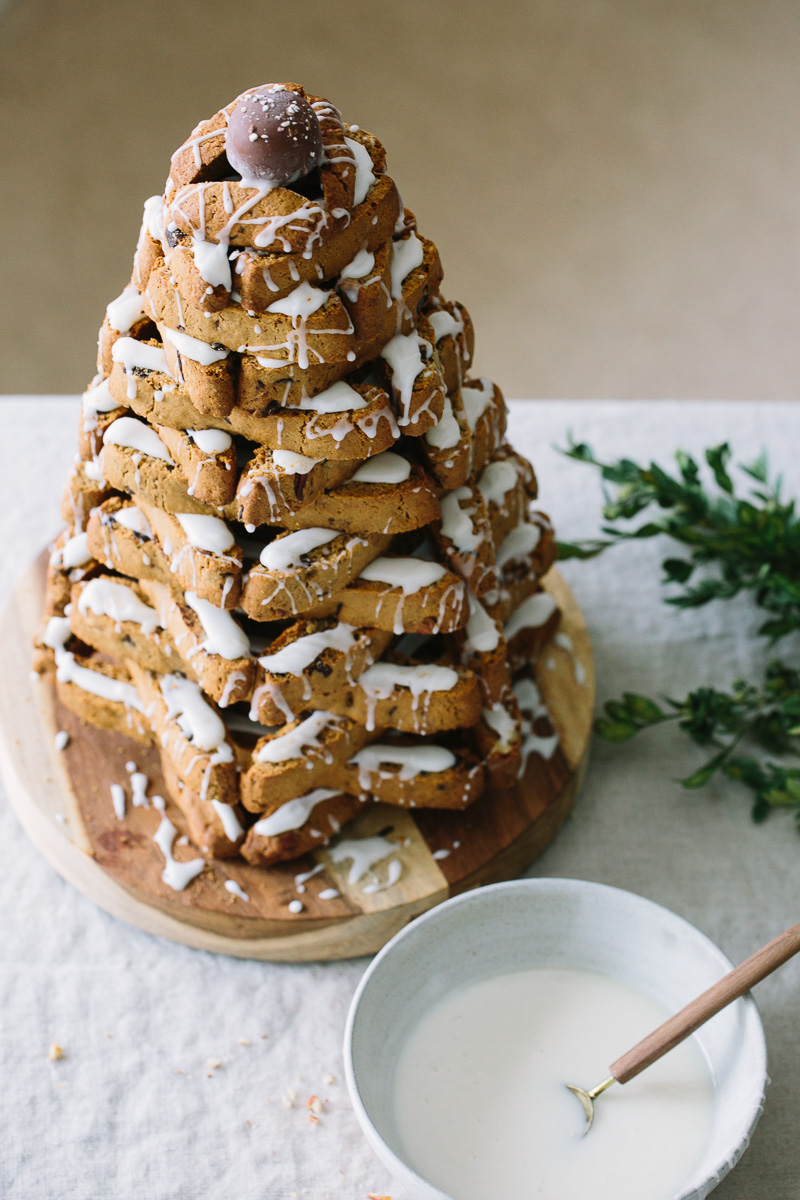 Print
Espresso Chocolate Pecan Biscotti Tree
Author:

Emily Nelson

Prep Time:

2 hours

Cook Time:

40 minutes

Total Time:

2 hours 40 minutes
Ingredients
2 cups white whole wheat flour
2 cups whole wheat pastry flour
1/2 cup pecan meal (see note)
4 teaspoons baking powder
3/4 teaspoon fine grain sea salt
12 tablespoons unsalted butter (1 1/2 sticks), room temperature
1 cup natural cane sugar
4 large eggs
2 1/2 tablespoons instant espresso mixed with 1 tablespoon water
1 teaspoon vanilla extract
1 cup pecan halves, coarsely chopped
1 cup dark chocolate chunks
ICING
4 cups confectioners sugar
5-7 tablespoons milk
1/2 teaspoon vanilla
Instructions
Prepare two 13×18 baking sheets with parchment paper. (Use three baking sheets if dimensions are smaller.)
In a large mixing bowl, whisk together the flours, baking powder, and salt.
In the bowl of a stand mixer, cream together the butter and sugar until light and fluffy. Add eggs, one at a time, beating after each addition. Beat in espresso.
Add the flour, 1/3 at a time, mixing on low speed after each addition. After the last addition, mix until flour is just incorporated. Fold in the chopped pecans and chocolate with a spatula.
Divide dough into 3 equal portions, about 1 pound each. Working directly on the parchment paper with lightly floured hands, shape each portion into a flat-topped triangle measuring 7 inches along the base, 2 inches along the top, and 10 inches along each of the sides. Use a ruler to form straight edges and crisp corners by pressing the edge against the dough. (There should be one triangle on 1 baking sheet and 2 triangles on the other. It may be necessary to use 3 baking sheets. In this case, it may also be necessary to bake in separate batches if there are not 3 available racks in the oven.) Chill dough for 30 minutes.
While dough is chilling, preheat oven to 350. Place one rack in the upper third of the oven and the other in the lower third of the oven.
Bake for 20-22 minutes, until biscotti just begins to turn golden brown at the edges. Rotate pans halfway through to ensure even baking. Cool for 30 minutes.
Beginning at the base, use a serrated knife to gently and carefully slice 5/8-inch wide slices parallel to the base on each of the three portions.
Place the slices on their sides and bake 10 minutes. Gently flip each biscotti to its other side and bake for another 10 minutes, until biscotti are lightly browned and dried. Transfer to wire racks to cool completely.
To make icing, combine confectioners sugar, 5 tablespoons of milk, and vanilla extract. Mix with a fork and add additional milk a teaspoon at at time until icing reaches piping consistency. Transfer to a pastry bag with a plain 1/4-inch tip.
Starting with the 3 longest biscotti, pipe a straight line of icing along the tops (or sides if you prefer the tops to be facing out) of each cookie and form a triangle. Take the next 3 longest biscotti and create a star of David triangle by arranging another triangle on top of the base triangle. Pipe another line of icing along the tops of each cookie. Continue to build the tree by repeating this process until all of the cookies are used up, finishing with the smallest 2 inch cookies. At this point, you may choose to thin the remaining icing a bit with additional milk and drip "icicles" along the sides of the tree.
Notes
*to make 1/2 cup pecan meal, process a heaping 1/2 cup of pecan halves in a blender or food processor until the texture becomes fine.  be careful not to over process or the pecans will turn into nut butter.
inspired by Gifts Cooks Love