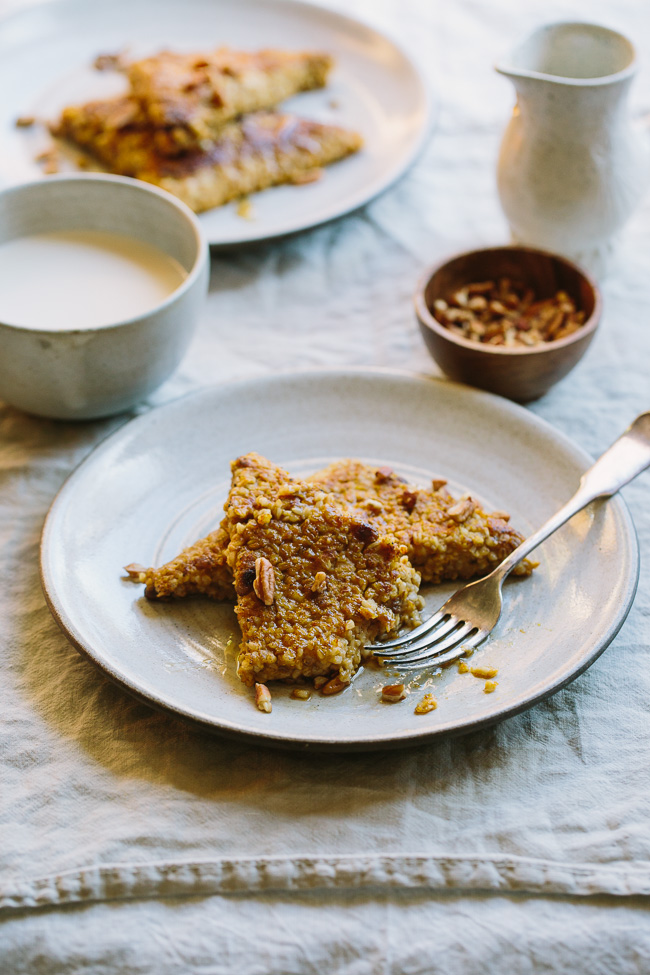 For the days when you can't decide between oatmeal and pancakes, these griddled oatcakes may be just about perfect thing. In my ever-growing stack of torn out recipes from old Bon Appetit magazines, I recently came across a recipe for griddled steel-cut oatcakes.  The technique reminds me of pan-fried polenta–   first make the oats, chill in a baking pan, and then cut into triangles or squares before frying.  Crisp outsides with soft and creamy middles make it worth the overnight chilling time.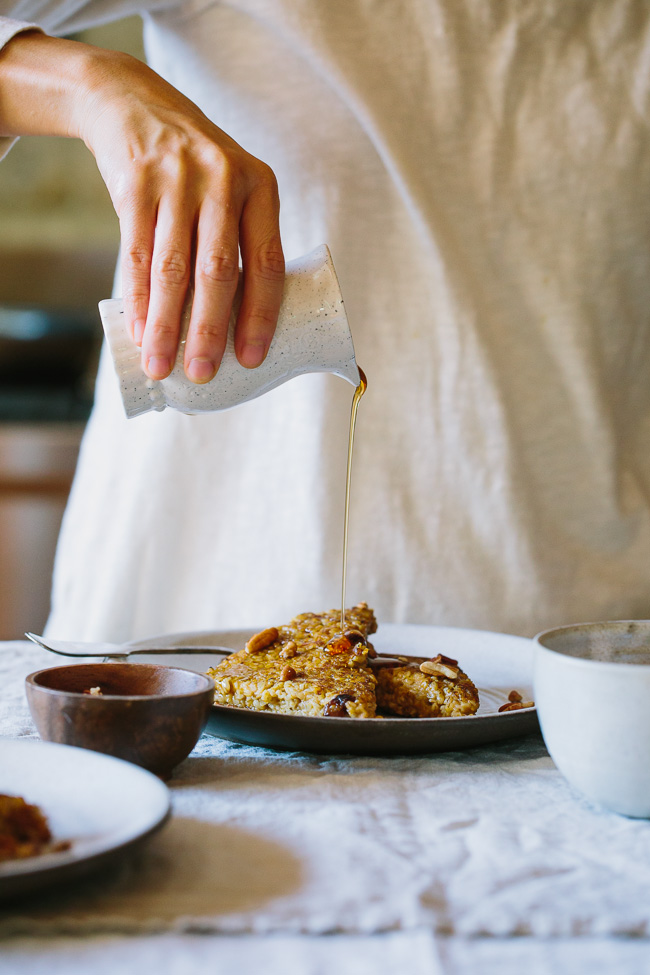 Here's my pumpkin version with warm autumn spices of cinnamon, ginger, nutmeg, cloves, and a whisper of cardamom.   Preparing the oatmeal the evening before and simply cooking them on the griddle in the morning makes this a do-able but special weekday breakfast.  My 10-year old loves pancakes but not oatmeal, and even he had three helpings– a definite win.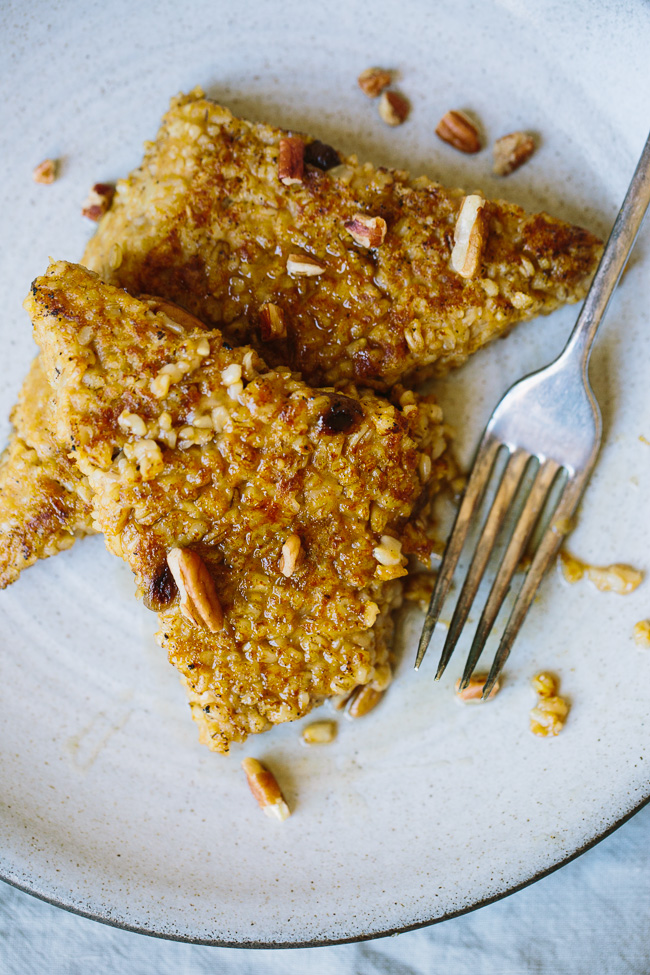 Print
Griddled Pumpkin Steel-Cut Oatcakes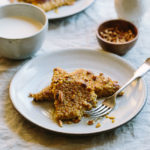 Prep Time:

5 mins

Cook Time:

45 mins

Total Time:

50 mins

Yield:

4-6 servings
Ingredients
1 cup pumpkin puree
1 teaspoon cinnamon
1/2 teaspoon nutmeg
1/4 teaspoon ginger
1/4 teaspoon cardamom
1/8 teaspoon cloves
1/2 teaspoon salt
1 1/2 cups milk
1 1/2 cups water
1 3/4 cup steel-cut oats
1/3 cup raisins
3 tablespoons maple syrup plus extra for serving
2 teaspoons vanilla
toasted chopped pecans, for serving
Instructions
Butter a 9 x 13 baking pan and set aside.
In a heavy saucepan over medium-high heat, whisk together the pumpkin and spices. Gradually whisk in the milk and water and heat to a simmer. Add the oats, reduce heat to medium-low and simmer until oatmeal is cooked but still firm to bite, about 30 minutes. Stir in the raisins, syrup, and vanilla. The oatmeal will be fairly thick which will help the oatcakes keep their shape on the griddle.
Spread oatmeal evenly in prepared pan. Cover and chill in the refrigerator for at least 4 hours or up to one day.
Cut chilled oatmeal into desired shapes. Heat a tablespoon of butter in a nonstick skillet over medium heat. Cook oatcakes on both sides until they turn golden brown, about 2-3 minutes per side. Serve warm with a sprinkle of toasted pecans and an extra drizzle of syrup.