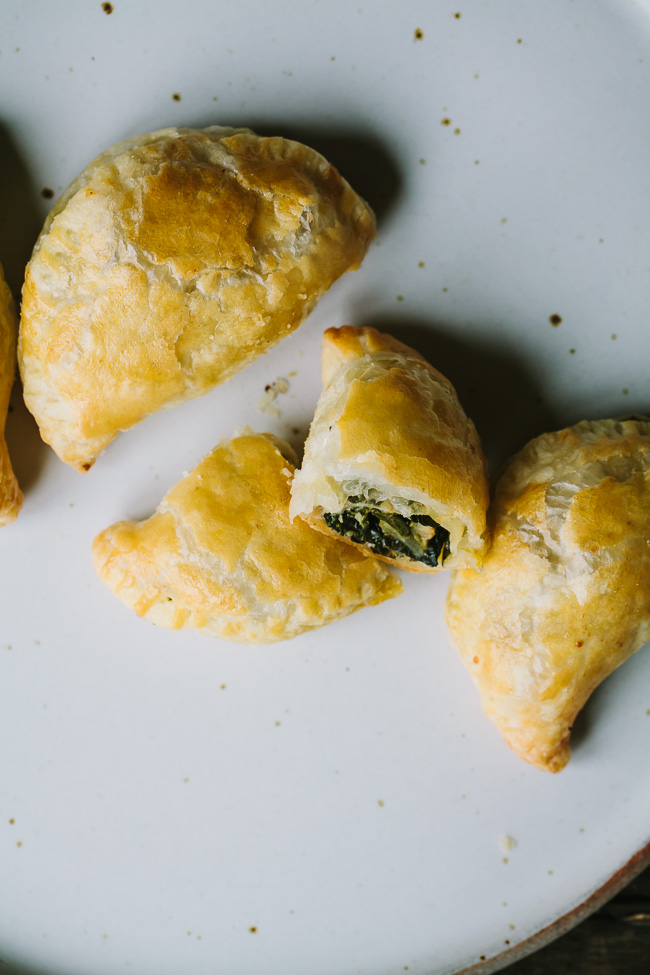 Prioritizing time has never been a strength for me.  I tend to categorize more than I should as a "priority" and find myself trying to cram as much into as little time as possible.  I'm working on this.  Yesterday at church, our pastor spoke on cultivating childlike wonder and named speed to be the enemy of wonder.  So true.  I know it's not realistic to always be unhurried, present, and truly savoring every moment, but I'm trying.  Sometimes this means saying "no" to more than I want to, but I'm learning that this is okay.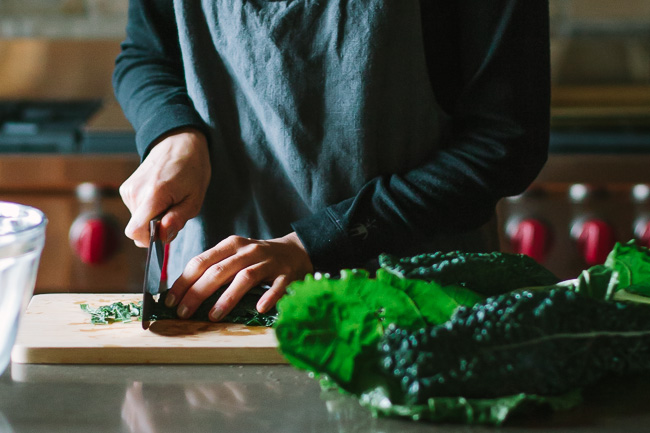 Slowing down also means that as much as I love the idea of making everything from scratch, sometimes short-cuts are necessary.   Frozen puff-pastry is one of the best short-cuts around, don't you agree?  Light and flaky dough that puffs up to golden perfection and turns the simple into fancy.  The excitement and delight from my kids when they saw these little puff pastry empanadas for dinner made me even more glad I hadn't spent the time on homemade crust.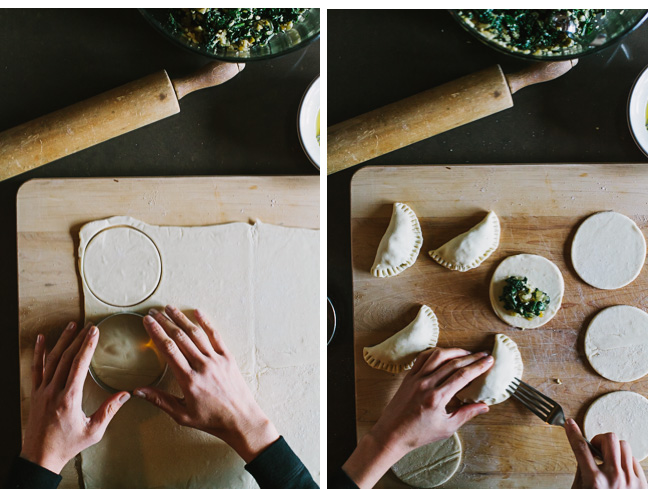 The filling here is lightly adapted from Deborah Madison's The New Vegetarian Cooking for Everyone, one of my favorite cookbooks for everyday cooking.  It begins with garlicky greens and olives, a touch of paprika, and a handful of grated provolone holds it all together.  I doubled the filling and tossed the leftovers with pasta for a easy dinner the next day.  Not sure whether we liked the empanadas or the pasta more.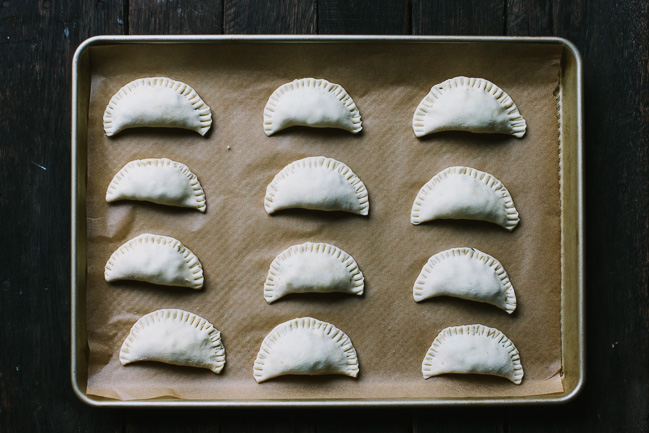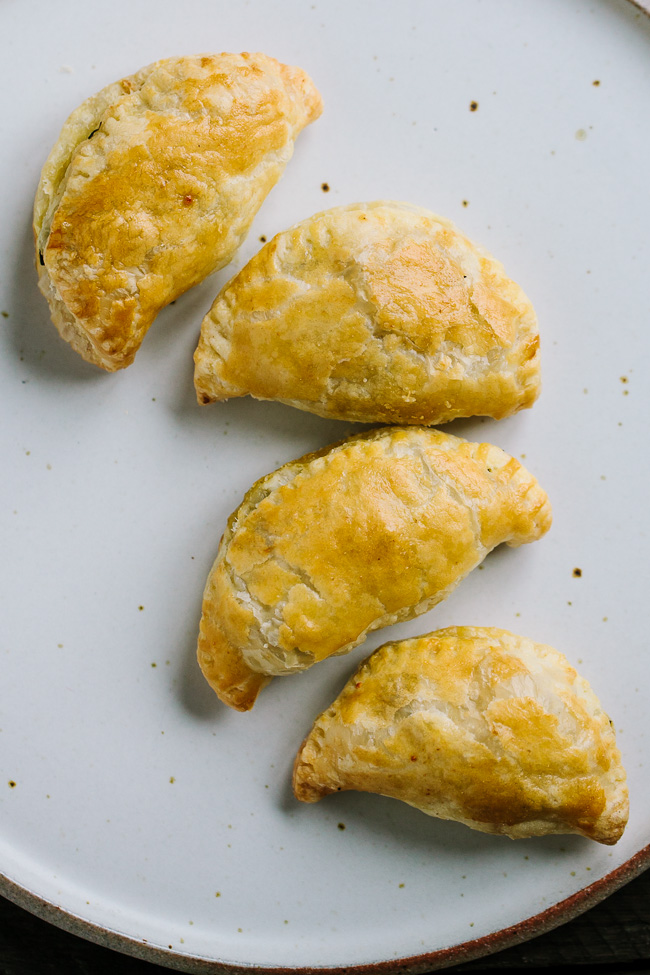 On a closing note and since we're on the topic of shortcuts, I think sometimes it can be nice when someone else takes care of the meal planning for me.  Emily over at Rainbow Delicious puts together beautiful meal plans featuring various bloggers every Monday.  Last week she featured G&D so see here if you're interested-  thanks so much, Emily!
Print
Empanadas with Greens and Olives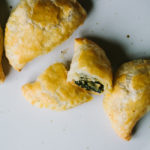 Yield:

about 16 empanadas
Ingredients
1 tablespoon olive oil
1/2 small onion, finely chopped
1 large garlic clove, minced
2 tablespoons chopped parsley
1/4 teaspoon paprika
pinch of red pepper flakes
5 cups chopped mixed greens (I used chard and kale)
1/4 kosher salt
a few grinds black pepper
1/4 cup green olives, sliced
1/4 cup grated provolone
1 beaten egg, divided
1 14-oz package puff pastry (I highly recommendDufourbrand)
Instructions
Preheat oven to 375.
Heat oil in a skillet over medium-high heat. Add the onions, garlic, paprika, and red pepper flakes and saute until onions begins to turn golden, about 4 minutes. Add the greens, salt, and pepper, and cook until wilted and tender, about 4-5 minutes. Transfer to a bowl and set aside to cool for a few minutes.
Add the olives, provolone, and 1 tablespoon of the egg and mix until olives are evenly distributed throughout. Season to taste with additional salt and pepper.
On a lightly floured surface, roll dough into a 12 by 15 inch rectangle. Use a 3 to 4 inch round cutter to make as many circles as will fit. Gather scraps and re-roll pastry to form additional circles.
Place about 1 1/2 tablespoons filling onto half of each circle, being sure to leave an edge for sealing. Lightly brush some of the beaten egg along the edge of the circle. Fold the pastry over and use a fork to crimp and seal the edges. Repeat with the remaining pastry rounds and filling. Brush the tops with the remaining egg.
Bake for 25-30 minutes, until empanadas are puffed and lightly golden. Serve warm or at room temperature.