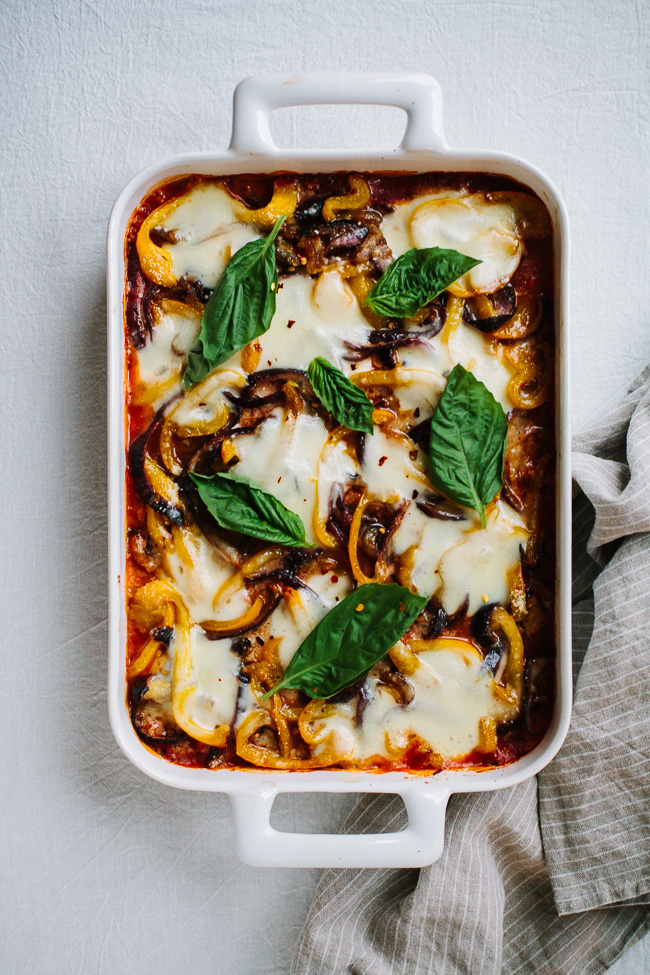 It's been a few weeks since my last post, but I'm glad to be back here again beginning this fresh new year.  I find January a particularly calming month as the days become quiet again, and we settle ourselves back into a routine.  My soul finds refreshment in reflecting on the past year and in filling my heart with dreams and hopes for the new one.  The biting cold means it's also the month to bring out the coziest winter meals to bring warmth and comfort around the table.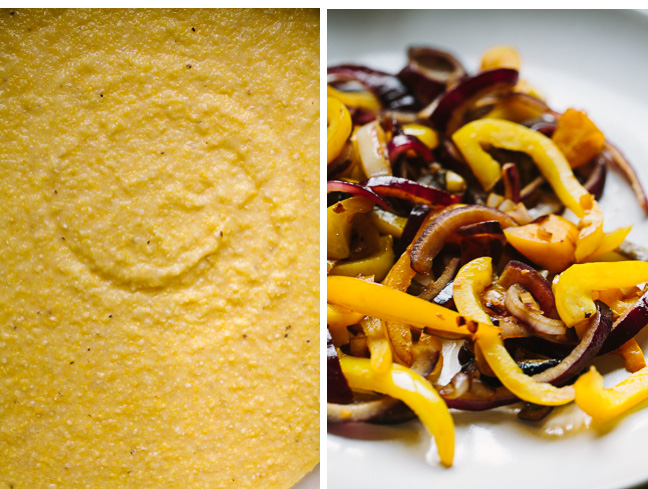 This polenta bake is a cozy one for sure.  Slow cooking is the key to perfectly creamy and luscious polenta.  Even with the 30 minutes needed to cook the polenta, the other components can be prepared while the polenta cooks, and dinner can be on the table relatively quickly.  There's polenta swirled with some freshly grated parmesan, layered with a sweet Italian sausage tomato sauce, sautéed peppers and onions, and it's finished off with rounds of mozzarella along with another scattering of parmesan.  Perfect for make-ahead dinners, potlucks, or just for a quiet family meal at home on a cold winter evening.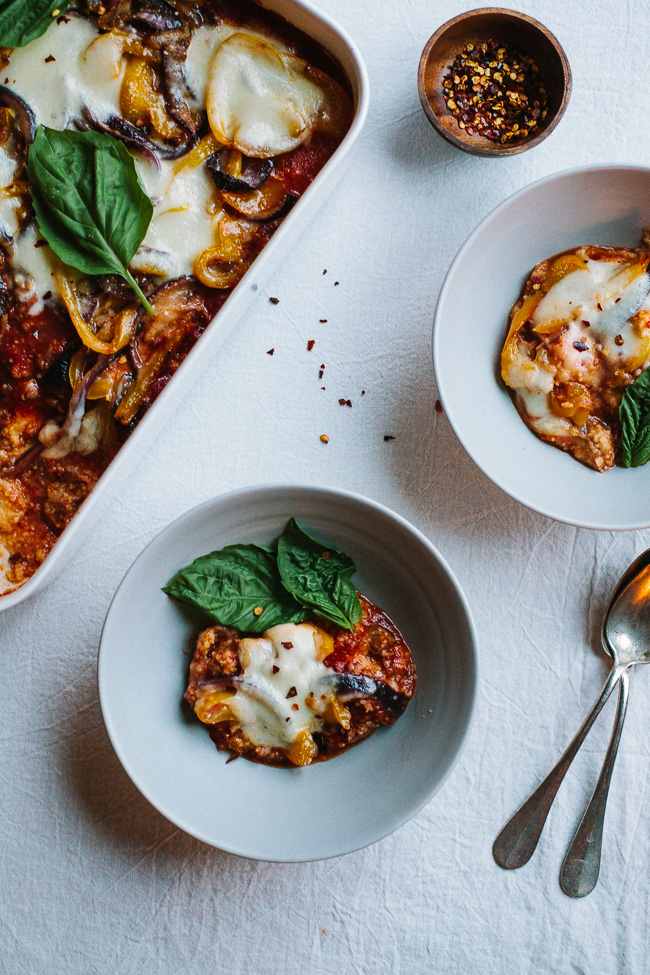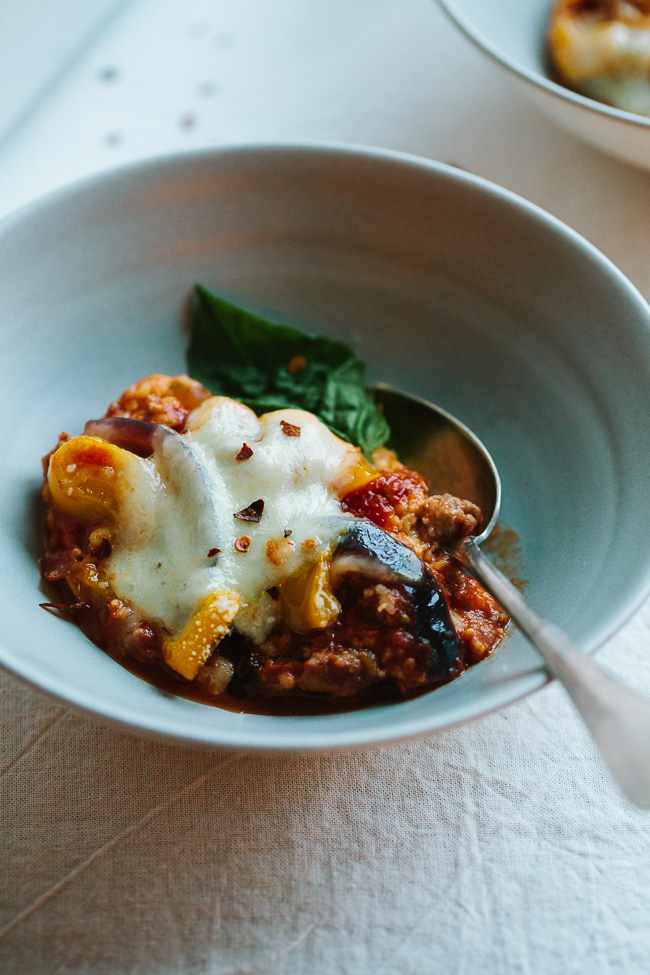 Print
Sausage and Peppers Polenta Bake
Prep Time:

40 mins

Cook Time:

30 mins

Total Time:

1 hour 10 mins

Yield:

6 servings
Ingredients
Polenta
1 1/4 cups polenta
4 cups water
1 cup milk
1 1/4 teaspoons sea salt
1/3 cup freshly grated parmesan cheese
1 tablespoon unsalted butter
Peppers and Onions
1 tablespoon extra virgin olive oil
2 cloves garlic, minced
1 yellow pepper, sliced
1 red onion, sliced
Sausage Tomato Sauce
1 pound sweet or hot Italian sausage
1 (15-ounce) can tomato sauce
1 teaspoon dried oregano
Assembly
1/2 cup (2 ounces) freshly grated parmesan cheese
8 ounces fresh mozzarella, cut into 1/4-inch thick half rounds
basil leaves for garnish
Instructions
Preheat oven to 375.
In a heavy pot, bring 4 cups water and salt to a boil. Gradually stir in polenta, stirring quickly to avoid lumps. Turn heat to low. When water is completely absorbed, add ½ cup of milk and continue to stir occasionally. Add the remaining ½ cup of milk after the first 1/2 cup is absorbed by polenta. Continue to cook for at least 20 minutes, stirring occasionally. Remove from heat. Stir in parmesan and butter last.
In a wide saute pan over medium heat, heat olive oil. Add the garlic and red pepper flakes and cook until fragrant, about 30 seconds. Add the onions and peppers and saute until vegetables are lightly browned, but still tender and crisp, about 10 minutes. Season with salt and pepper to taste. Transfer to a bowl and set aside.
Heat remaining tablespoon of oil in the same pan. Add the sausage and oregano. Cook, stirring and breaking meat apart, until meat is cooked through, about 10 minutes. Stir in tomato sauce.
Spread the polenta on the bottom of a lightly oiled 9×13 baking dish. Ladle sausage and tomato sauce over the polenta. Arrange peppers and onions in an even layer over the sausage. Sprinkle with parmesan and top with mozzarella rounds.
Bake for 30-35 minutes until cheese is melted and soft. Let stand for 5 minutes before serving. Garnish with basil leaves and serve hot.