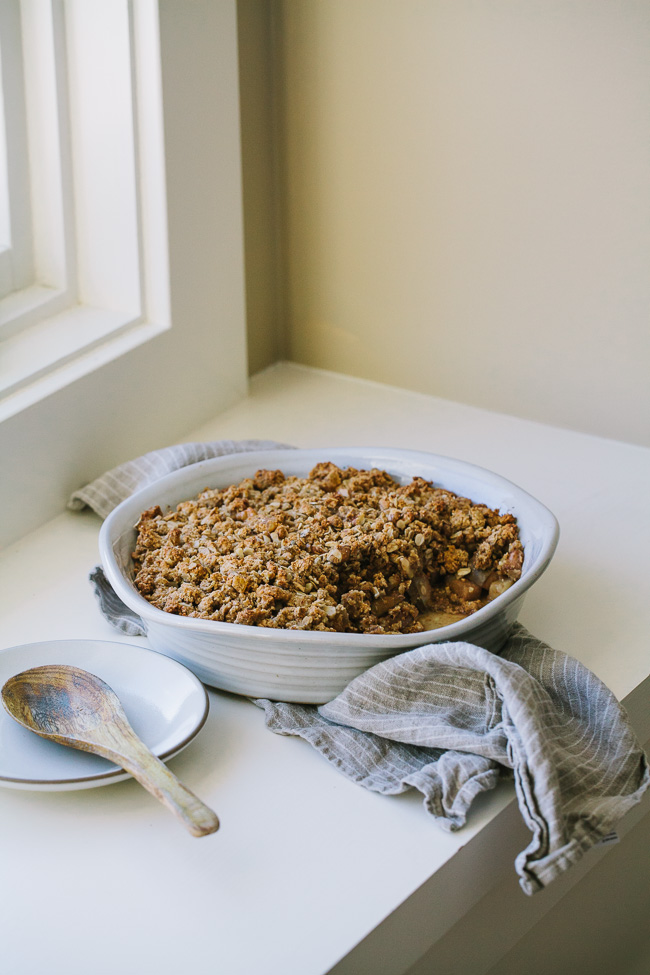 Along with learning to say no to more, I'm also learning to allow myself to say yes to more of the little things that spark joy (as Marie Kondo would say) and bring meaning to my days.  Quiet moments in the kitchen always bring joy.  As I made this pear crisp other other day, I worked slowly enough to enjoy everything about it- slicing into those perfectly ripe pears, using my hands to work the crumble, smelling the kitchen as it baked, and then watching my children delight in eating it.  As I tried to snap a few shots before serving it, my daughter grabbed her camera as well and starting taking photos right alongside next to me.  The two of us working together to capture the beauty of a simple fruit crisp– joy.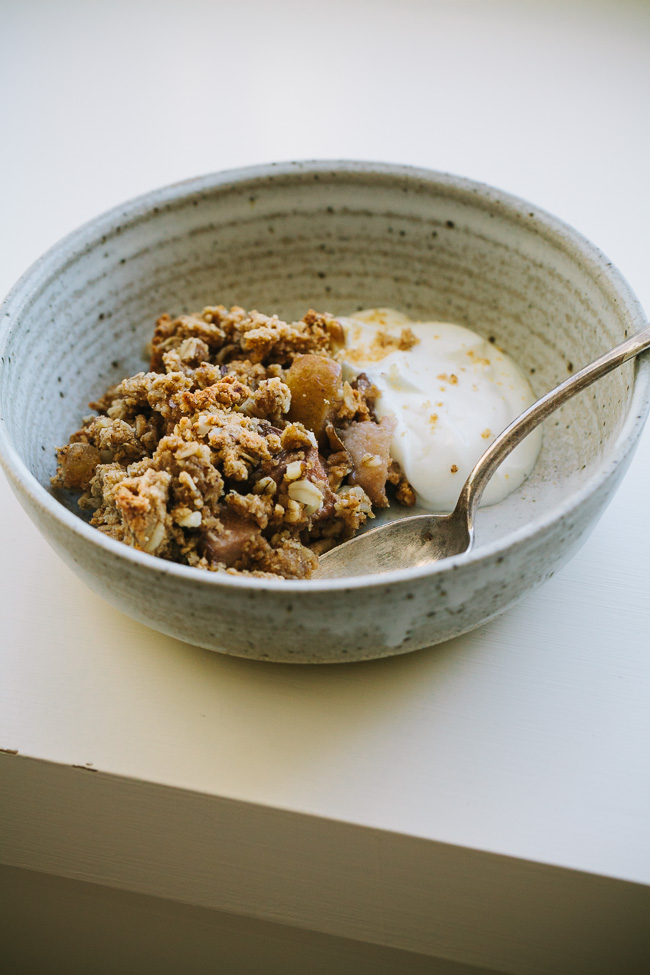 I make some variety of fruit crisp often, usually taking advantage of whatever is seasonal at the moment.  This one has small bits of candied ginger woven into the crisp topping to give it a pop of personality.  The pears, lightly spiced with cinnamon and cardamon, pleasantly complements the gingery crumble.   The addition of buttermilk allows for slightly less butter than most crumble toppings, and both almond meal and chopped walnuts give it a distinct nuttiness.  We eat this for both breakfast and dessert, although some may feel the need to add more of the coconut sugar if serving for dessert.  Serve with a dollop of greek yogurt for breakfast, or with a scoop of vanilla bean ice cream to turn it into a dessert.  Also, I find it prettier and more interesting when the pears are left unpeeled, but I know some will disagree, so go ahead and peel the fruit if that's your preference.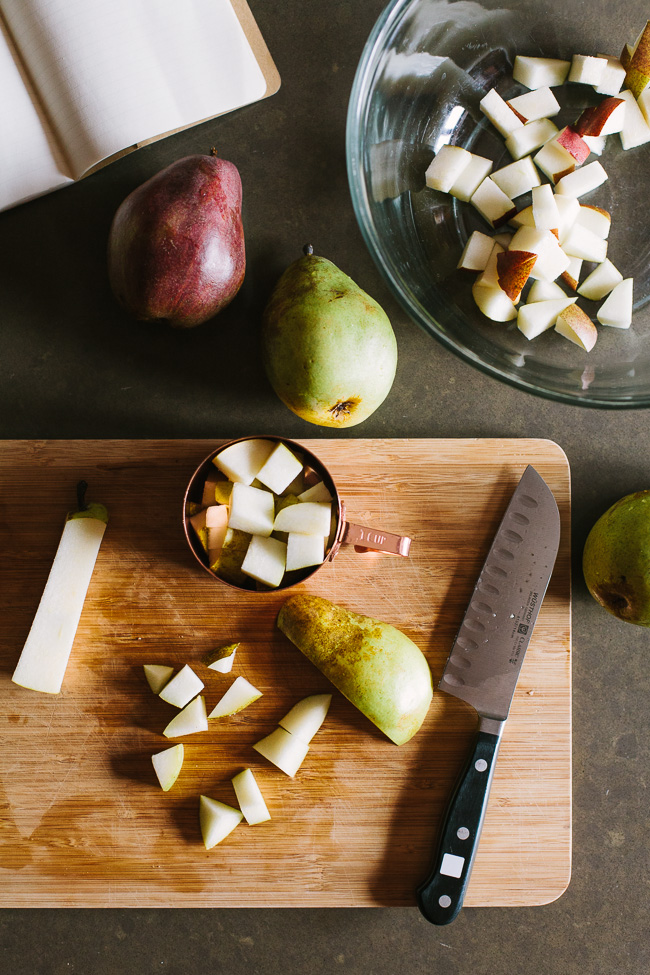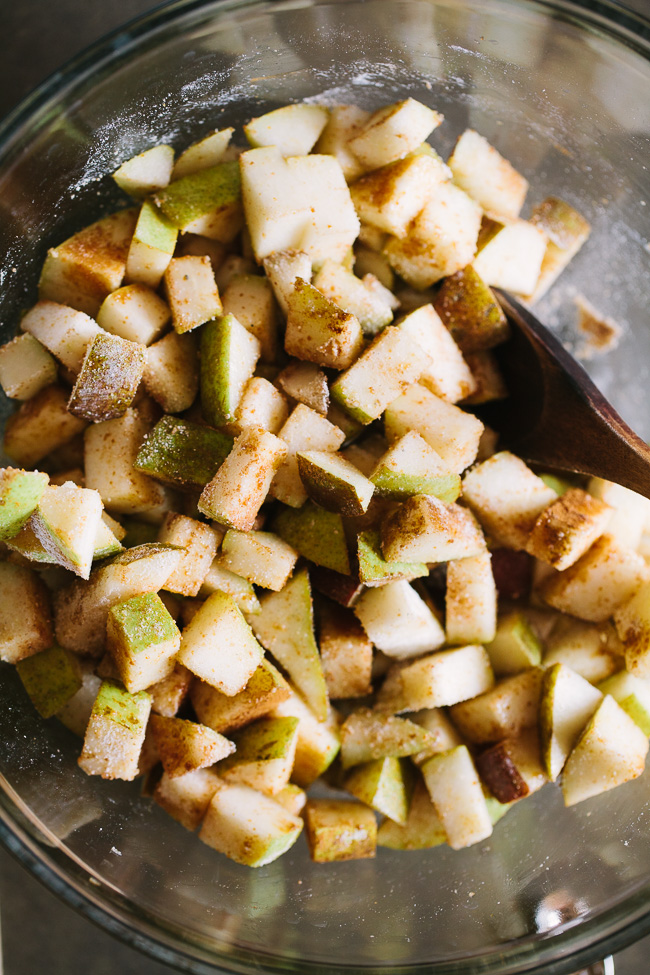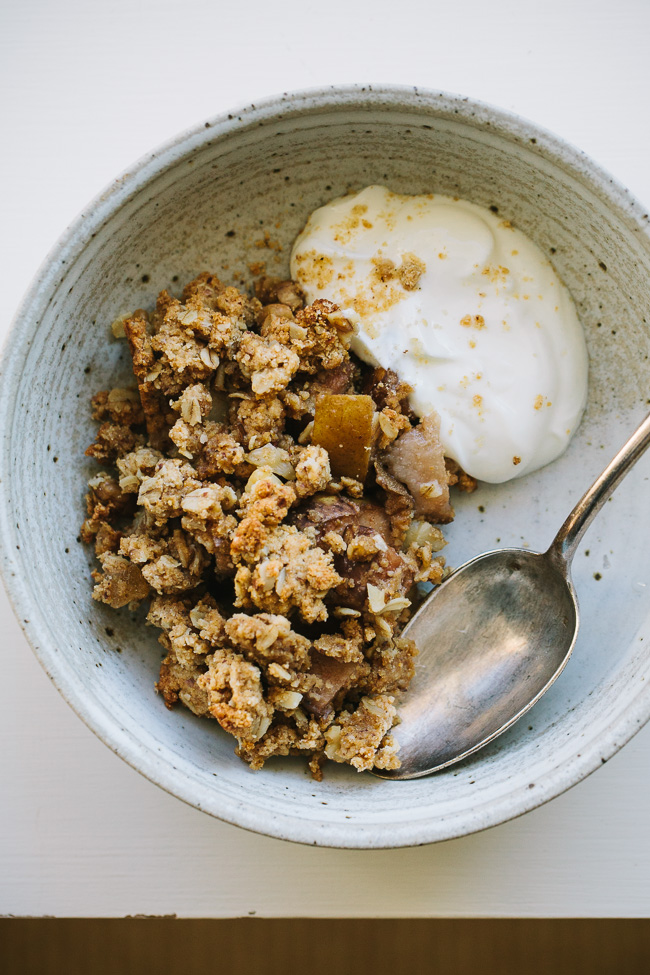 Print
Gingered Pear Breakfast Crisp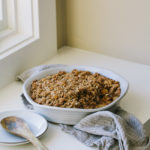 Prep Time:

20 mins

Cook Time:

30 mins

Total Time:

50 mins

Yield:

6-8 servings
Ingredients
Pear Filling
6 cups chopped pears, about 5 pears
2 tablespoons coconut sugar
2 tablespoons white whole wheat flour
1/4 teaspoon cinnamon
1/4 teaspoon cardamom
1 teaspoon fresh lemon juice
Crisp Topping
1 cup white whole wheat flour
1/2 cup almond meal
1/2 cup rolled oats
1/2 cup chopped walnuts
1 1/2 teaspoons baking powder
1/2 teaspoon baking soda
3 tablespoons chopped candied ginger
3 tablespoons coconut sugar
1/4 teaspoon fine grain sea salt
6 tablespoons unsalted butter, chilled and diced
1/4 cup buttermilk or plain yogurt
Instructions
Preheat the oven to 375. Lightly butter a 10-inch pie pan or similar sized baking dish.
In a large mixing bowl, toss the pears with the coconut sugar, flour, cinnamon, cardamon, and lemon juice.
In a same mixing bowl, stir together the flour, oats, walnuts, baking powder, baking soda, candied ginger, coconut sugar, and salt. Add the butter and buttermilk and work it in with your hands until mixture is crumby and butter is well distributed. Spread topping over the pear filling evenly.
Bake until top is golden and pears are soft and begin to bubble, about 30-35 minutes. Cool for at least 15 minutes before serving.