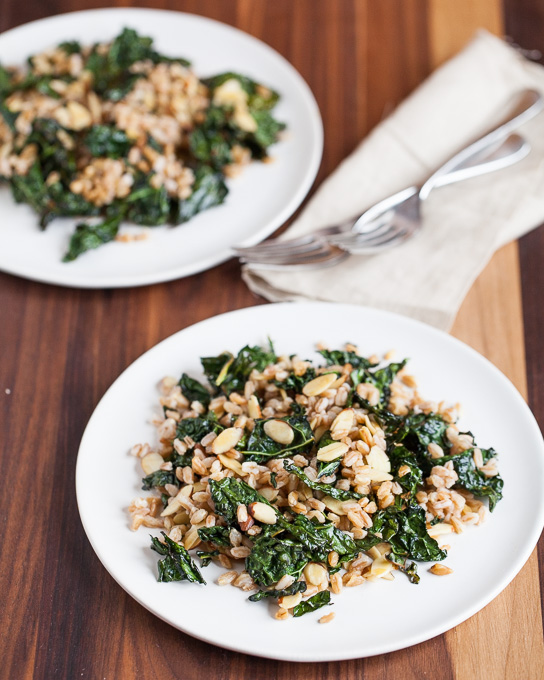 This Kale and Farro Salad is my kids' very favorite way of eating kale.  They like kale chips with just some olive oil and sea salt pretty well, but they eat it most happily when I prepare it like this.  This salad is such an interesting combination of slightly crunchy kale, chewy farro, and toasted almonds.  I think it makes a great light lunch or it can be a side dish in a more substantial dinner.  If there are leftovers, it tastes great at room temperature or you can rewarm it in the oven for a few minutes to add some crunch to the kale again.
Print
Kale and Farro Salad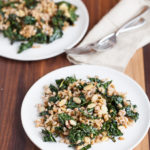 Yield:

4 side dish portions
Ingredients
5 cups lightly packed chopped lacinato kale, from 1 large bunch
1 cup farro, uncooked
1/2 cup sliced almonds
3 tablespoons olive oil
1 tablespoon tamari or soy sauce
3/4 teaspoon sesame oil
Instructions
Preheat oven to 350.
In a small saucepan, toast the farro over medium heat for 2-3 minutes. Turn the heat off and add 2 cups of salted boiling water to the farro. Turn the heat back on and return to a boil. Lower the heat and simmer for 20-30 minutes. Farro should have a slightly chewy texture when done. Drain the excess water. Set farro aside in saucepan and cover to keep warm.
Whisk together the tamari, olive oil, and sesame oil.
Spread the kale on a large baking pan and pour 3/4 of the tamari dressing over the kale. Use hands to massage the dressing into the kale.
Bake kale at 350 for 5 minutes. Sprinkle almonds over the kale, give a quick stir, and bake for another 5-7 minutes, until almonds are toasted and kale is crispy.
In a large bowl, combine the farro with the kale and almonds. Mix in the remaining dressing and serve warm.
Continue Reading