It's amazing how the quality of ingredients used can completely change the way a dish tastes.  There is a world of difference between stuffed shells made with fresh whole milk ricotta without any added gums or stabilizers and those made with ricotta packed with added stabilizers.  The ricotta in these stuffed shells lends to a creamy and slighty sweet dish with the prosciutto balancing the sweetness with its salty flavor.  The prosciutto transforms this meal into one that is worthy of serving to company and it is perfect for making ahead of time and simply putting in the oven as guests arrive.  Enjoy!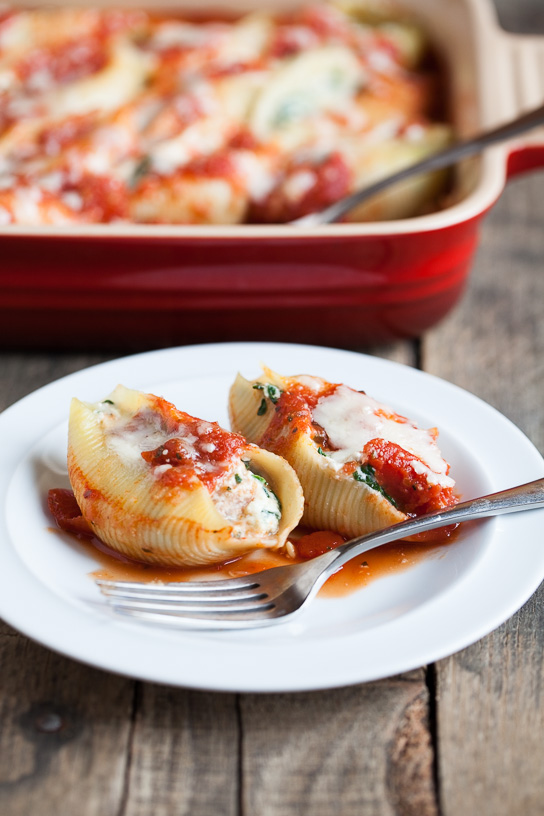 Print
Spinach and Prosciutto Stuffed Shells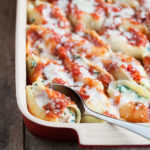 Ingredients
For the shells:
15 oz. whole milk ricotta
8 ounces fresh baby spinach
1/2 cup grated mozzarella cheese
1/2 cup grated parmesan cheese
3 ounces thinly sliced prosciutto, chopped
1 large egg, slightly beaten
1/2 teaspoon salt
1/4 teaspoon ground black pepper
20 pasta shells
extra mozzarella and parmesan for sprinkling on top
For the sauce:
1 14.5 ounce can stewed tomatoes
1 14.5 ounce can tomato sauce
1/2 teaspoon dried basil
1/2 teaspoon dried oregano
1/4 teaspoon garlic salt
Instructions
Cook pasta shells in salted boiling water according to package directions.
Cook the spinach in boiling water for 1-2 minutes until wilted. Drain and squeeze excess water out and roughly chop spinach.
In a medium bowl, mix the ricotta, spinach, mozzarella, parmesan, prosciutto, egg, salt, and pepper until well blended. Set aside.
In another medium bowl, mix the stewed tomatoes, tomato sauce, basil, oregano, and salt.
In a 9×13 baking dish, spread a thin layer of the tomato mixture to cover the bottom of the pan.
Divide the ricotta filling among the stuffed shells, about 1 1/2 – 2 tablespoons per shell. Arrange the shells neatly in the baking pan.
Spoon remaining tomato mixture over the shells and sprinkle with extra mozzarella and parmesan cheese.
Cover tightly with foil and bake for 20 minutes at 400. Uncover and continue baking for another 15 minutes, until cheese is melted.
Continue Reading