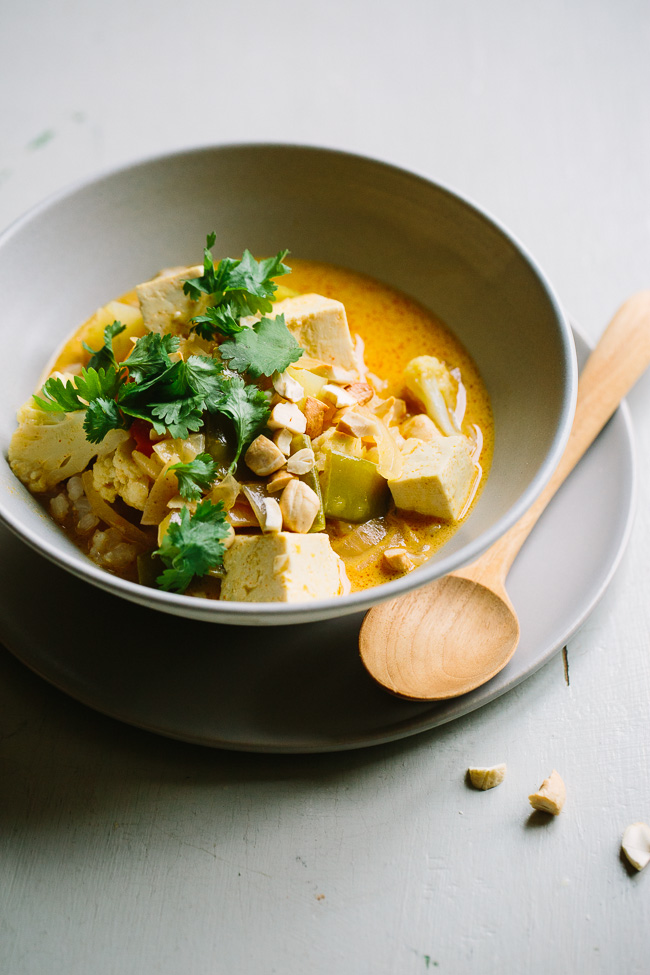 It was my mom's last radiation therapy appointment and I had wanted to be there with her to hear the doctor's thoughts on her follow-up cancer care.  We were running a bit behind and as I quickened my pace to hurry on ahead, I fell.  Hard.  Terribly and frighteningly hard.  Face first apparently, although I don't remember the fall.  I remember the pain, and for a quick second I thought I might have become paralyzed.  The moment my mind regained consciousness I was unable to move a single muscle in my body.  To my relief, that feeling was brief.  The next thing I knew I was being whisked away to the ER for concussion treatment.  The bump on my forehead was about the size of a golf ball, but by some miracle the CT scan showed no internal brain injuries.  The whole experience shook me up, put things back into a healthy perspective, and I am overwhelmingly thankful.  Recovery has been a bit rougher than I had expected though.  While in the healing stage, there is to be no exercise, limited screen time, and a general carefulness not to overstimulate the brain.  I am continuing to struggle with lingering headaches and vision problems, but despite all of this, I am immensely grateful.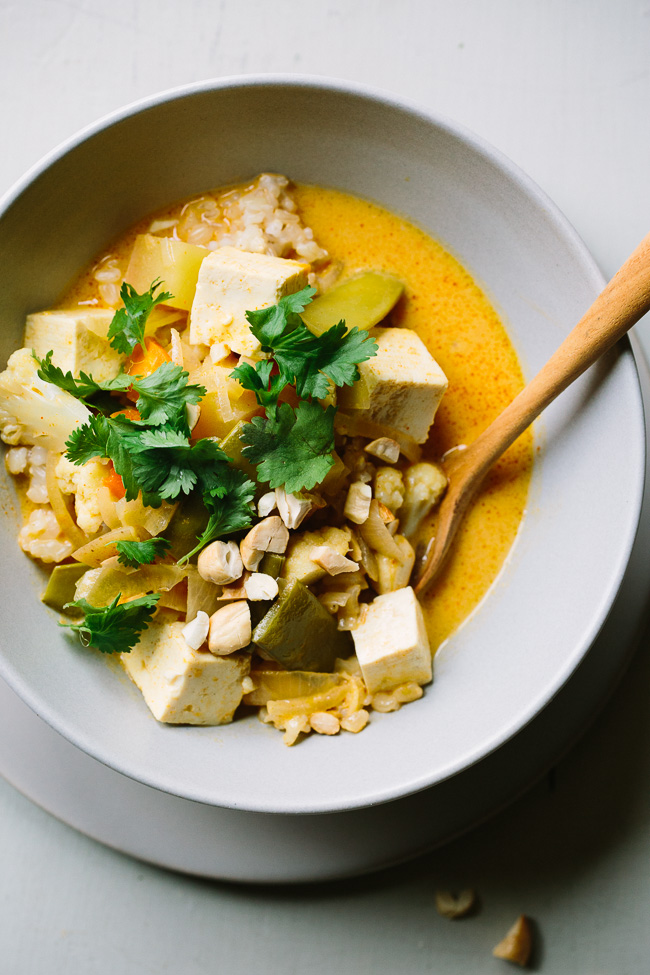 Simple meals are more important than ever as I make efforts not to overtax myself.  I thought I'd share my approach to curry dinners since they are so versatile, adaptable, and easy.  It comes inspired by the curry recipe from a cookbook from True Food Kitchen, one of my favorite restaurants in Denver.  The idea is to use a pre-made curry paste (both red and green work, I like the Thai Kitchen brand) and simmer it in a coconut broth with a variety of aromatics (lemongrass, ginger, basil, cilantro, lime, and dried shiitakes) for an extra boost in depth and flavor.  After you make the broth, you add a variety of seasonal vegetables and your choice of protein, simmer it all until the vegetables are just tender, and dinner is done.  It's a one pot winner.  I've noted the vegetables and amounts I used in the recipe below, but every time I make this it's a little different since I simply use whatever vegetables I have on hand.  No matter what direction you decide to go, it always turns out well because of the underlying base.  We happily have this in our current meal rotation, and I thought perhaps it might make it into yours too.
Print
Really Good Everyday Curry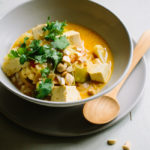 Cook Time:

1 hour

Total Time:

1 hour

Yield:

4-6 servings
Ingredients
Curry Broth
1 lemongrass stalk
2 cans full fat coconut milk
1 can light coconut milk
1 tablespoon chopped fresh ginger
2 dried shiitake mushrooms
3 tablespoons Thai curry paste (red or green)
1 tablespoon freshly squeezed lime juice
1 kaffir lime leaf (available at Asian markets. optional, but does add a nice touch)
4 sprigs cilantro
3 fresh basil leaves
1 teaspoon fish sauce
1/2 teaspoon curry powder
1/2 teaspoon fine grain sea salt
Vegetables and Protein
Protein of Choice (1 block tofu, I can chickpeas, or 1 pound chicken thighs or breasts)
1 small potato, small diced
1 small onion
1 1/2 cups cauliflower florets
3 ounces snow peas, trimmed and sliced in half
1/2 cup chopped roasted unsalted cashews
1/4 cup fresh cilantro leaves
For Serving
Brown Rice or Rice Noodles, cooked
Instructions
Trim the top and very bottom off of the lemongrass, leaving only about 4-5 inches of stalk. Remove any damaged outer layers and lighlty bruise the stalk with the side of chef's knife. Cut into 2 pieces and add to a large pot.
Add the rest of the ingredients for the broth into the post and bring to a simmer over medium heat. Once it reaches a simmer, lower the heat and cook for 30-45 minutes. Strain the broth through a fine mesh strainer into a large bowl. Reserve the shiitakes and discard the remaining solids. Transfer the broth back to the pot.
If using chicken, add to the broth and simmer for 20 minutes until the meat is cooked through. Remove with a slotted spoon and set aside. Add the potatoes, carrots, and onions and cook until the potato is just soft when pierced. Slice the reserved shiitakes and add to the pot with the remaining vegetables, tofu or chickpeas (if using), and cook until tender. If using chicken, use two forks or hands to shred the meat and add it back with the vegetables. Season to taste with additional salt.
To serve, ladle curry over rice or noodles. Garnish with cashews and cilantro.