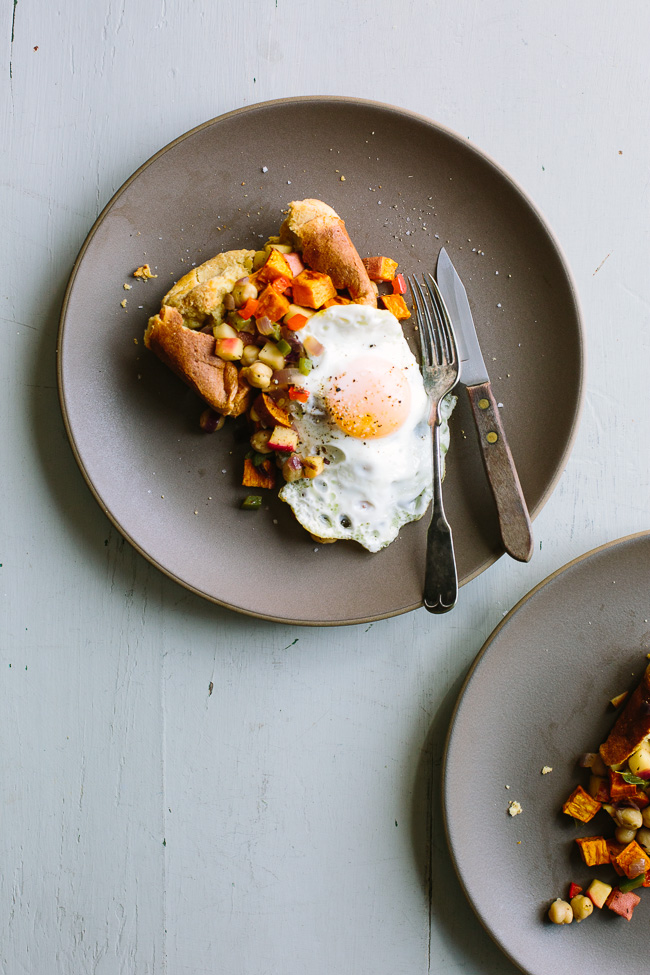 Our family spent a week in Maine this past summer and while most of our time was spent in South Portland, we did manage to squeeze in a quick trip Acadia National Park for a bit of hiking, wild blueberry picking, and of course popovers and jam at the historic Jordan Pond House.  Although we bake popovers often at home, nothing quite beats relishing one while overlooking a field of wild blueberries and a New England pond surrounded by lush mountains.  (There was plenty of tiresome squabbling on that particular afternoon as well-  just you know our trip was not completely idyllic and peaceful. Oy.)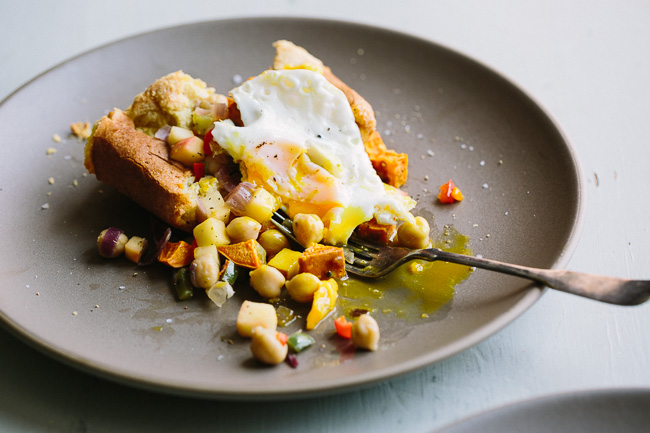 Still, it's good to reminisce about our summer adventures by bringing out our popover pan, and I thought I'd give them a savory spin as we transition ourselves into the autumn season.  I made my usual einkorn popovers and filled them with a thyme-scented sweet potato and chickpea hash. I added some diced apple for a bit of tart sweetness, and some chopped bell peppers and red onion for color.  It's a type of meal that's fitting for a lazy weekend morning at home but also makes a hearty dinner as well.
Print
Popovers with Sweet Potato Chickpea Hash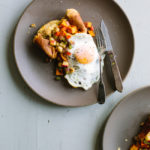 Prep Time:

30 mins

Cook Time:

40 mins

Total Time:

1 hour 10 mins

Yield:

6
Ingredients
For the hash
1 sweet potato, diced into 1/4-inch cubes
2 tablespoons olive oil, divided
1 small red onion, small diced
1/2 red bell pepper, small diced
1/2 green pepper, small diced
1 teaspoon fresh thyme leaves
sea salt and ground black pepper to taste
1 tart apple, diced into 1/4-inch cubes
1 1/2 cups cooked chickpeas (1 15-ounce can, drained)
For serving
6 popovers (see recipe here)
fried eggs
Instructions
Preheat the oven to 400.
Toss the sweet potato with 1 tablespoon olive oil and spread evenly on a rimmed baking sheet. Roast potatoes for 20-25 minutes until tender and slightly browned at the edges.
While the potatoes roast, heat the remaining tablespoon of olive oil in a skillet over medium heat. Add the onion and saute until onion softens and begins to turn translucent, about 4-5 minutes. Add the bell peppers, thyme, salt and pepper, and cook for another 5 minutes. Add apples and chickpeas and cook until the apples soften and the mixture is warmed though. Season to taste with additional salt and pepper.
To serve, slice popovers open and fill with sweet potato hash. Finish with fried or poached eggs.