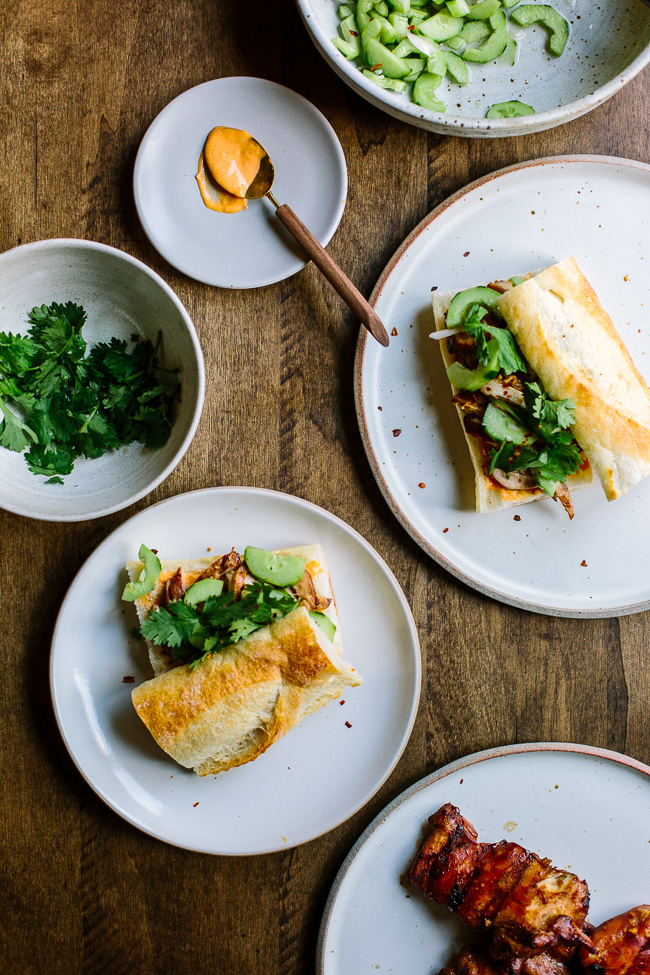 Dinner has always been an important part of our family life.  It's our time to come to the table, set aside the hustle of the day, share life together, and just be us.  I have always made an effort to prioritize family meal times, but it is becoming increasingly more of a challenge as the kids become older.  As much I try not to overschedule the kids, it's difficult as they become more committed to their activities and their programs demand more time.  On days when our window for dinner is a mere 20 minutes, organization is the key to making the most of our time together.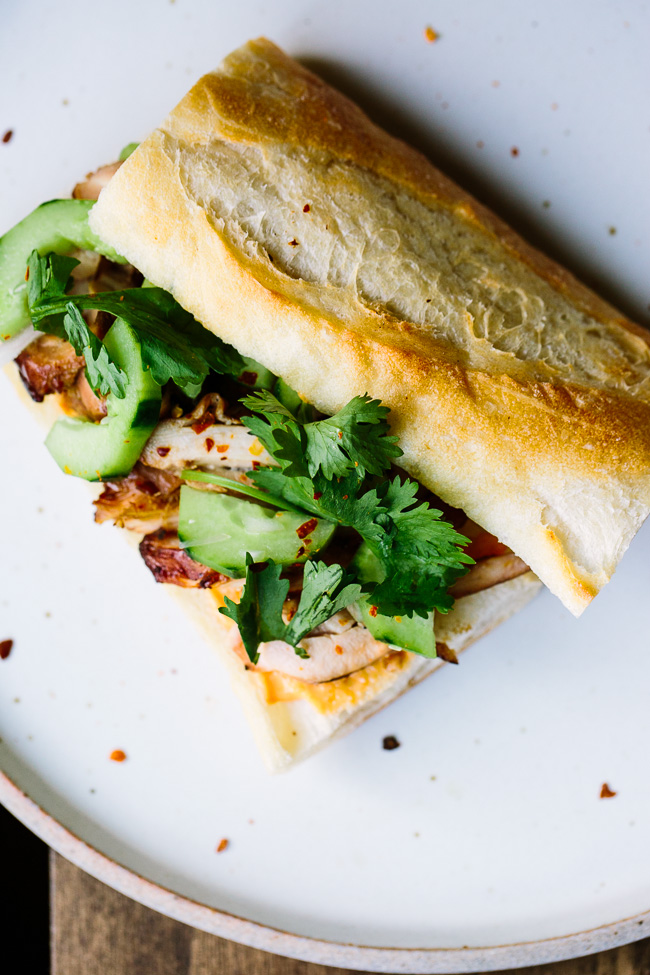 Make-ahead casseroles are a natural solution to busy weeknights, but simple dinners that require last minute assembly are also a great option when all of the components are prepped ahead of time.  Each element in these Korean-inspired sandwiches can be easily prepared earlier in the day so that at the last minute, the marinated chicken can thrown on the grill while you pull the rest of the ingredients out of the fridge.  This recipe comes slightly adapted from Simple by Diana Henry, a cookbook which highlights beautiful, flavorful, and yet manageable dinner fare.  Every one of us in the family loved these sandwiches.  The chicken reminds me of Korean barbecue, the cucumber salad has a bright crunch, cilantro adds another layer of freshness, and the gochujang mayo gives a finishing touch of creaminess and heat.  Another great option is to skip the bread and assemble the components over rice or quinoa for Korean-inspired grain bowls.  Hope you enjoy as much as we did.  xo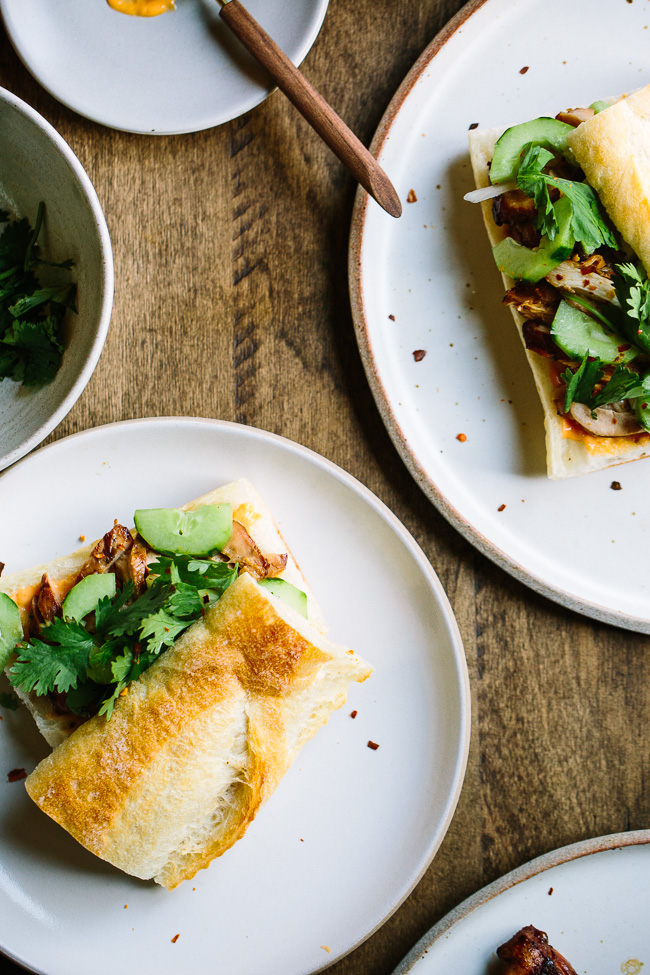 Print
Korean-Style Chicken Cucumber Sandwiches with Gochujang Mayo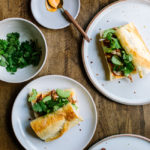 Prep Time:

20 mins

Cook Time:

10 mins

Total Time:

30 mins

Yield:

6 servings
Ingredients
For the chicken and marinade
2 garlic cloves, minced
1/2 cup soy sauce or tamari
1 tablespoon coconut sugar
1 teaspoon rice vinegar
1 1/2 tablespoons sesame oil
8-12 boneless skinless chicken thighs
For the gochujang mayonnaise
1/2 cup good quality mayonnaise
2 teaspoons gochujang (Korean red chili paste)
1/2 garlic glove, finely grated on a microplane
squeeze of fresh lime juice
For the cucumber salad
1 large cucumber
1 shallot, thinly sliced
2-3 tablespoons rice vinegar
1 teaspoon natural cane sugar
1 green or red chile pepper, seeded and thinly sliced
For Serving
baguette, wraps, rice, or quinoa
fresh cilantro
Instructions
Combine all marinade ingredients in a sealable plastic bag and add the chicken. Seal the bag, making sure to release excess air, and arrange chicken so that it is evenly covered in the marinade. Chill for 4-6 hours.
Peel the cucumber and cut it in half lengthwise. Scoop out and discard the seeds. Slice thinly and toss with the shallot, vinegar, sugar, and chile. Transfer to a serving bowl and let stand for at least 30 minutes. Chill until ready to serve.
In a small bowl, whisk together the mayonnaise, gochujang, garlic, and lime juice to taste. Set aside and chill until ready to serve.
Preheat grill to medium- high heat. While grill preheats, remove chicken from the refrigerator. Grill chicken until cooked through, about 4-6 minutes on each side. Allow chicken to cool for a few minutes before slicing.
To serve, layer baguette with sliced chicken, cucumbers, cilantro, and a slather of mayo.