My adventurous world-traveller cousin is here visiting for a few days and I made this raspberry frangipane tart to celebrate his arrival.  Frangipane is an almond filling and is somewhat similar to a pastry cream.  After it bakes, this tart has a creamy and slightly chewy middle and a buttery and flaky cookie crust.  And did I mention it is also flavored with rum?  The rum flavor is mild yet distinct and complements the almonds and raspberries perfectly.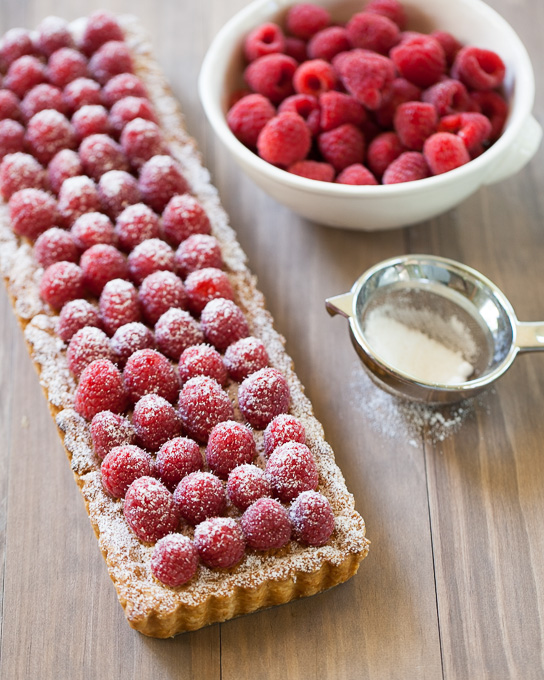 I found the crust to be slightly finicky to work with as it did not roll out quite as easily as a more traditional pie crust.  Any tears were easily pressed and patched together however and the imperfections were not noticeable once it was filled.  I substituted some whole wheat pastry flour for the all-purpose flour, but you can keep it to the all-purpose flour if you prefer.  I used a 14 x 4-inch rectangular tart pan, but this will also work in a 9-inch circular pan.
Be sure to plan ahead for this dessert because it needs several hours for the frangipane to set before it is served.  After it is set, it can be served chilled or at room temperature.
Print
Raspberry Frangipane Tart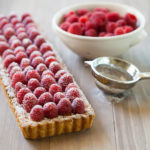 Yield:

a 14 x 4-inch rectangular tart pan or a 9-inch round tart pan
Ingredients

For the Crust:
3/4 cup all-purpose flour
1/2 cup whole wheat pastry flour
1 1/2 tablespoons sugar
8 tablespoons (1 stick) unsalted butter, chilled
1 egg yolk, lightly beaten
2 tablespoons ice water

For the Frangipane:
8 tablespoons (1 stick) unsalted butter, room temperature
1/2 cup sugar
1 egg
1 cup blanched almonds, finely ground
3 tablespoons dark rum
1 tablespoon all-purpose flour
1 teaspoon almond extract

For Assembly:
2 pints raspberries
1-2 tablespoons powdered sugar
Instructions
For the Crust:
Place the flour and sugar into a food processor and give a quick pulse to combine. Cut the butter into small cubes and add to the flour and sugar. Pulse until mixture resembles a course meal, about 10 seconds. (Alternatively, use a pastry blender to cut the butter cubes into the flour and sugar.)
With the food processor running, gradually add the egg yolk and then the ice water. Process until the dough just comes together.
Using hands, form a rectangular disk with the dough and tightly wrap with plastic wrap. Chill dough for at least one hour.
Roll dough on a floured surface into a 16 x 6-inch rectangle. Line the tart pan with the rolled dough and fold over the edges to fit. Press the edges of the pastry into the tart pan.
Place crust in the refrigerator to chill.
For the Frangipane and Assembly:
Preheat oven to 425.
Cream together the butter and sugar on medium high speed with an electric stand mixer. Add the egg and mix again on medium speed. Add the almonds, rum, flour, and almond extract. Beat together until smooth.
Spread frangipane evenly into the chilled crust.
Bake for 25-30 minutes, until the top is golden brown and filling is set. If the top is turning brown too quickly, cover with foil. (I covered mine with foil during the last 10 minutes of baking.)
Cool on a rack for several hours for frangipane to set.
Decoratively add the raspberries in rows on the tart and sprinkle a light dusting of powdered sugar on top. Serve chilled or at room temperature.