Goodness it's already been several weeks already since my last post.  The extra quietness has been something I've needed as I continue to struggle with what I think must be lingering post-concussion symptoms.  I usually consider myself relatively stable emotionally, but there's been a change in me over these past couple of weeks.  My days have been filled with unexpected mood swings where I feel fine one moment and then in utter despair the next.  The smallest things can set me off, and I hardly know what to do with myself.  You can imagine how the rest of the family feels.  I've spent some time reading about how and why concussions sometimes lead to emotional instability, anxiety, and depression, and while I prefer not to blame the concussion, I cannot think of another explanation for my sudden irritability.  This has forced me to be more deliberate with slowing down, reflecting on what triggers anxiety and anger, and to face my limitations.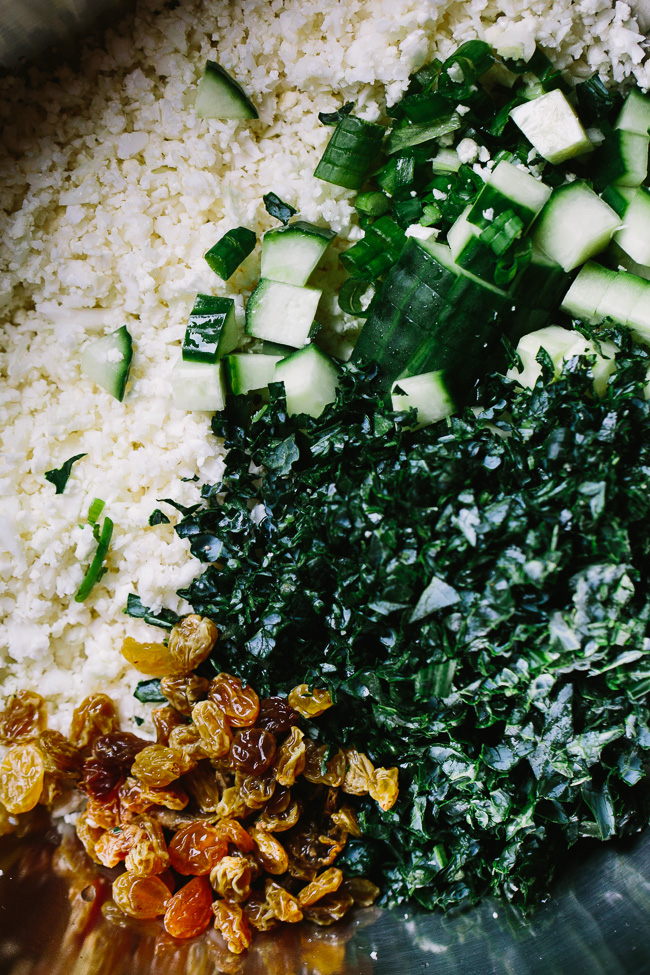 There have been many times when I've been tempted to turn to a bag of chips or sweets to quickly satisfy hunger, but I do notice a difference in how I feel when I choose fresh healthy food over those other options.  This salad has been a great one to have on hand since it keeps well in the fridge and can already be prepared when hunger strikes.  I call it tabbouleh for lack of a better name, but consider it a very loose adaption from the traditional version.  Here we have a mixture of finely chopped kale, cauliflower rice, diced cucumbers, parsley, scallions, and soaked raisins tossed with a lemon olive oil dressing scented with cumin and sumac .  My trick for making salads a bit more substantial is to add some variety of cooked grains; Jovial recently sent me some of their  einkorn wheat berries and it added just the right amount of texture and substance.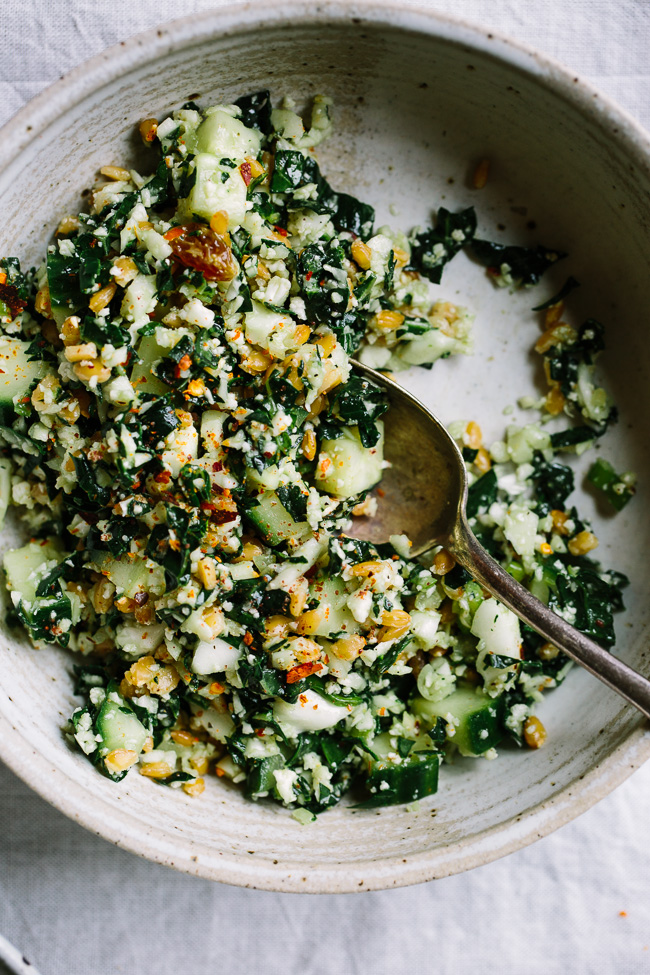 Wishing you all wonderful summers filled with togetherness and sunshine.  I expect my posts to be more sporadic over the next few months as I seek to be present and patient with my children in these precious moments of summer.  Thanks so much for all of your love and support.  xo
Print
Cauliflower Kale Tabbouleh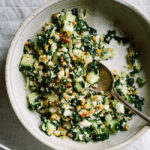 Cook Time:

15 mins

Total Time:

15 mins

Yield:

4-6 side servings
Ingredients
1/3 cup golden raisins
1 tablespoon white wine vinegar
1/2 head cauliflower, cut into florets
1 bunch laminate kale, stems removed and finely chopped
1/2 seedless cucumber, diced
1/3 cup chopped parsley
1/4 cup scallions
1 cup cooked whole grains (I used einkorn)
1/4 cup extra virgin olive oil
2 tablespoons fresh lemon juice
1 shallot, minced
1 teaspoons cumin
1/2 teaspoon sumac
1/2 teaspoon fine grain sea salt
1/4 teaspoon ground black pepper
pinch dried chili flakes
Instructions
In a small bowl, combine the raisins, vinegar, and 1 tablespoon hot water. Set aside and allow the raisins to soak while you prepare the rest of the salad.
Add the cauliflower florets to the bowl of a food processor. Pulse until cauliflower becomes broken down and the texture is similar to rice.
Transfer the cauliflower rice to a large bowl and add the kale, cucumber, parsley, scallions, and grains..
In a small bowl, whisk together the olive oil, lemon juice, shallot, cumin, sumac, salt, and pepper. 5. Pour dressing over vegetables, add the raisins, and toss together until salad is well combined. Season to taste with additional salt and pepper. Garnish with a pinch of dried chili flakes and serve. Keeps well in the refrigerator for several days.