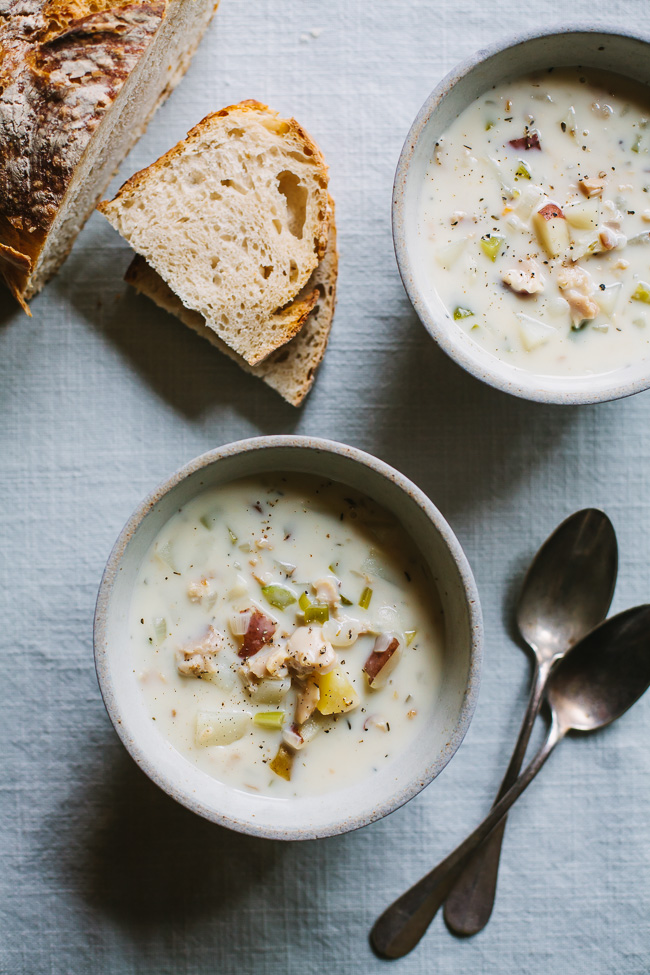 For years when I was growing up, my dream had been to someday live in Maine.  There is something absolutely magical about Maine, and whenever I have traveled there my heart feels alive and happy.  I love the rugged beauty of the New England coast, the quiet rolling mountains, the distinct charm of the quaint villages and towns.  There's wild blueberry picking, and lobster rolls and clam chowder abounding at every restaurant and roadside stand.  We had a family trip planned for this past summer and it was going to be our first time sharing this place with our children.  Plans were suddenly changed when we found out about my grandmother, and our trip to Maine turned into a trip to Hong Kong (which was also special, but just different).  As a consolation, we cuddled up and read Robert McCloskey's One Morning in Maine while dreaming of being on the shore, and I made a big pot of chowder.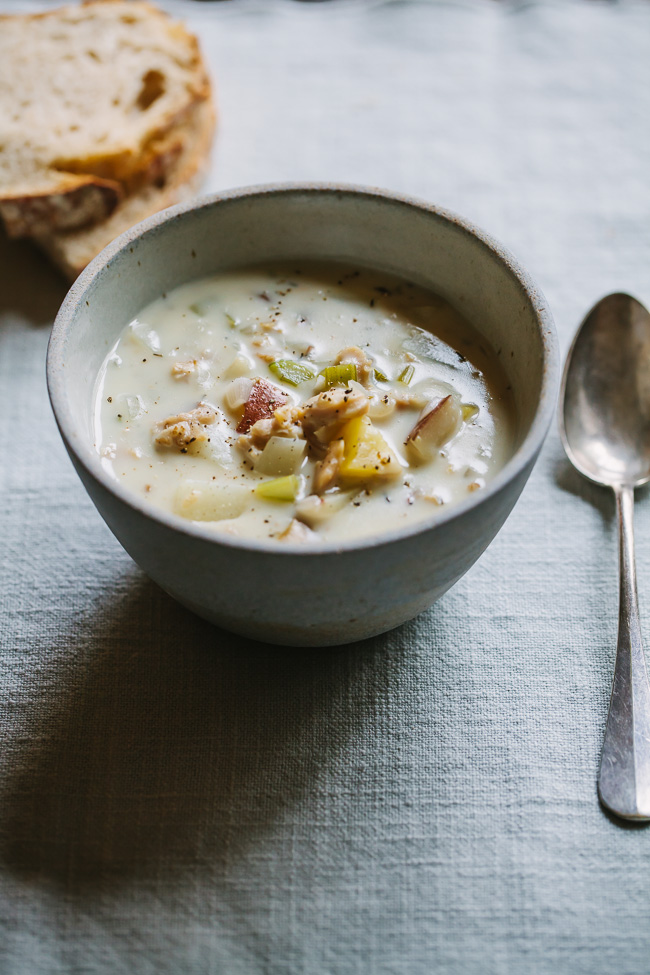 A recipe for clam chowder is nothing new, but this is the version that I've settled on and come to love.  While fresh clams are ideal, canned clams make it fuss-free and simple enough for a weeknight meal.  It's not always realistic to make it to the market for fresh clams, and it's possible to find high quality, responsibly sourced clams which are canned.  Using whole milk rather than cream lends to a smooth and creamy soup without being overly heavy or rich.   It's abundant with leeks, celery, and potatoes, and has just a bit of bacon for an extra layer of flavor.   We're going to try again for Maine next summer, but until then, clam chowder at home will have to do.
Print
Weeknight Clam Chowder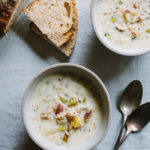 Ingredients
1/4 pound nitrate-free bacon, about 4 slices, chopped
1 large onion, diced, about 1 1/2 cups
3 stalks celery, chopped, about 1 cup
1 leek, white and light green part only, chopped, about 3/4 cup
1 (8 ounce) jar clam juice
3 (6.5 ounce) can clams, drained with juice reserved
5 medium red potatoes, diced, about 5 cups
1 teaspoon dried thyme
1 teaspoon fine grain sea salt
1/2 teaspoon ground black pepper
6 tablespoons unsalted butter
2/3 cup all-purpose flour
6 cups whole milk
Instructions
In a large pot, saute the bacon until brown and crisp. Add the onions, celery, and leeks, and cook until onions are translucent, about 5 minutes.
Add the jar of clam juice along with the reserved juice from the canned clams. Add the potatoes, thyme, salt, and pepper. Simmer until potatoes are tender, stirring occasionally, about 20 minutes.
Melt butter in a small saucepan. Add the flour and cook for 3-4 minutes, stirring continuously.
Whisk the flour and butter mixture into the pot. Add the chopped clams. Stir frequently and simmer until soup thickens, about 5 minutes. This is the chowder base.
While soup is simmering, warm milk on medium heat using the saucepan used for the flour and butter. Stir warm milk into the chowder base and combine thoroughly. Season to taste with additional salt and pepper. Serve with a big basket of crusty bread.