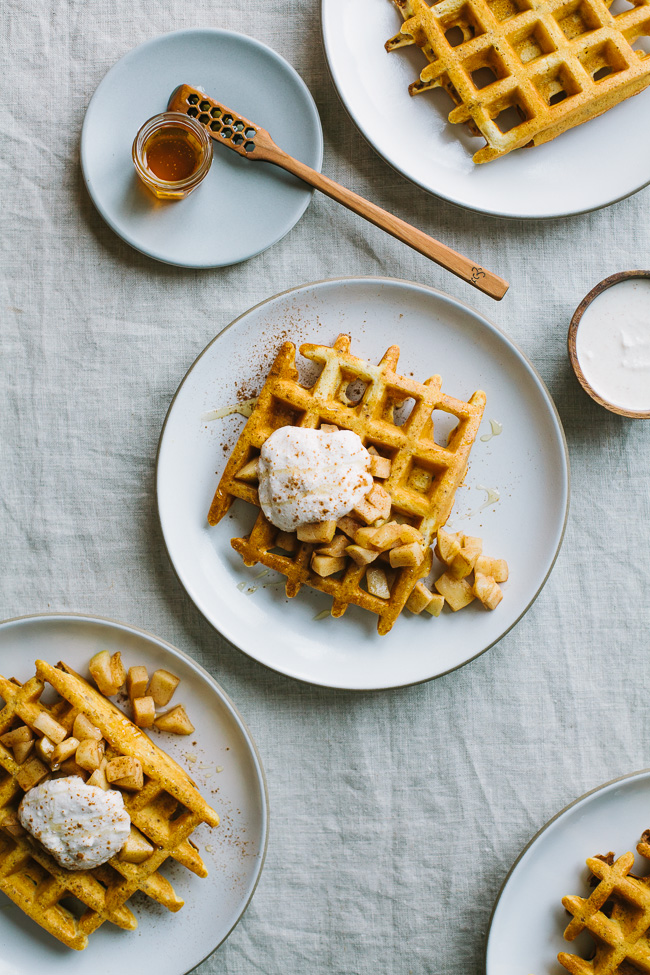 After writing last week's post and reminiscing about my past dreams of living in Maine, I realized how far I had come in my struggle to have a content heart.  For the longest time, my eyes failed to see the beauty around me because I was so focused on all that I didn't have but so badly wanted.  Looking back now, it all seems crazy.  Today I find it difficult to comprehend just how much I have.  I am more able to appreciate the little things around me.  The leaves are changing into a splendor of colors, and the air feels clean and crisp.  This past weekend we enjoyed doughnuts at the cider mill and apple picking afterwards.  Small joys build a grateful heart.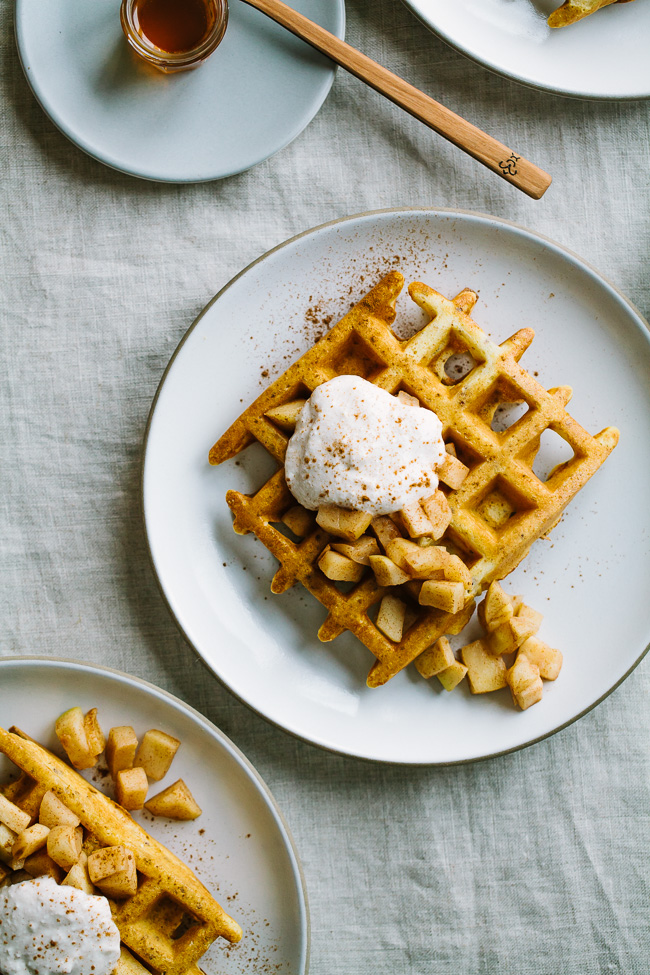 Waffles for breakfast are another one of those simple pleasures.  These are made with a good portion of cornmeal which lends a great texture and flavor, and little flecks of red quinoa are scattered throughout.  I tend to prefer my waffles when accompanied by something creamy, and this honeyed cinnamon ricotta is especially wonderful.   Serve with sautéed apples and an extra drizzle of honey for a festive fall morning at home.
Print
Cornmeal Quinoa Waffles with Honeyed Cinnamon Ricotta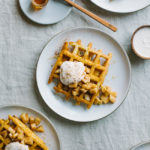 Yield:

about 8-10 waffles
Ingredients
Waffles
1 1/4 cups whole wheat pastry flour
3/4 cup fine grain cornmeal
1 tablespoon natural cane sugar
1 1/2 teaspoon baking powder
1 teaspoon baking soda
1/2 teaspoon fine grain sea salt
3 large eggs
2 cups buttermilk
1/2 cup cooked red quinoa
4 tablespoons unsalted butter, melted
Honeyed Cinnamon Ricotta
1 cup whole milk ricotta
2 tablespoons honey
1/2 teaspoon cinnamon
Sauteed Cinnamon Apples
2 cups diced apples, about 2 apples
1 tablespoon unsalted butter
1 teaspoon coconut sugar (or natural cane sugar)
1/4 teaspoon cinnamon
Instructions
In a large bowl, whisk together the flour, cornmeal, sugar, baking powder, baking soda, and salt.
In a medium bowl, whisk together the eggs. Add the buttermilk, quinoa, and vanilla. Whisk again until thoroughly combined.
Add wet ingredients to the dry ingredients and stir until just mixed. Add the butter and stir once again.
In a small bowl, whisk together the ricotta, honey, and cinnamon. Set aside.
In a skillet, melt 1 tablespoon butter over medium heat. Add the apples, coconut sugar, and cinnamon and stir with a wooden spoon until apples begin to soften, about 5 minutes. Set aside.
Cook waffles in a preheated waffle iron until golden and crisp. Serve warm with a spoonful of apples and a dollop of cinnamon ricotta.