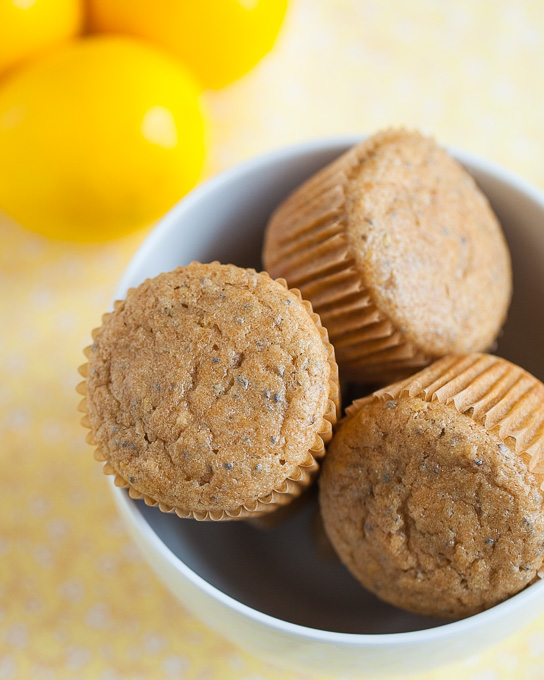 Today it was cloudy and rainy and the forecast for the entire week is…. cloudy and rainy.  So I made Honey Lemon Chia Seed Muffins!  Nothing like a little lemon to brighten up a cloudy day.  These whole grain muffins are made with spelt flour, sweetened with honey, and contain omega-3-rich chia seeds.  Spelt flour is officially part of the wheat family, but it has a higher protein content and is more easily digested than the more common wheat.  (Although it does contain gluten and is not gluten-free.)  These spelt muffins are tender and moist and best eaten warm out of the oven.
Honey Lemon Chia Seed Muffins
Ingredients
2 cups spelt flour
2 tablespoons chia seeds
2 teaspoons baking powder
½ teaspoon baking soda
½ teaspoon salt
2 large eggs
1 cup plain yogurt
½ cup honey
4 tablespoons butter, melted
1 tablespoon grated lemon zest (from 2 large lemons)
1 tablespoon fresh lemon juice
1 teaspoon vanilla
Instructions
Preheat the oven to 400. Grease or line 12 muffins cups.
In a large bowl, whisk together the spelt flour, chia seeds, baking powder, baking soda, and salt.
In a medium bowl, lightly whisk together the eggs. Add the yogurt, honey, melted butter, lemon zest, lemon juice, and vanilla.
Add the wet ingredients to the dry ingredients and stir until just incorporated, being careful not to overmix.
Divide the batter among the prepared muffin cups. Bake at 400 for 18-20 minutes, until a toothpick comes out clean.
12 comments