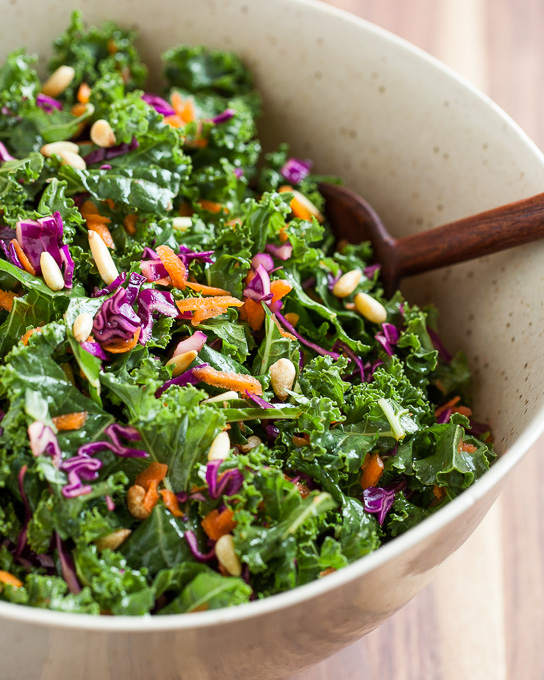 Did you know that you can get tennis elbow without being a tennis player?  I certainly didn't, but now I have it and I know all about it.  It has forced me to slow down and appreciate all that I use my arms and hands for.  How true it is that it's easy to take things for granted until those things are taken away.  As I struggled to chop this kale, I felt so thankful for simple things like being able to use a knife to cut fresh vegetables.  Doing things slowly help me to appreciate simple things in life.
Olive oil and lemon juice make up the dressing for this salad.  It may not sound like much, but the lemon truly brightens up the kale and cuts through any bitterness.  It's simple, but goes along so well with the kale, cabbage, and carrots.  The wonderful thing about kale salads is that they store well as leftovers, although sometimes it's necessary to add some extra dressing and seasoning to the salad if it's eaten the next day.
Kale Salad with Red Cabbage, Carrots, and Pine Nuts
Ingredients
For the salad:
1 bunch kale
1½ cups thinly chopped red cabbage
1½ cups grated carrots (about 3 medium carrots)
¼ cup pine nuts

For the dressing:
2 tablespoons olive oil
1½ tablespoons fresh lemon juice
¼ teaspoon sea salt
dash of pepper
Instructions
Toast pine nuts in a single layer in a 350 oven for 2-3 minutes. Watch carefully because the pine nuts burn easily.
Remove kale leaves from the tough stalks and roughly chop kale. Toss with the chopped cabbage and grated carrots.
Whisk dressing ingredients together and pour over salad, tossing together until salad is evenly coated. Top with the toasted pine nuts. Allow salad to marinate in dressing for 15 minutes or so before serving.