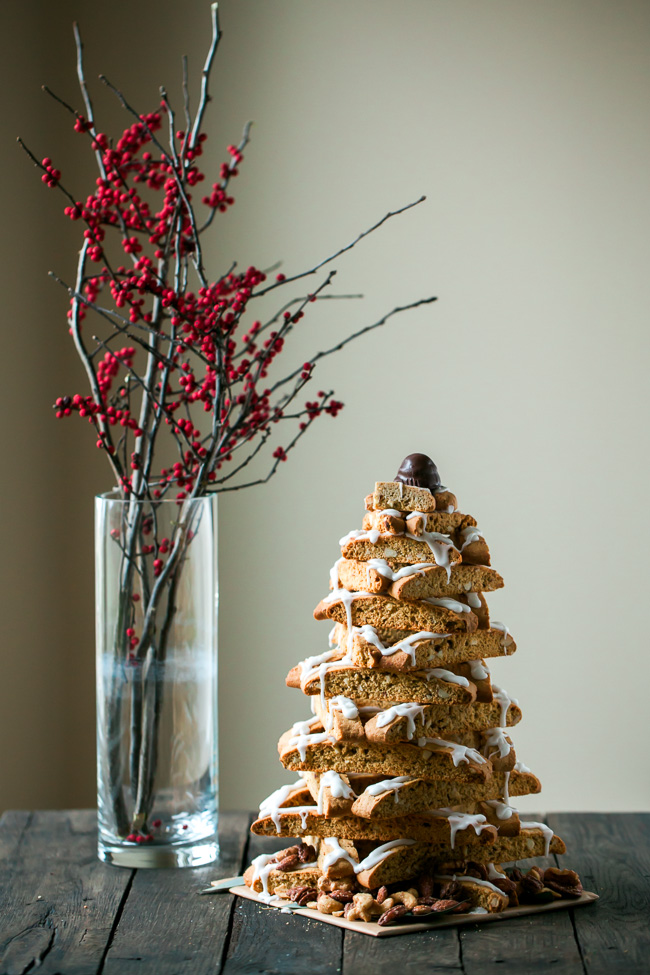 My idea of a perfect winter evening would be to simply stay at home with Ryan, quietly sit, talk, and read together by a crackly fire, with hot mugs of cocoa, and a heaping plate of biscotti.  Make it a biscotti tree and it would be even better.  Then of course this biscotti tree seems much too large for just two, so perhaps it would make a better holiday centerpiece or party dessert.  Whatever the occasion, biscotti trees are so much fun to make and eat and I hope you will find some excuse to give this a try.  Although I would love to take all of the credit, the idea comes from this site that I came across a few years ago.  I've modified the dimensions a bit and changed the recipe, but the concept is the same.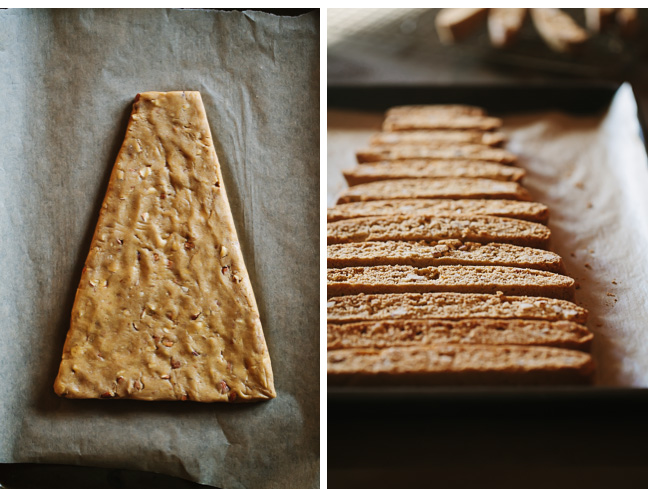 I made these a bit more wholesome by replacing the white flour for a combination of white whole wheat flour, whole wheat pasty flour, and almond flour.  Not only does the almond flour keep the biscotti crumb tender, it also prevents the cookie from becoming rock hard so while these are great for dunking, they are also enjoyable on their own.  These biscotti keep well and are fine even after being left uncovered for a few days.
We actually don't have many holiday baking traditions in our family since there's always a long list of new recipes I want to try each year, but I like this one so much that I might just make it a yearly tradition.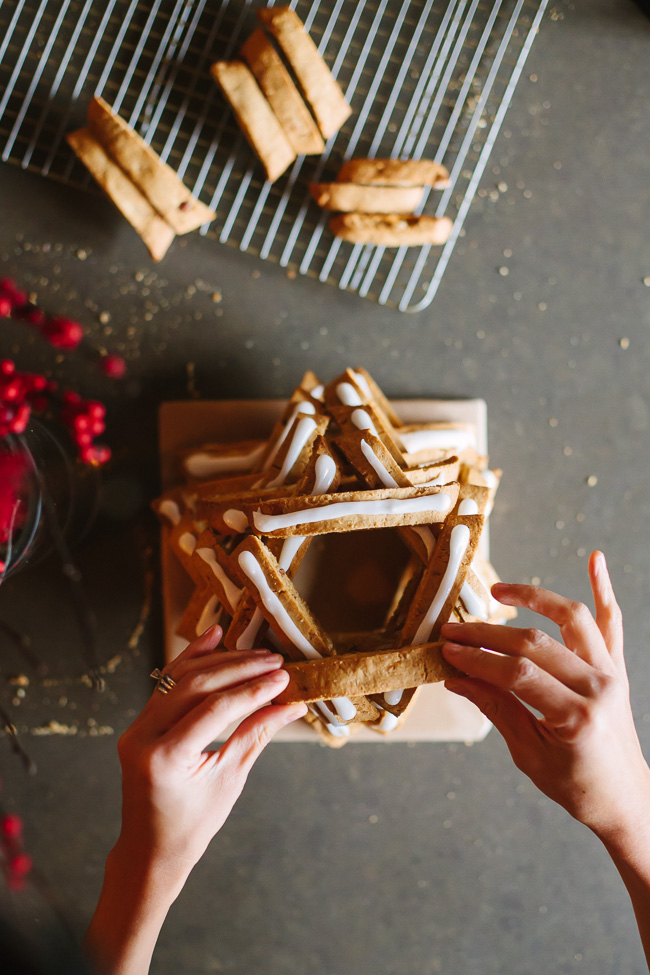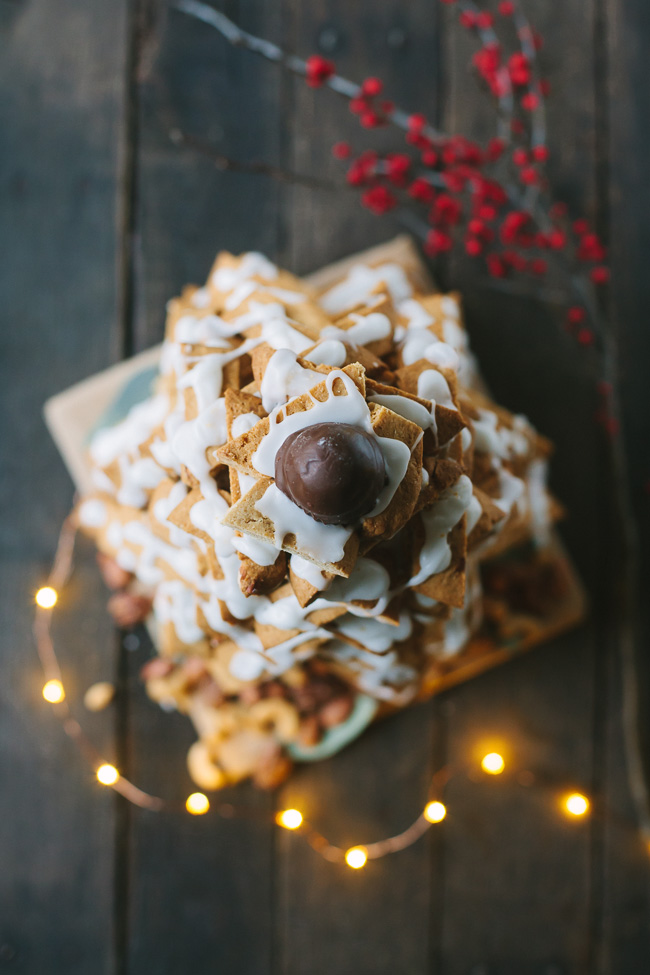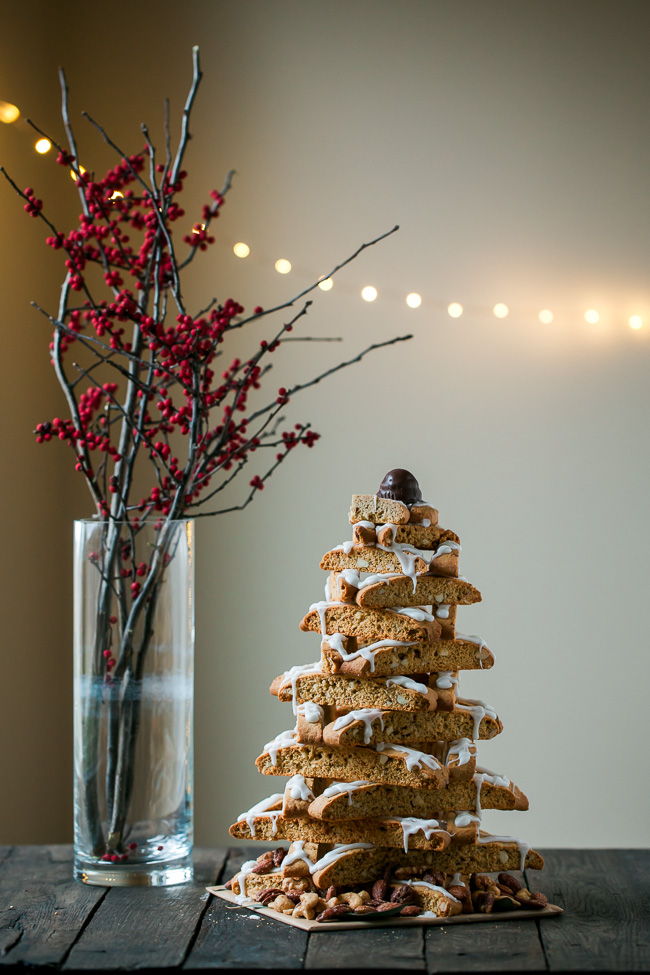 Print
Almond Biscotti Christmas Tree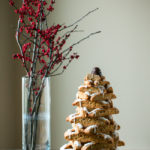 Ingredients
2 cups white whole wheat flour
2 cups whole wheat pastry flour
1/2 cup almond flour/meal
4 teaspoons baking powder
3/4 teaspoon fine grain sea salt
12 tablespoons unsalted butter (1 1/2 sticks), room temperature
1 cup natural cane sugar
4 large eggs
2 1/2 teaspoons almond extract
1 teaspoon vanilla extract
1 1/2 cups almonds, coarsely chopped
Icing
4 cups confectioners sugar
5-7 tablespoons milk
1/2 teaspoon almond extract
Instructions
Prepare two 13×18 baking sheets with parchment paper. (Use three baking sheets if dimensions are smaller.)
In a large mixing bowl, whisk together the flours, baking powder, and salt.
In the bowl of a stand mixer, cream together the butter and sugar until light and fluffy. Add eggs, one at a time, beating after each addition. Beat in almond and vanilla extracts.
Add the flour, 1/3 at a time, mixing on low speed after each addition. After the last addition, mix until flour is just incorporated. Fold in the chopped almonds with a spatula.
Divide dough into 3 equal portions, about 1 pound each. Working directly on the parchment paper with lightly floured hands, shape each portion into a flat-topped triangle measuring 7 inches along the base, 2 inches along the top, and 10 inches along each of the sides. Use a ruler to form straight edges and crisp corners by pressing the edge against the dough. (There should be one triangle on 1 baking sheet and 2 triangles on the other. It may be necessary to use 3 baking sheets. In this case, it may also be necessary to bake in separate batches if there are not 3 available racks in the oven.) Chill dough for 30 minutes.
While dough is chilling, preheat oven to 350. Place one rack in the upper third of the oven and the other in the lower third of the oven.
Bake for 20-22 minutes, until biscotti just begins to turn golden brown at the edges. Rotate pans halfway through to ensure even baking. Cool for 30 minutes.
Beginning at the base, use a serrated knife to gently and carefully slice 5/8-inch wide slices parallel to the base on each of the three portions.
Place the slices on their sides and bake 10 minutes. Gently flip each biscotti to its other side and bake for another 10 minutes, until biscotti are lightly browned and dried. Transfer to wire racks to cool completely.
To make icing, combine confectioners sugar, 5 tablespoons of milk, and almond extract. Mix with a fork and add additional milk a teaspoon at at time until icing reaches piping consistency. Transfer to a pastry bag with a plain 1/4-inch tip.
Starting with the 3 longest biscotti, pipe a straight line of icing along the tops (or sides if you prefer the tops to be facing out) of each cookie and form a triangle. Take the next 3 longest biscotti and create a star of David triangle by arranging another triangle on top of the base triangle. Pipe another line of icing along the tops of each cookie. Continue to build the tree by repeating this process until all of the cookies are used up, finishing with the smallest 2 inch cookies. At this point, you may choose to thin the remaining icing a bit with additional milk and drip "icicles" along the sides of the tree.
Notes
*Can be assembled and left out uncovered for up to 3 days.
*As with many other recipes here, I prefer my desserts not to be overly sweet. If you prefer a sweeter biscotti, increase the sugar to up to 1 1/2 cups.
adapted from The Global Gourmet