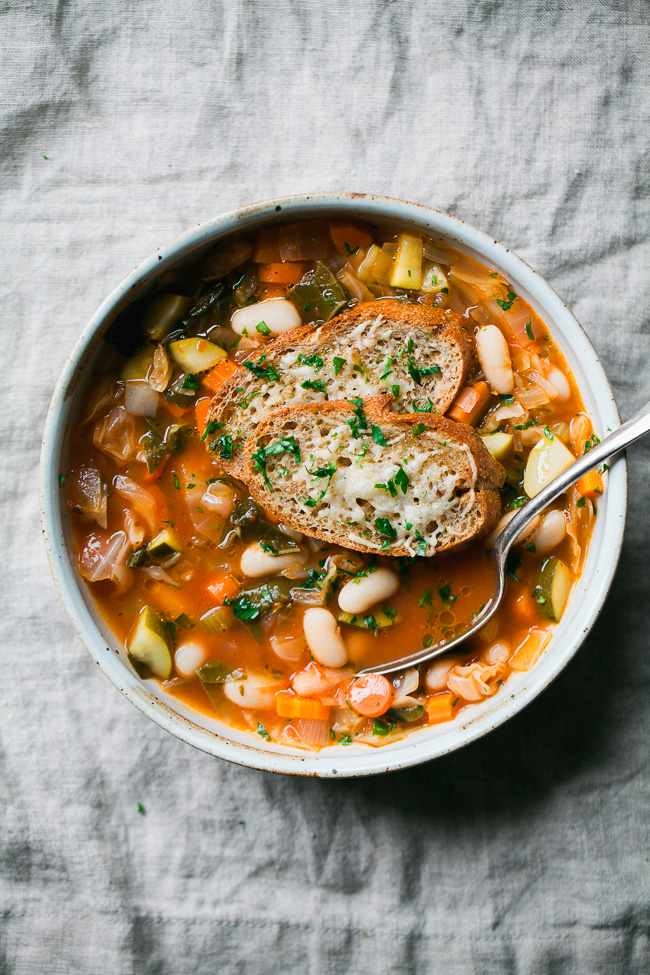 Happy 2016!  Feels so good to be back here after a couple weeks off.  We stayed home for the break and were able to spend lots of time catching up with family and old friends.  Our own family time was filled was lots of cooking, baking, playing, and laughing, but also we experienced our fair share of sibling squabbles and arguments and I lost my patience too many times to count.  It was another realization that I am not yet what I ought to be and there is so much growing to do.  So here's to fresh starts, new beginnings, and moving ahead with humility and grace.
This soup is the perfect one to reset as we all try to refocus ourselves on healthy eating.  It's full of plump creamy cannellini beans and enough vegetables to make you feel virtuous.  Sage, rosemary, and thyme is infused throughout and my favorite little parmesan toasts add the finishing touch.  It's simple, but right now I can't think of anything more inviting than a quietly simmering pot on the stove.  Wishing you all the best to what's ahead in this new year.
Print
Cannellini Vegetable Soup with Parmesan Toasts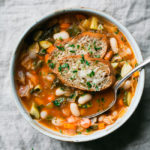 Ingredients
1 pound cannellini beans, rinsed, soaked overnight, and rinsed again
2 large garlic cloves, peeled and smashed
3 fresh sage leaves
1-2 sprigs rosemary
2 tablespoons olive oil
2 yellow onions, finely chopped
4 stalks celery, finely chopped
8 medium carrots, chopped
2 tablespoons fresh thyme leaves, finely chopped
2 medium zucchini, chopped
4 cups vegetable or chicken broth
1 small bunch Swiss chard, stalks removed and leaves coarsely chopped
3/4 pound green cabbage, core removed and coarsely chopped
1 28-ounce can crushed tomatoes
1 tablespoon kosher salt
Extra-virgin olive oil for serving
Parmesan Toasts
1 baguette, thinly sliced on the diagonal into 1/4-inch slices
olive oil
finely shredded parmesan cheese
Instructions
Place with beans in a large pot with 10 cups of water. The water should cover the beans by at least an inch. Add the garlic, sage, and rosemary. Bring to a boil over high heat. Continue to boil for 5 minutes, then reduce heat and simmer partially covered for 1 1/2- 2 hours. Skim away any foam that rises to the surface. Begin the rest of the soup while the beans cook.
In an 8-quart pot or bigger, heat the olive oil over medium heat. Add the onions, celery, and carrots and cook until vegetables soften, stirring frequently, about 10 minutes. Add the thyme and stir for another minute. Stir in the zucchini and broth, increase the heat, and bring to a simmer. Add the swiss chard, cabbage, and crushed tomatoes. Cover and cook over low heat for about an hour.
Discard the sage and rosemary from the pot of beans. Add the beans and their cooking liquid to the vegetables. Stir in salt and pepper and simmer for another 30 minutes to 1 hour, until beans are soft and tender. Season to taste with additional salt and pepper. Serve with a drizzle of olive oil and top with parmesan toasts.
Parmesan Toasts
Preheat the oven to 375.
Brush baguette slices with olive oil and sprinkle on a few teaspoons of parmesan on each.
Bake toasts for about 10 minutes until edges turn golden brown.