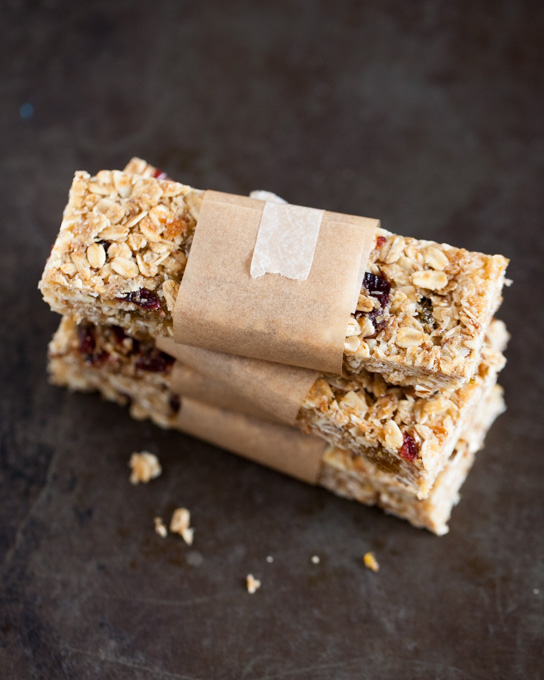 My husband plays in a weekly tennis league and each week the men take turns bringing snacks for their after-play hang out time.  This past week was my husband's turn and I made these granola bars for him to bring along.  I thought they would be the perfect healthy snack for replenishing some of their energy!  I sent almost the entire batch (not the whole batch because of course we couldn't resist eating some ourselves)  and he came back with none!
I've tried making several versions of homemade granola bars and these are my all-time favorite.  If stored at room temperature, they are chewy with just a bit of crunch.  If stored in the fridge, they become completely crunchy.  I like to use my 12 x 17 baking sheet to make these because I find this makes it easier to press down on the mixture at the end.  This makes quite a lot, so you can also halve the recipe and use an 8 x 12 baking dish instead as long as you be sure to press down evenly by the sides of the pan.  Pressing down the mixture is an important step for keeping the granola bars together when slicing them.
Print
Granola Bars
Ingredients
4 cups old fashioned rolled oats
2 cups sliced almonds
2 cups unsweetened shredded coconut
1 cup toasted wheat germ
6 tablespoons unsalted butter
1 cup honey
6 tablespoons light brown sugar, lightly packed
1/2 teaspoon kosher salt
1 tablespoon vanilla
1 cup golden raisins
1 cup dried cranberries
Instructions
Preheat the oven to 350. Line a 12×17 inch pan with parchment paper.
Mix together the oats, sliced almonds, coconut, wheat germ, raisins, and cranberries together in a large mixing bowl.
Melt the butter, honey, sugar, and salt together over medium heat. Bring to a boil and let cook for about one minute. Turn the heat off and stir in the vanilla.
Pour the wet mixture over the dry mixture and stir together until fully incorporated. Transfer mixture to the baking pan and press mixture down tightly with the back of a rubber spatula.
Bake for 25-30 minutes, until granola is golden. Cool for about 2 hours and slice into bars.
Continue Reading