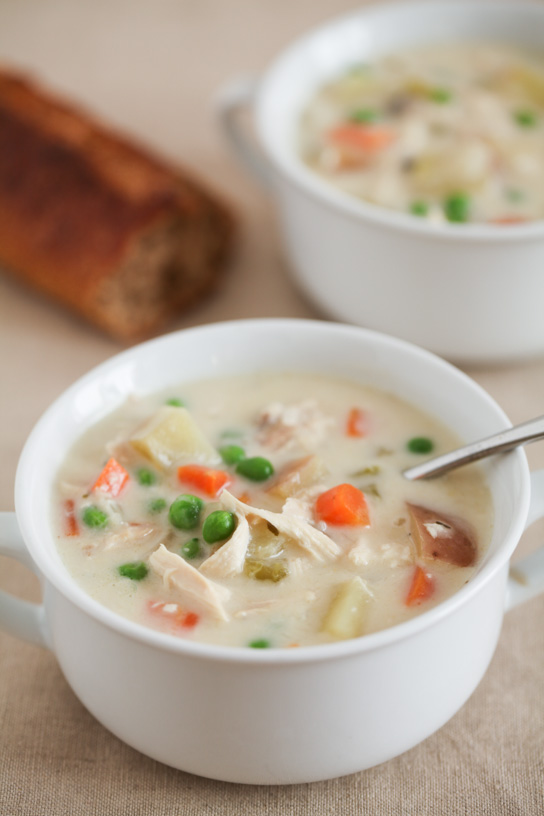 This soup has all of the goodness you would expect from a chicken pot pie filling.  It's creamy with chunks of tender meat, and is full of vegetables.  It's so delicious I don't even miss the crust.  Seriously! It's perfect for days when you want a slightly lighter, but still satisfying meal.  Easy to make ahead and keep warm on the stove.  Add a loaf of crusty bread and you have perfect comfort food!
Print
Chicken Pot Pie Soup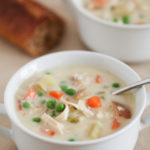 Ingredients
4 cups low-sodium chicken broth
2 skin-on, bone-in chicken breast halves (about 20 ounces total)
2 yellow onions, 1 thinly sliced and 1 chopped
1 tsp dried parsley
1/4 tsp dried thyme
1/4 tsp black peppercorns
6 tablespoons unsalted butter, at room temperature
2 carrots, small diced
2 celery stalks, small diced
6 white mushrooms, diced
2 unpeeled red-skinned potatoes, diced
1/3 cup plus 1 tablespoon flour
1 cup heavy cream
1 cup whole milk
3/4 cup thawed frozen peas
salt and freshly ground pepper
Instructions
Combine the chicken broth with 2 cups of water in a large saucepan. Add the chicken, sliced onion, parsley, thyme, peppercorns, and 1/2 teaspoon salt. Bring to a boil. Lower heat to medium-low, partially cover the pot, and simmer the chicken over medium heat until the meat is no longer pink, about 30-40 minutes. Take the chicken pieces out and set aside. Strain and reserve the remaining broth.
Melt 1 tablespoon butter in a large pot over medium heat, and saute the chopped onion, carrots, celery, and mushrooms. Continue to cook until onion is translucent, about 5 minutes. Stir in the potatoes. Add 4 cups of the reserved broth. (Save remaining broth for another use.) Reduce heat to low and simmer for 30 minutes.
After the chicken has cooled, shred the meat into bite size pieces using two forks. Set meat aside to add at the end.
With the 5 remaining tablespoons of butter, add the flour and mash with a fork to make a thick paste. Whisk in 2 cups of the cooking broth to make a thinner paste. Whisk this mixture into the large pot and continue to whisk until smooth. Add the cream and milk and stir constantly until thickened and smooth, about 10 minutes. Add the shredded chicken and peas and continue to heat another 15 minutes. Season to taste with salt and pepper.
Continue Reading